Bathroom storage can be a problem, especially when space is at a premium, so having somewhere to keep your towels can help you make the most of whatever space you have.
For anyone who wants to make a towel rack themselves, we've scoured the internet to see what other people have been trying – and as a result, here are our favorite 27 plans for DIY bathroom towel racks you can have a go at making yourself.
1. How to Make and Install a DIY Wooden Towel Bar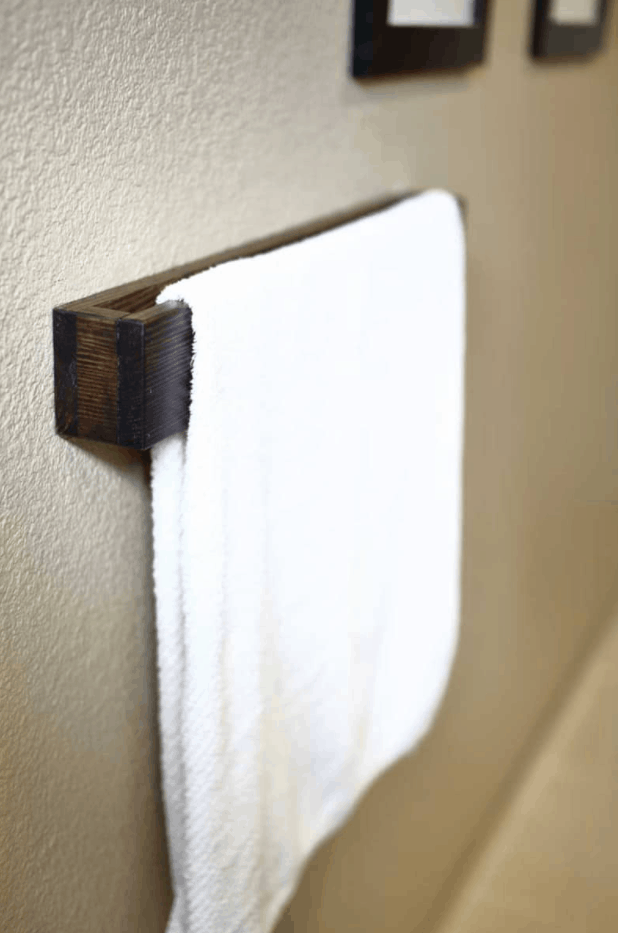 One reason you might need a new DIY towel bar is that your old one somehow got ripped off the wall. This is because drywall fittings are not always the strongest, and if that's what's happened to you, this blog will teach you how to repair the drywall hole and fit a new wooden towel bar in its place. The one in the photos looks pretty stylish too, making it a great replacement if yours got broken.
2. DIY Bathroom Towel Rack Video Tutorial
If you have a small bathroom, you'll need to maximize all the space you have, and one way to do that is to install a handy towel rack. The one in this video tutorial is a simple wood version that looks great but that will also help solve the problem of having limited space.
3. DIY Peg Towel Rack
One of the very simplest ways to store your towels is to hang them on pegs. This is an elegant solution that will cost very little but will give you somewhere to keep you and your family's towels conveniently out of the way. If that sounds like something that might work for you, this blog post has a list of all the materials you'll need along with a step-by-step guide to building and fitting such a system.
4. 3 Easy DIY Towel Holders for Under $15
There are lots of options when it comes to towel storage, and you might be having a bit of trouble making up your mind which one to go for. In that case, this video should help – because it teaches you how to make three different versions. Even better, the designs all cost less than $15 to recreate, making them affordable solutions too.
5. How to Permanently Anchor a Bathroom Towel Bar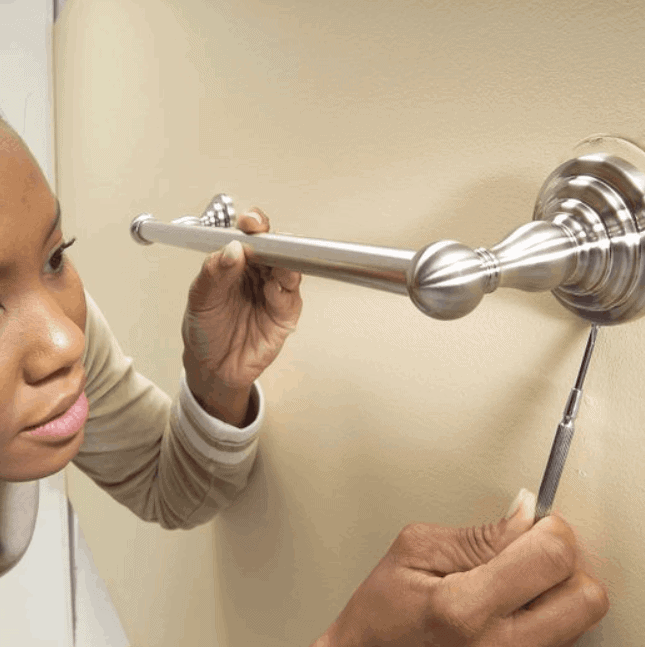 Perhaps you already have a towel rack in your bathroom, but like many people, yours is wobbly and feels like it might come loose at any time. If that's the case, you might not need a whole new rack – you just need a DIY method to fix it securely in place. And if that sounds like something that might be useful, this is the blog post that will teach you how to do it.
6. How to Make a Custom Towel Rack
In this video, we get to see how this enterprising YouTuber replaced a dated and uninspiring towel rack with an attractive new farmhouse-style version. The new one looks fantastic, but it's not difficult to build at all, so if you like the look of it, why not see if you can make something similar yourself?
7. DIY Custom Bathroom Towel Rack
As this blogger writes, this old-style design is so simple, she doesn't even want to call it DIY. However, we think she's being too modest – because even if it's not hard to make, it still looks gorgeous. DIY doesn't need to be complicated, and if you agree, this could be a great idea to copy.
8. DIY Bathroom Towel Bar Hanger
https://www.youtube.com/watch?v=8ZoPbnOqi4g
This video is, shall we say, minimalist in style. It doesn't have any explanations, and there's no music – just a DIYer demonstrating how to make a simple but attractive wooden bathroom towel rack. However, sometimes you don't need all the extra frills, and if you like to keep things uncomplicated, this is a video you should enjoy.
9. DIY Industrial Pipe Towel Bar
In recent years, the industrial look has become incredibly fashionable, and there are plans all over the internet for making a whole range of industrial-style furniture, fittings and décor. If it's a look you appreciate, this blog should be of interest since it teaches you how to make a towel rack from just a piece of wood and some piping. It's extremely simple too, so just about anyone will be able to manage to replicate the design at home.
10. Farmhouse Towel Rack
If you have a regular builder-grade aluminum towel rack of the type that is commonly fitted in any modern house and want to replace it with a more stylish rustic version, this is the video for you. In it, this DIYer shows us how to make and fit an attractive towel rack that will instantly give your bathroom a whole lot more character – and even better, it's a budget-friendly design too.
11. DIY Scrap Wood Towel Rack
For us, some of the best DIY projects are the ones where you don't need to buy any special materials but rather make use of whatever you have to hand. That's why we love this idea so much – because this functional yet attractive towel rack was made from nothing more than a few pieces of scrap wood left over from other jobs. It's a highly creative design too, so check it out to see what you think!
12. Homemade Bathroom Towel Rack
Here's an ingenious design that solves the problem of heavy towels pulling your rack from the wall and leaving nasty gouges in its place. Sometimes, when the person who lived in a place before you was lacking in DIY skills, you need to go behind them to shore up the work and make some repairs, and if the towel rack is an issue, this video will show you one way to fix it.
13. DIY Towel Rack
With many DIY projects, you don't need to reinvent the wheel, and often, tried and tested designs are the best options to go for. If that sounds like your kind of philosophy, this is a plan you should enjoy reading since it teaches you how to make a simple, classic towel rack that does the job you need it to do without any fuss. It has an understated attractiveness to it too, so we're sure lots of people will find this plan useful.
14. Cheap DIY Tutorial Bathroom Storage for $5
If you need somewhere to hang your towels but you don't want to spend lots of money, give this video a watch. In it, you'll learn how to make a towel rack for as little as $5 using just basic materials, giving you somewhere to store your towels with a minimum of hassle and expense.
15. Super-Cute DIY Towel Holder
Shanty 2 Chic is one of our favorite DIY blogs, and here they've come up with goods again. As you can guess from the name, they specialize in projects where they turn old scrap they have at home into attractive furniture and decorative items. Here they make a cute wall-mounted towel rack – and we think we want one just like it too!
16. Metal and Wood Towel Rack with Swinging Arms
Here's a cool design for a towel rack – because this one includes swinging arms. It's one of the only versions like this we've seen, and those arms that swing out make it super-practical, allowing you to hang your towels on it while making it more convenient to get hold of them when you need them too. Check it out to see what you think – because we're impressed!
17. DIY Towel Rack & Bathroom Organizer
This plan doesn't just teach you how to make a towel rack – it teaches you how to make a whole organizer that will give you somewhere to keep towels, toilet paper and a whole range of other bathroom items. It's not the easiest project, but since the tutorial includes clear instructions, photos and a video, most people with even basic DIY skills should still be able to manage it without too much trouble.
18. DIY Towel Rack Video
The towel rack this YouTuber demonstrates was the storage solution for a small downstairs bathroom that had no closet. Sometimes you don't have space for anything larger, so making something like this that maximizes whatever space you have available is the perfect answer.
19. Farmhouse-Style DIY Towel Rack
In this blog post, we have another great idea for building a rustic towel rack using nothing more than old scrap wood. As the blogger writes, even if you don't have scrap wood at home, most home improvement stores will give you any they have for free. And after that, all you need to buy are the hooks – which cost around $15 – and you can make an attractive towel rack just like this one.
20. Nautical Towel Rack Shelf DIY
A popular style for bathrooms is to give them a nautical theme, and if you have a bathroom that's all about sun, sand and sea, you'll need a towel rack to match. That's where this plan comes in because it teaches you to make just that. We love the design, and it's super practical too, making it a design lots of people are sure to want to copy.
21. DIY Bathroom Towel Rack
When we need ideas and inspiration for any kind of DIY project, the Instructables site is always one of the first places we head. On it, you can find a whole range of well-written plans for just about anything you can think of, and this one teaches you how to make a stylish and useful bathroom towel rack. As always, the instructions are clear, and there are plenty of photos, making this a tutorial that even DIY novices will be able to follow.
22. DIY Pallet Towel Rack + Small Bathroom Storage
It's hardly possible to make a list of DIY plans without including at least one that makes use of pallet wood – so here it is! Pallet wood is such a great material to work with since it's extremely cheap (or often free!) and is also highly versatile. This video showcases how good pallet DIY can look too, so if you need a new towel rack, why not give it a go?
23. Repurposed Window Bathroom Towel Rack
This is one of the more unique towel rack ideas we've seen because it's based on a salvaged window this blogger found in the street. For us, that's the epitome of what DIY should be all about, and we love how she gave it a seaside theme with the addition of a couple of starfish. Check it out – and be prepared to be impressed by her vision!
24. Hot Water Towel Rack DIY
If you're looking for an ambitious project that will put your DIY skills to the test, this could be just what you need. It's a plan for building a heated towel rack made of copper pipes that's designed to keep your towels warm and ready for when you finish in the shower. A fun DIY job and one that will add a bit of luxury to your bathroom.
25. DIY Farmhouse Towel Rack
The towel rack this plan teaches us how to make is incredibly simple, but what makes it is the floral design in the background. The flowers come from acetate transfers, so you don't even need to be particularly good at art to do it!
26. DIY Towel Rack from Living to DIY with Rachel Metz
If you prefer a more minimalist aesthetic, this is a plan that should appeal. It looks great, is easy to make and will give you somewhere to store your towels, helping you keep your bathroom clean and clutter-free, just the way you like it.
27. DIY Towel holder
This design for a towel rack could hardly be simpler – it consists of leather straps attached to the wall and wooden dowels placed between them for you to hang your towels on. After all the more complicated designs we've seen, we love the elegant design of this idea, and it's one that will take you very little time to replicate in your bathroom.
Loads of great ideas to copy
As you can see, there are plenty of great ideas for bathroom towel racks out there for you to copy that will help keep your bathroom in order.
We've enjoyed collecting these plans for you, so we hope you've enjoyed watching and reading them all too. And above all, we hope we've helped you find the inspiration you needed to build a bathroom towel rack of your own.