Bathroom windows are often small and textured. The idea is to provide privacy and keep out the nosy pervs. But your bathroom window sometimes becomes a storage spot.
And once it does, it can accumulate germs, becoming both unsightly and unhealthy. So what can you do with that small space? Let's explore some bathroom window ideas – from DIY to full pro.
1. Fill the Niche
Bathroom window ideas take two forms – you can tweak an existing window or build one from scratch. It might be a newly constructed bathroom or a refurbished project. Suppose you have an awkward wall niche. Carve out a window that crosses the width of the niche.
This way, you get maxim natural light. White paint or white tiles fill the bathroom with even more light. The white will reflect daylight from outside, as well as mirrors and bulbs. Use horizontally sliding window ones. They make the window – and the bathroom – seem larger.
2. Round it Off
We started with oblong sliding windows set off against curvy bathroom fixtures. Let's reverse that. The bathroom here is still white. But it's a softer off-white with linear detail. Counterbalance with a large porthole. This circular window has hinges across its midriff. Bottles can't stand on those curvy window ledges so your bathroom stays clutter-free.
3. Spread them Out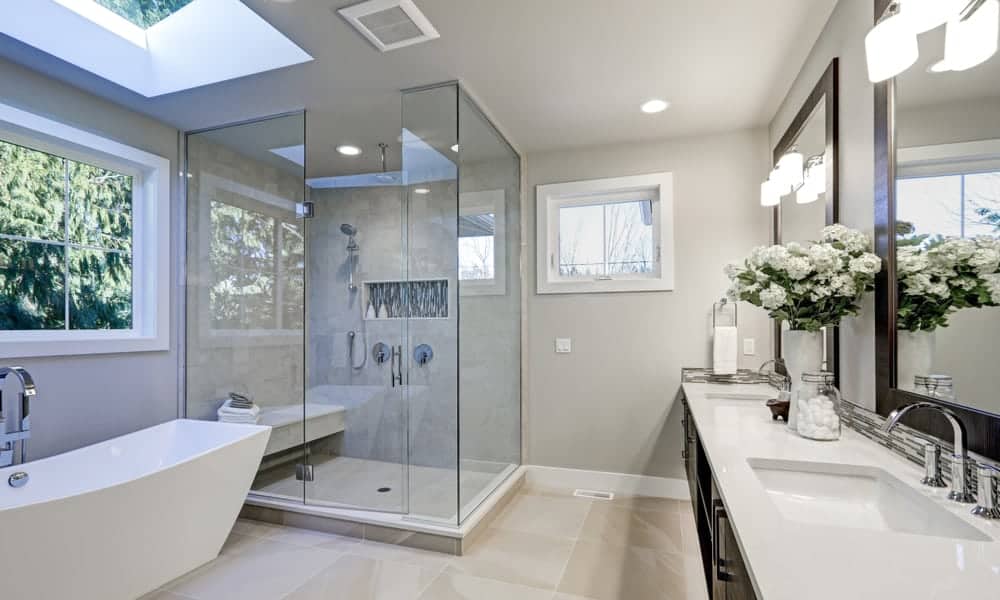 If you have space and oversight, you don't have to stick to one window. This example has two windows and a skylight. The smaller side window is more typical. But to facilitate sufficient lighting, a skylight sits above the tub, perpendicular to a larger window with cross muntins.
To heighten the effect, position large mirrors opposite the tub. They reflect the windows and the skylight, creating an illusion of endless illumination. They also pick bits of light from internal and external sources, making your bathroom feel massive, bright, and airy.
4. Misty Mirth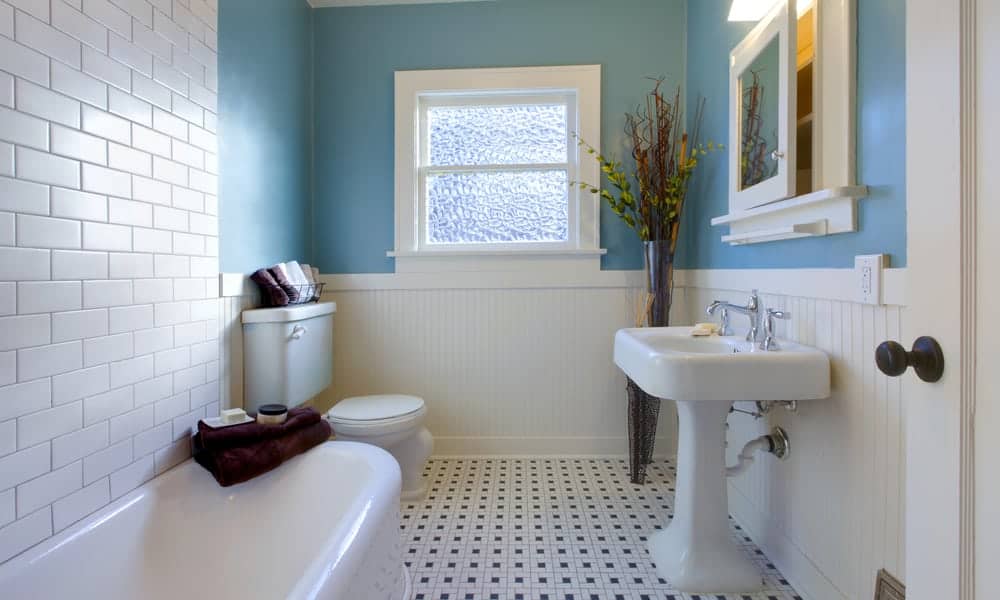 Misted or fogged windows are perfect for privacy. And one of the simplest bathroom window ideas involves misting. Change plain glass for patterned panes. The window here has Flemish glass hinged across the middle. It follows up the mixed-texture theme in the bathroom and mimics the cabinet design. Paint the walls around the window aqua for added aesthetics.
5. Follow the French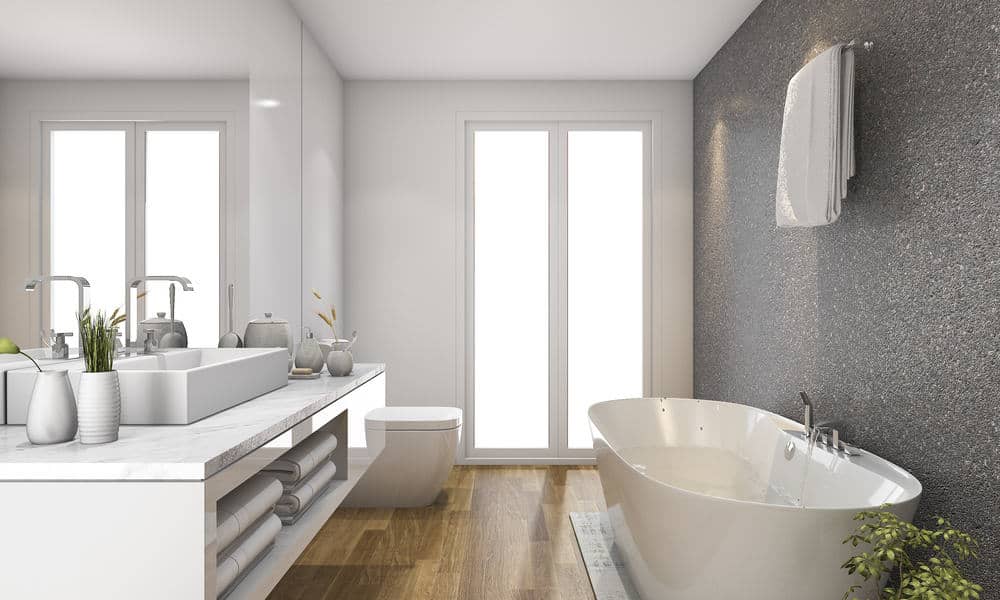 Who says bathroom windows have to be small? This bathroom has a narrow, linear floor plan, so why not go with French windows? Frost the glass if you're worried about feeling too exposed. You could install a small faux balcony outside the French window. That way, you can occasionally air out the bathroom to avoid stuffiness or excessive moisture.
6. Bring in the View
In modern homes, the bathroom window often faces a wall, hedge, or dark corner. After all, it's the one room in the house that doesn't need a view. But if you have lofty ideas – pun intended – maximize your scenery. For attic bathrooms or lofted spaces, get large windows.
Picture windows are ideal. But larger pieces of uninterrupted glass can be pricy. Plus cleaning them is a nightmare. So get fixed windows with sashes or muntins. You'll enjoy the view without spending excessively. Leave a ledge outside for easy window-cleaning access.
7. High-Low Windows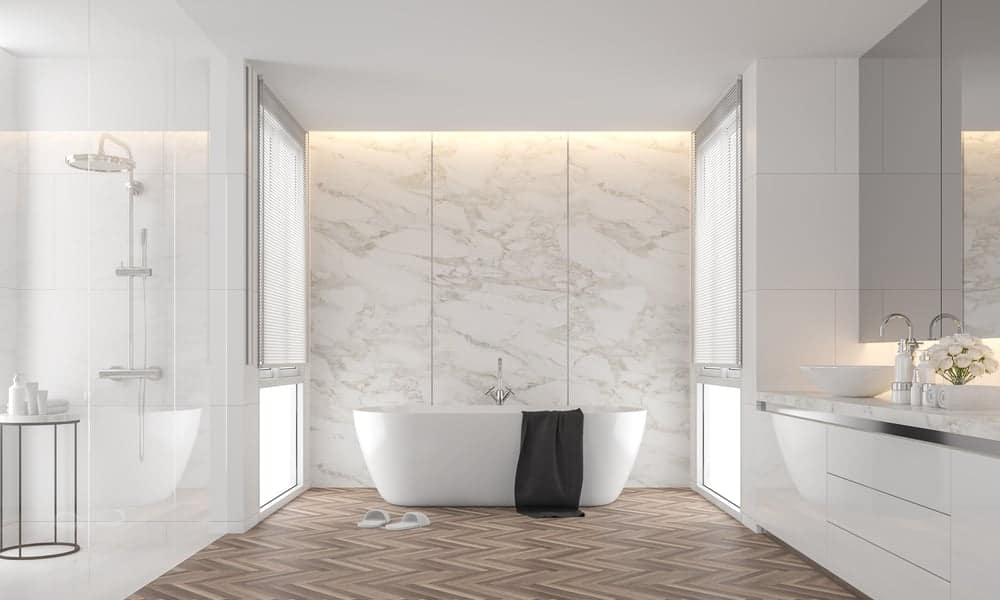 When you have a large bathtub, you'll intuitively place a large window behind it. The window prevents the bathroom from fogging up by quickly releasing steam. Here, the windows are wall-to-ceiling, textured for privacy. The top and bottom windows have independent locks. By placing a French door on either side of the tub, you get maximal light and minimal fuss.
8. Blinds and Racks
Placing a mirror perpendicular to the window is a simple lighting trick. Multiple lighting sconces help to keep this small bathroom well illuminated. But since the window faces an exposed area, it's reinforced with waterproof window blinds. The horizontal slats follow the linear patterns in the bathroom. Those patterns guide your eye line, making the space bigger.
9. Linear Loveliness
A lot of bathroom window ideas rely on shape. This bathroom has a luxurious oval tub and rich wooden trim. The entire wall behind the tub is glass. But the frames are dark wood to match the shelves. Their decorative handles also give the bathroom definition and character.
The windows are fitted with narrow horizontal blinds for style and privacy. Bathroom-friendly plants (and a soap tray) add to the aesthetic. They're planted in glossy metal buckets that catch the light. So they brighten the room while adding visual points of interest.
10. Accent Windows
Marble is a shortcut to instant elegance. And because it's pricy, it lends itself to … accented use. You can use a small slab to draw attention to a focal point. But if you can afford to do the whole bathroom in marble, why not reverse the trope with a splash of well-placed glass?
In this bathroom, everything is marble except the ceiling. So the wall behind the bathtub becomes a 'glass accent wall'. Sliding windows allow lots of natural light into this black-and-white space. Toss in strategic can lights under the floating vanity and bathtub platform.
11. Wall to Wall
Earlier, we look at a bathroom window idea where the glass filled the niche. This is an extreme execution of the same idea. Rather than filling the sunken section of the wall, this window flows from wall to wall. This creates a solid pillar of diffuse light that floods the bathroom. Recessed ceiling lights heighten the effect with stylishly ambient down-lighting.
12. Linear Luxury
Good design guides your eye, drawing your attention to attractive areas. This elegant bathroom uses lines magically, from the bathtub steps to the floating shelves and shapes. The black and white marble is flanked by French doors that show off a gorgeous skyline. And just in case one of those skyscrapers has binoculars, automated blinds slide from the ceiling.
13. Plain and Panelled
You don't need a beachside house for picture windows. But it does help if those windows are floor-level, have a decent view, and don't expose you to the neighbors. If you can tick off all three, consider these perpendicular fixed windows. They let in all the light but none of the bugs. And you can easily walk out to wash the windows, even if they don't open.
14. Arch it Out
Combine the most basic window shapes to upgrade your bathroom window ideas. In this case, two arched windows are positioned on perpendicular walls. They're both picture windows, allowing you to enjoy the evergreens outside. And the absence of muntins leaves the view unbroken and unspoiled. Get a strong ladder for window-washing day though!
15. Wetroom Window
You may argue this isn't strictly a wet room – since it has a curb. It combines glass and tile for a slip-proof, splash-proof result. On the bathtub side, a large window no-sash window lets the view in and the vapor out. On the shower side, the window is closer to the ceiling.
This position lets it conveniently dissipate the rising steam from the shower. Plus condensation and all those glossy makes for easy cleaning. Invest in a fluff-free duster to wipe down all that tile and glass when you're done with your bath. It takes mere minutes!
16. Just Glass
Forget the frames or the muntins – they just cause distraction. And they offer lots of little spots for dust and dampness to gather. If you have room in your space or budget, just take the whole wall down and replace it with glass. Position this frameless French door a foot or two from the outer wall. That way, your 'window' opens into a partial 'tanning' balcony.
17. Light and Dark
This bathroom uses shape in curious ways. Trapezoid stool, floating shelves, wavy recliner, frameless round mirrors, moon lights, and a curvy tub. But we're more interested in color. Part of the bathroom wall has been chopped off and replaced with glass. It forms a picture window that balances the black walls and the white floor. Black towels complete the look.
18. Scent Control
Bathroom window ideas rely on two popular positions – behind the bathtub and the toilet. This window uses the latter. It's a neat trick for keeping the bathroom fresh and scent-free. Any fumes from the toilet bounce off the glass shower partition and the mirror, heading out the window. The glass is frosted and has a deep ledge to stack a few bathroom bottles.
19. Fashionable Fabric
Most of us avoid non-essential bath linens. Too much risk of the cloth getting wet and moldy. So beyond towels and bath mitts, bathrooms are largely fabric-free. But you can spice up the bathroom with strategic materials. A colorful bathroom window shade adds warmth and cozy comfort. Many are machine-washable and can be vacuumed for easy maintenance.
20. Side by Side
Yes, you can put mirrors and windows opposite each other. They reflect each other, maximizing light levels. But if you have limited space, you can place your mirror next to your window. In such cases, put the mirror opposite the bathroom door to make the room seem larger and more open. The position of the mirror over the toilet for better airflow.
21. Frame for Frame
Frameless glass windows (and doors) are sophisticated and minimalist. But framing can be useful too. In this bathroom, the window and mirror are next to each other, framed for aesthetic effect. The walls have the same color as the vanity doors, bringing the room together. Brown bath linens match the brown wood that frames the mirror.
22. Vintage Versions
Countryside cottages often have small windows with wooden doors. The type that Disney princesses dramatically shove open before they sing. Those windows had no glass – just wood. But this bathroom window is a luxurious mish-mash. The backsplash is brick-patterned tile. And the massive windows are flanked by decorative wooden doors. Nice!
23. Dividing Windows
When you have limited bathroom space, window positioning can be tricky. In this case, use the window as a psychological partition. On the walls, texture is a marker. White vs blue, wood vs tile, brick patterns vs vertical panels. On the floor, a curb cordons off the shower. But at eye level, the corner window can 'separate' the shower from the toilet commode.
24. Higher Levels
Why are bathroom windows so small and so high up? Because hot air (and steam) rise. So a bathroom window that's closer to the ceiling is more effective. In this case, the window and mirror are next to each other, but the window reaches higher. This improves the ventilation (and natural lighting). The sunny paint and yellow tiles help you brighten up the bathroom.
25. Edge it Out
This bathroom is finished with distressed wood panels and unadorned concrete. So it risks looking dull and drab. To create an ambiance of Spartan minimalism (as opposed to 'cheap and unfinished'), the corners are fitted with floor-to-ceiling fixed French doors. These are paired with downlights for contemporary sheik. The elongated mirrors match those doors.
26. White on Black
These vertically stretched bathroom window ideas are an appropriate centerpiece. The room is mostly white with black accents on the ladder-rack, mirror frames, and table legs. The bathroom windows have vertical hinges and black frames that echo the black diamonds on the floor tile. These splashes of dark detail make the bathroom look much larger.
27. Walls and Grids
Window walls are stylish. And expensive. They can also be disorienting. Especially if the bathroom isn't at ground level. You don't want to get vertigo in the bath. To reduce that effect, this wall-to-wall bathroom window is broken into grids. Each grid has a deep wooden shelf for storage and visual anchoring. Mist the glass or lay a film over it for discretion.
28. Angular Lighting
The floor of this pristine bathroom is done in poolside mosaic tones. Everything else is white – even the light bulbs. For the windows, instead of putting them directly behind the tub, one is positioned on each side. Heavy-duty porcelain planters sit directly in front of the windows. This gives the plants maximal access so they stay green and healthy, adding life to your bath.
29. Slate and Gorgeous
Who says gray has to be boring? In this monochromatic bathroom, the reflective gray wall tiles have linear striations that add visual stimulation. The window covers one wall but is broken by a mirror with metallic frames. The horizontal slats on the window blinds continue the linear bathroom theme. This theme is echoed in the glossy towel racks and floating shelves.
30. Up Top
In terms of their position and shape, these are stereotypical bathroom windows. They're narrow, horizontal, and close to the ceiling. But to avoid the disaster of dimly lit bathrooms, use clear glass. Also, stretch your narrow top windows from wall to wall. This maximizes the light (and air) they can let in. That extended width also defogs the bathroom faster.
31. Flemish Lead
Worried about the cost of large, textured slabs of glass? Flemish glass is a top idea for bathroom windows. To cut costs, buy leaded pieces instead. The glass is divided into grids separated by lead sashes. These grids can be quite small since textured glass is less delicate than plain glass. Pair the patterned windows with reflective walls to increase incoming light.
What's currently on your bathroom window? Show us in the comments – we'd love to see!