If your home has a built-in master en-suite, you're lucky. Often, you have to build it yourself as you refurbish your home. But the bathroom wasn't part of the initial construction plan. Meaning you may not have much room to play with.  You may have to squash your bathroom into a converted closet. In such cases, you need creative small master bathroom ideas.
You don't want to feel claustrophobic … but you don't want to spend excessively on your refurbishment either. So you need something simple and workable. Let's look into some design ideas that could enlarge your small bathroom.
1. One-wall Wonder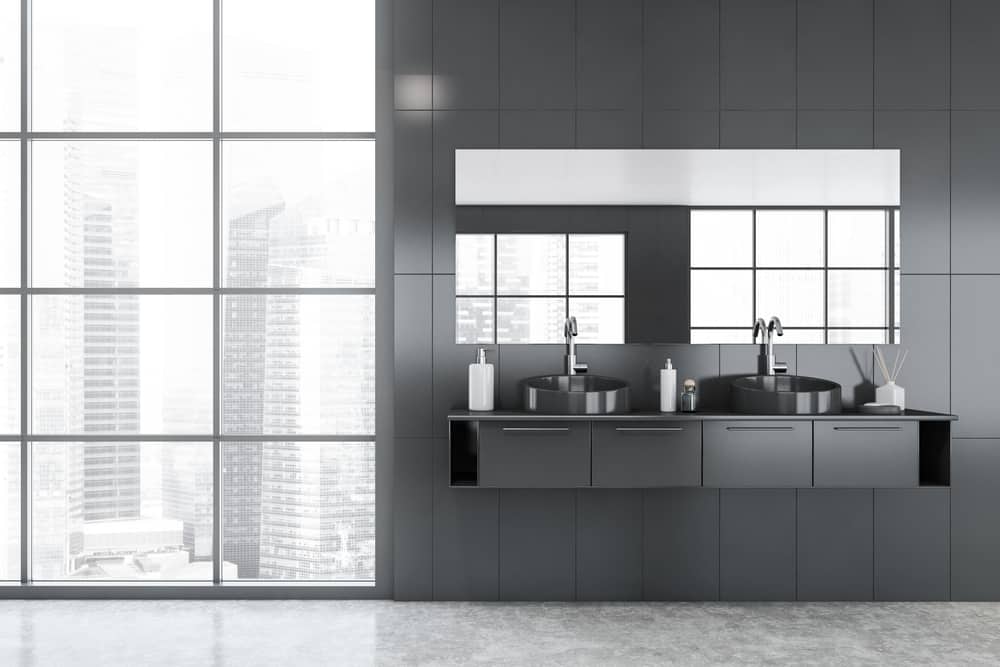 When you have limited space to play with, you want to maximize your surfaces. In this small master bathroom, everything is laid against one wall. The floating vanity has a single row of drawers, leaving lots of floor space below. Two circular vessel sinks free up wall space while elevating your style. The Spartan style of black tile and concrete help to set the mood.
2. Cute Corners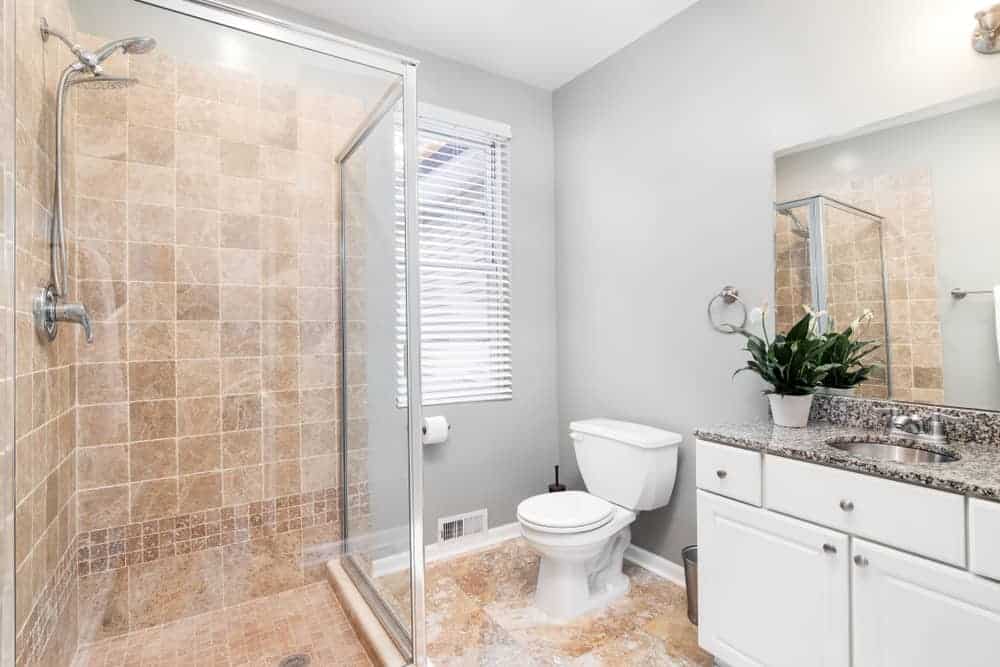 This small master bath is visually divided into sections. One corner houses the shower enclosure while the other corner has a toilet. The longer side of the wall houses a speckled countertop with twin sinks and a large mirror. The warm browns on the floor and walls make the room seem bigger. And the circular sinks are stainless steel to match the shower frames.
3. Shift the Sink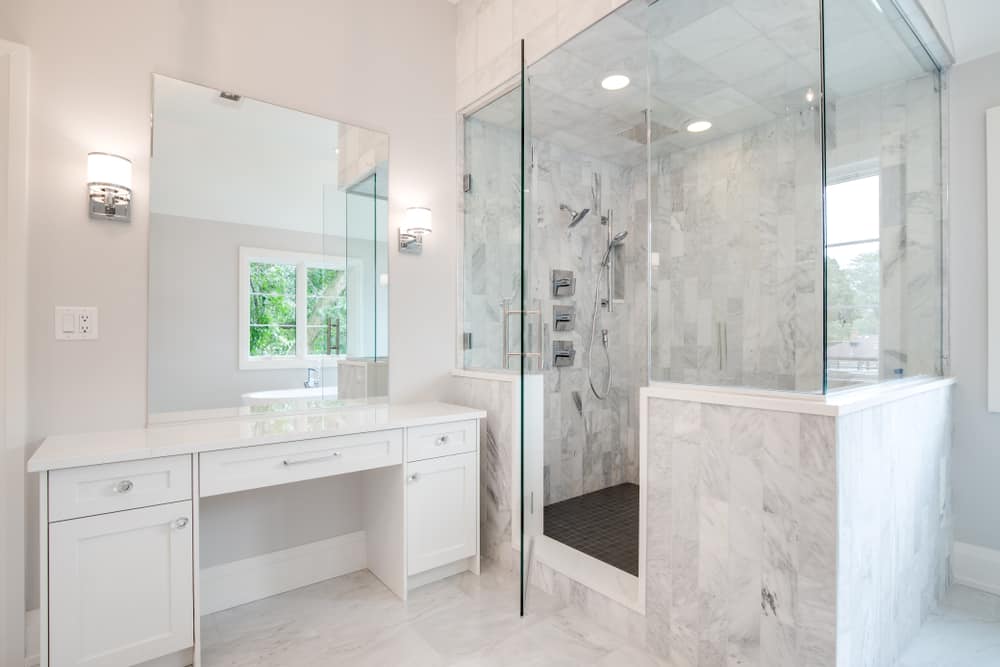 To maximize the space in this small master bathroom, the sink is separate from the vanity. Instead, the vanity becomes a dresser, with a large mirror, narrow drawers, and a slot where you can tuck in your make-up chair. The shower cubicle lies on one side while a toilet and pedestal sink can be tucked into another corner. The bathroom is all white except the black shower floor.
4. Floating Lines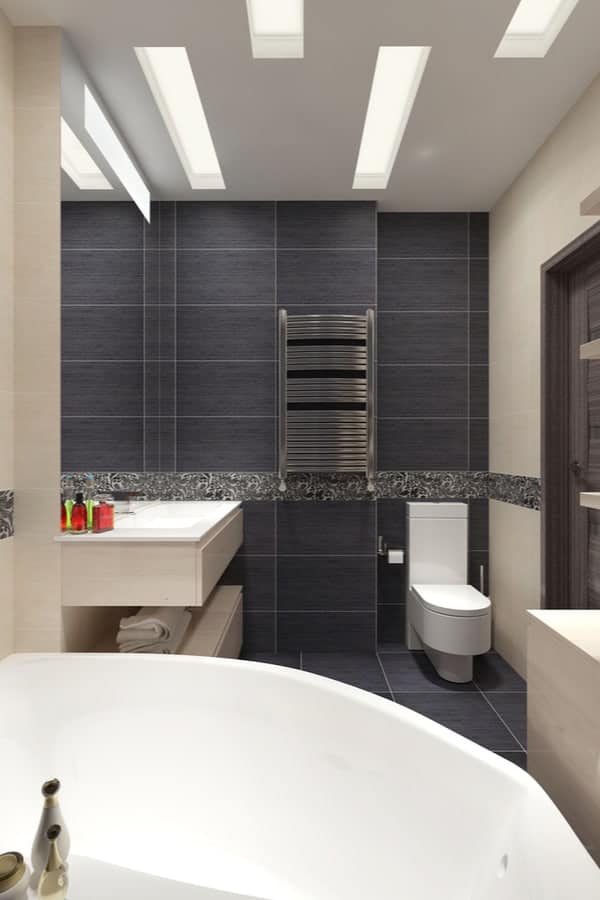 Linear layouts are helpful for small spaces. You can employ long, narrow shapes that make your space seem larger. In this bathroom, elongated rectangles from the recessed lights, floating shelves, and floor tiles. The open stone vanity and shelving make the bathroom feel more open, even though it only has one sink. There's even a corner tub opposite the toilet.
5. Sharing Showers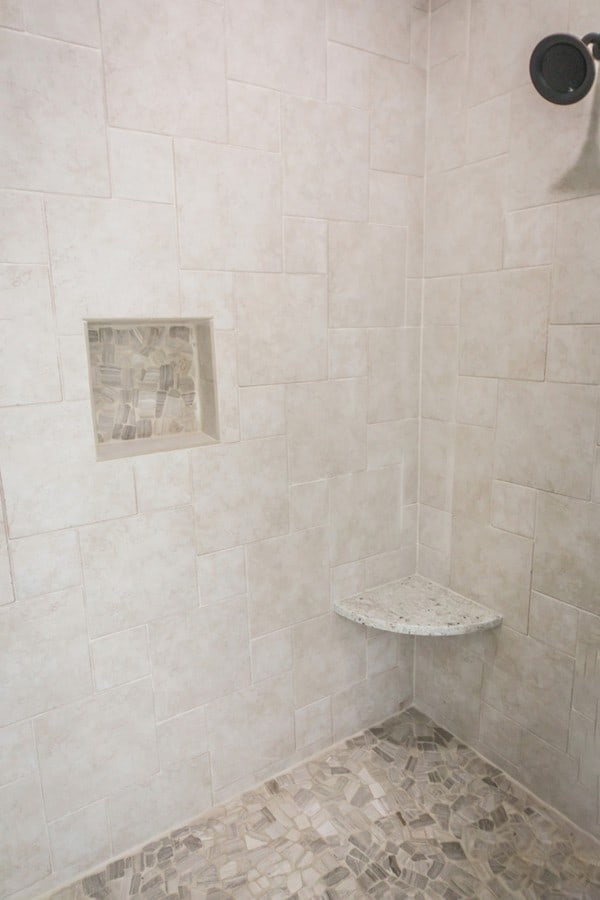 For the barely-there master en-suite, you may not have space for anything beyond a shower. In this case, the corner shower is walled with white tile and floored with a pale mosaic. There's no storage space, so a quarter-circle stone caddy and recessed shelf are built into the shower wall.
6. Soaking Sensations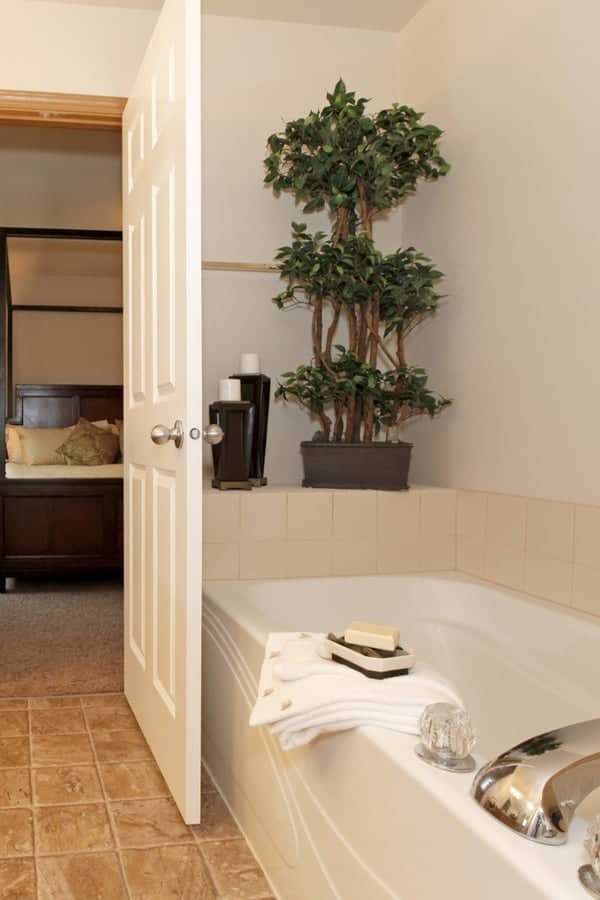 At the other extreme is a small master bathroom that only has a tub. You could choose to sneak in a shower, but it depends on your priorities. In this case, the bathtub fills one whole side of the bathroom. A recessed bench behind the tub lets you store bath items or place potted plants.
7. Playing with Pink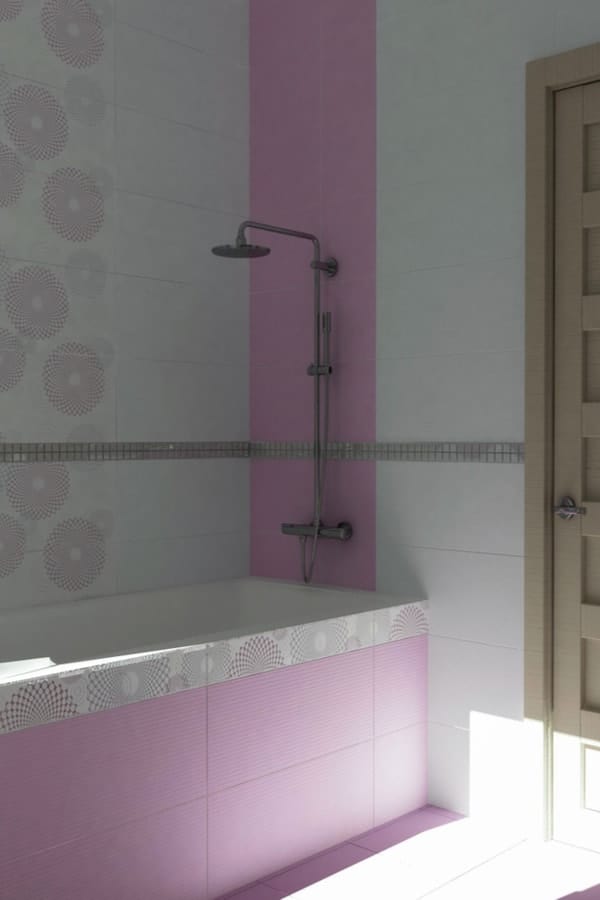 This bathroom may seem childish, but it's great if you're secure enough in your masculinity to share a pink bathroom with your partner. The small master bathroom has pink accents on the wall, floor, and coping. A shower faucet is fixed above the tub, and the non-white sections of the wall and floor have gray tile with concentric arcs and circles in its patterns.
8. Supreme Green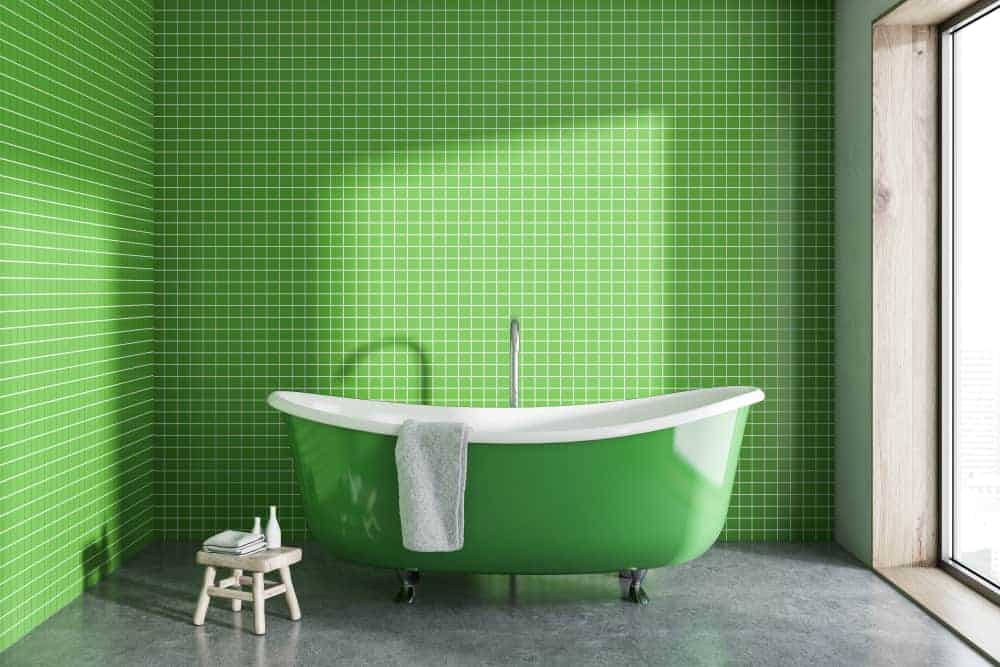 In this master bathroom, color is still the central feature. The freestanding tub is a bright green that matches the mosaic wall tiles. The inside of the tub is white, catching the white grout from the walls. The tub faces a French door so there's a gorgeous view and lots of natural light.
9. Wood and Stark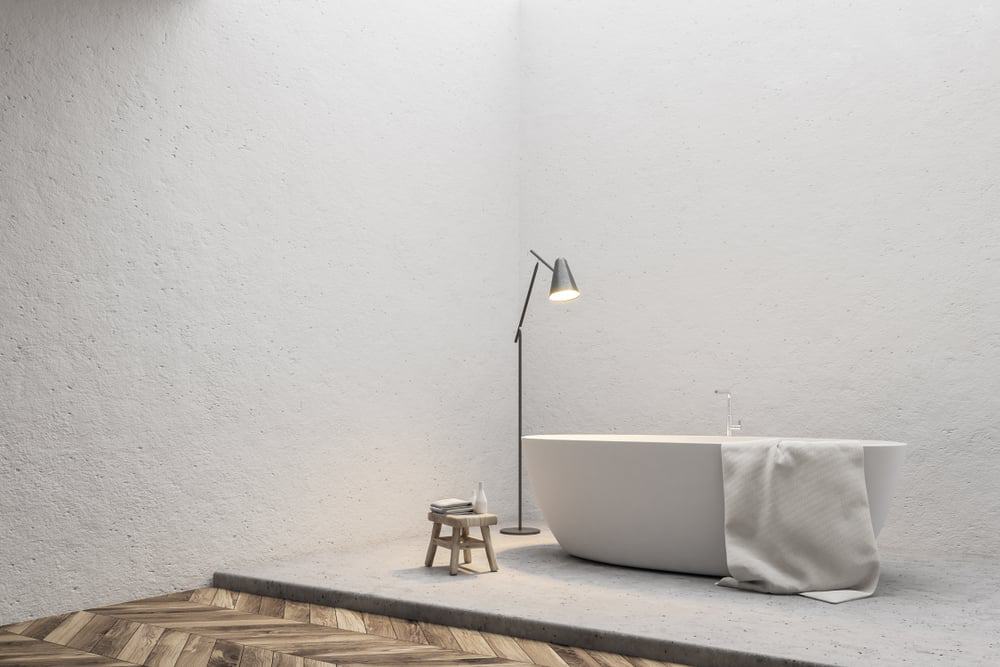 Here's a small master bathroom with similar size and styling. But instead of colorful tiles, the wall is rough concrete. The floor beneath the bathtub is concrete too, and the slab is slightly raised. Below the concrete is a wood panel floor with aged diagonal parquet. A gleaming floor lamp rises over the curvy standalone bathtub, and a stool hold your bath accessories.
10. Sunshine Yellow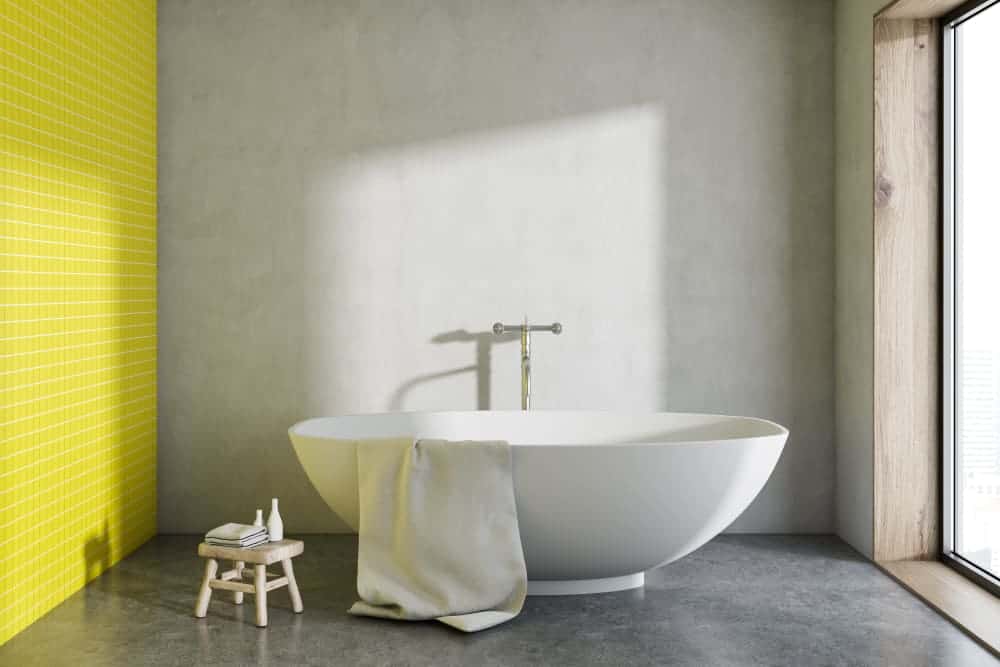 You may be unswayed by the power of color, so here's a persuasive demonstration. We've already seen this bathroom in green. But now, the rear wall is gray concrete, matching the stone floor. Meanwhile, the will opposite the picture wall is tiled in bright yellow mosaic that shifts the mood of the entire master bathroom. A single stool is all the furniture your bathroom needs.
11. Narrow Corridors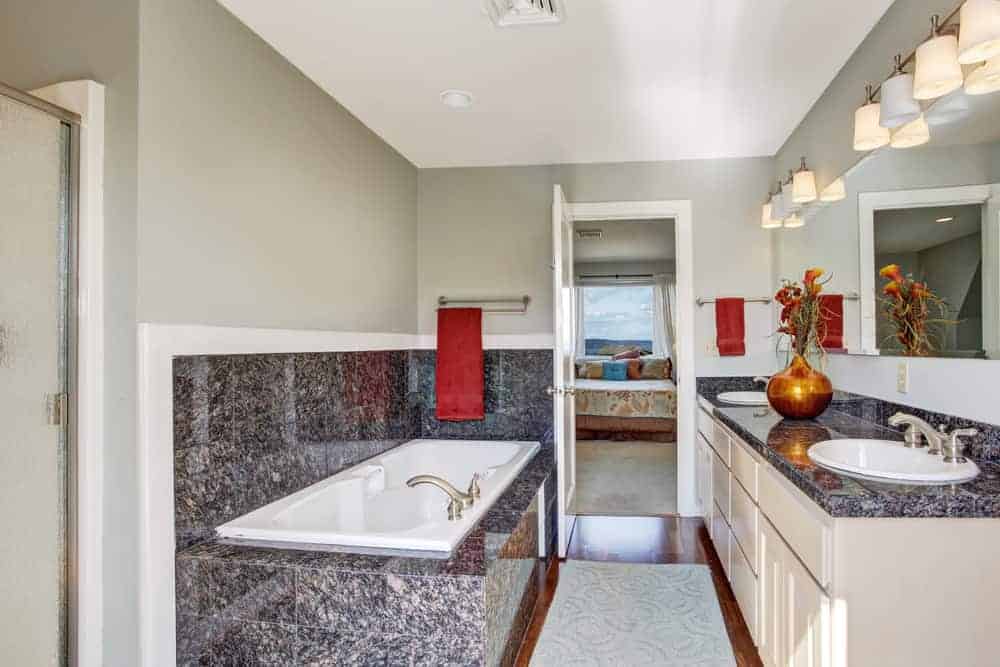 These homeowners were probably told they couldn't fir a tub and twin sinks into their small master bathroom. But by using the doorway as a touchpoint, the narrow path left enough room for a tub on one side and a double sink on the other, all sunk into speckled granite.
12. Gray Line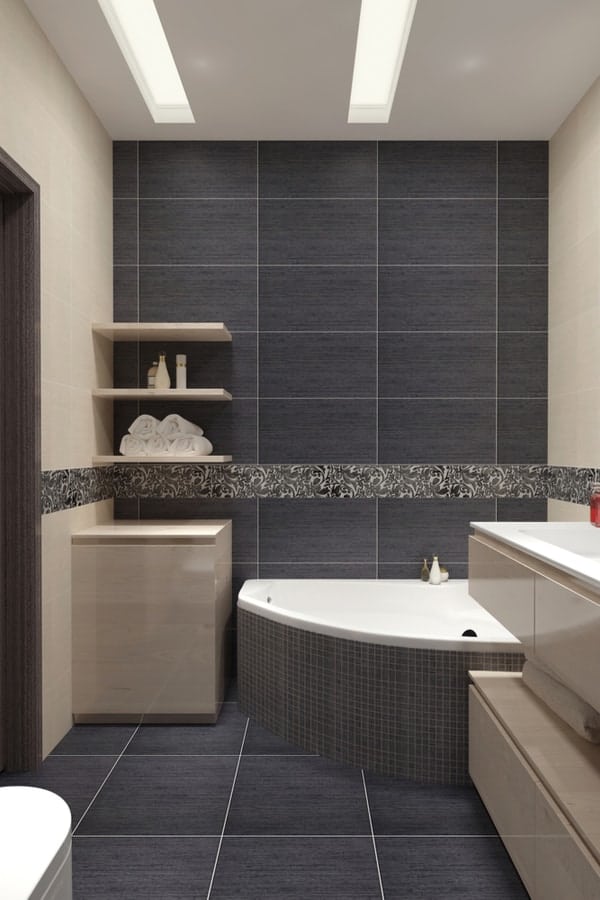 This is possibly the smallest bathroom we've looked at so far. Its main motif is black tile with white grout. It's used for the walls, floor, and tub coping. The rounded tub sits in one corner. The vanity is beige stone with two floating open shelves. More beige stone storage is tucked into the corner opposite the bathtub. A low-lying bidet sits next to the door.
13. Mossy Gray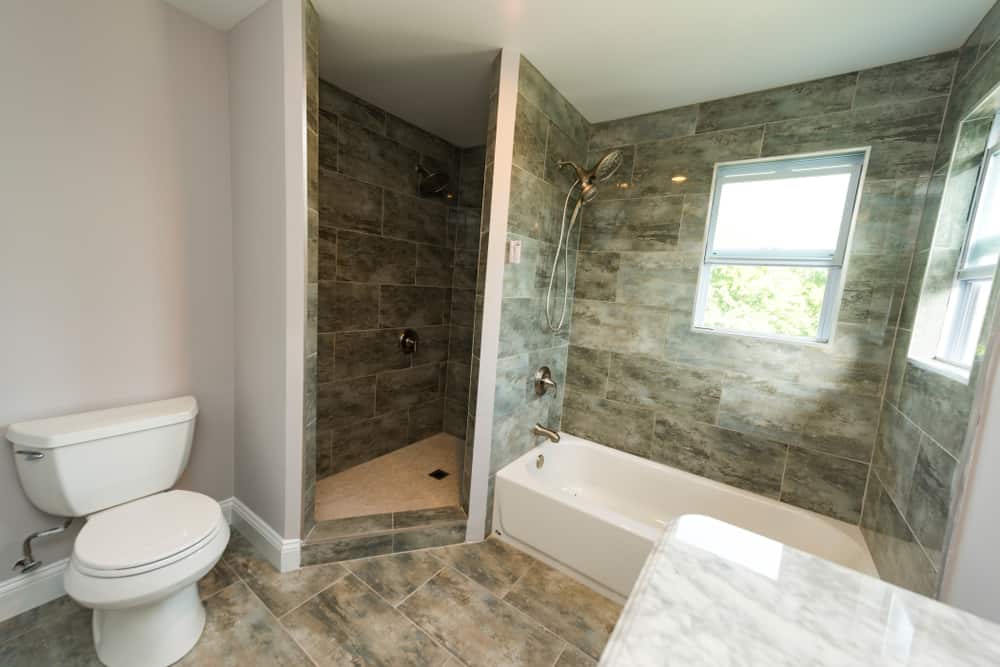 The styling in this bathroom makes it seem to lean back. Probably because of all the diagonals. But that back-lean does make the bathroom seem bigger, and that's a good thing. The corner shower leaves adequate room for a tub. The shower and bathtub walls are mossy green-gray while the vanity is white marble and the floor has a mossy-brown shade of glossy tile.
14. Skip the Vanity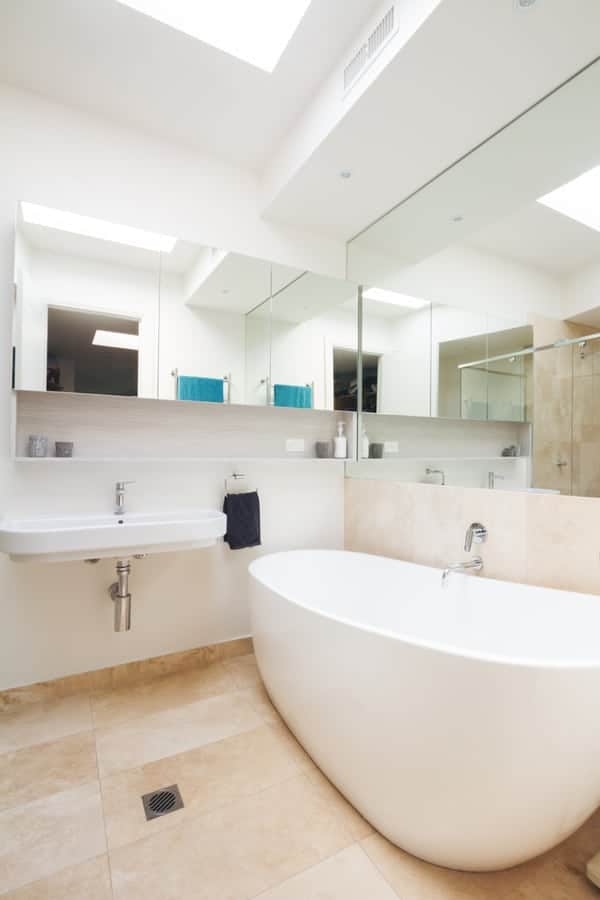 Small master bathroom ideas have a way of cutting corners. For instance, if you don't have enough room, you don't have to install drawers. In this bathroom, the sink is long and shallow with no storage below, so the room feels more open. The bathtub is massive, but the mirrored cabinets above the sink and tub provide storage while visually enlarging the bathroom.
15. Overhead Angling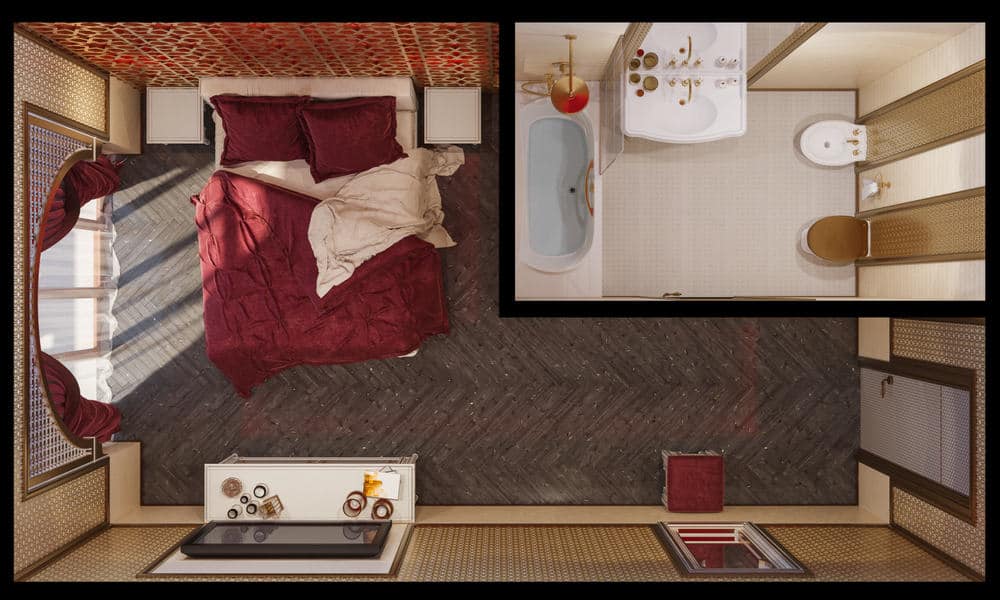 This top-view illustration clearly shows some good small master bathroom ideas. The en-suite bathroom seems closet-sized, but you can use its cube-like layout to your advantage. You can position on one side of the room and still have enough space for a central sink, bidet, and regular toilet on the other side of the room. Make your shower faucet part of the bathtub.
16. Creative Cabin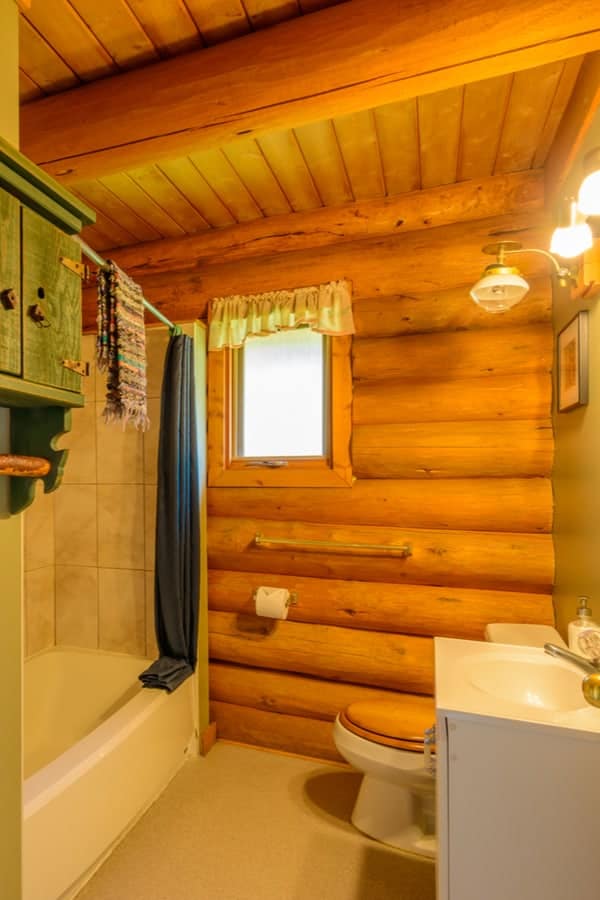 Even if you're going off-grid, you can still enjoy the luxury if a master bathroom. This tiny corner bath has log walls and a vaulted ceiling. But you can still squeeze in an oval vanity sink, a tiny tub, and a small toilet with a wooden lid. The bright green cabinet sparks up the bathroom.
17. Clever Storage Ideas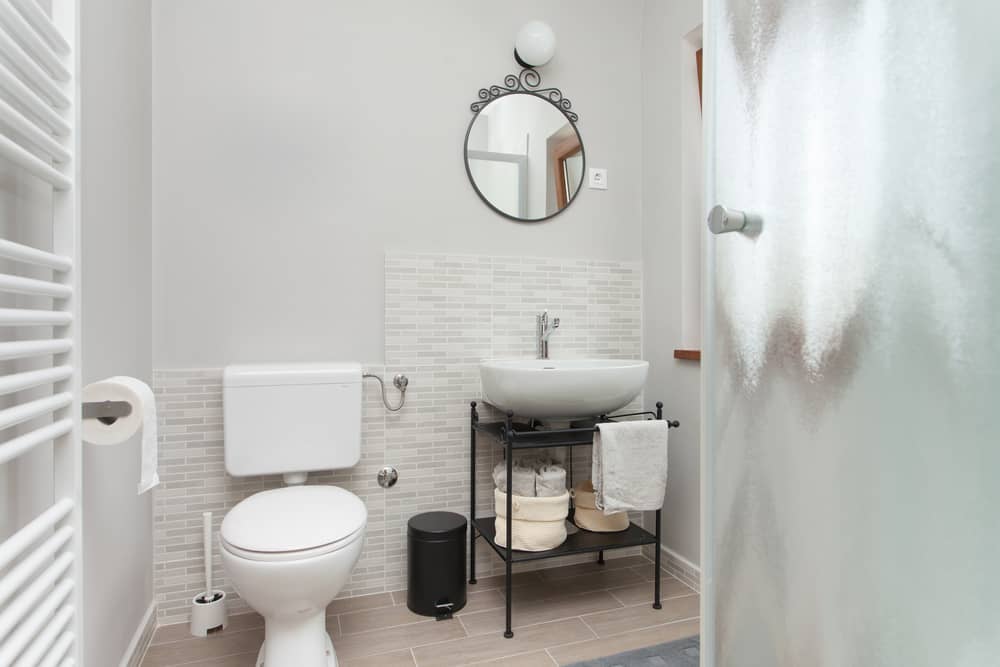 Your small master bathroom ideas may not allow for a bathtub. But you can install a small shower enclosure. You'll have to settle for a single sink and mirror, as seen here. But because there's no space for a vanity, make it a wall-mounted sink then use a small storage shelf. You can also lean ladder racks against the shelf. They provide extra hanging space for bath linens.
18. Shine Brick Décor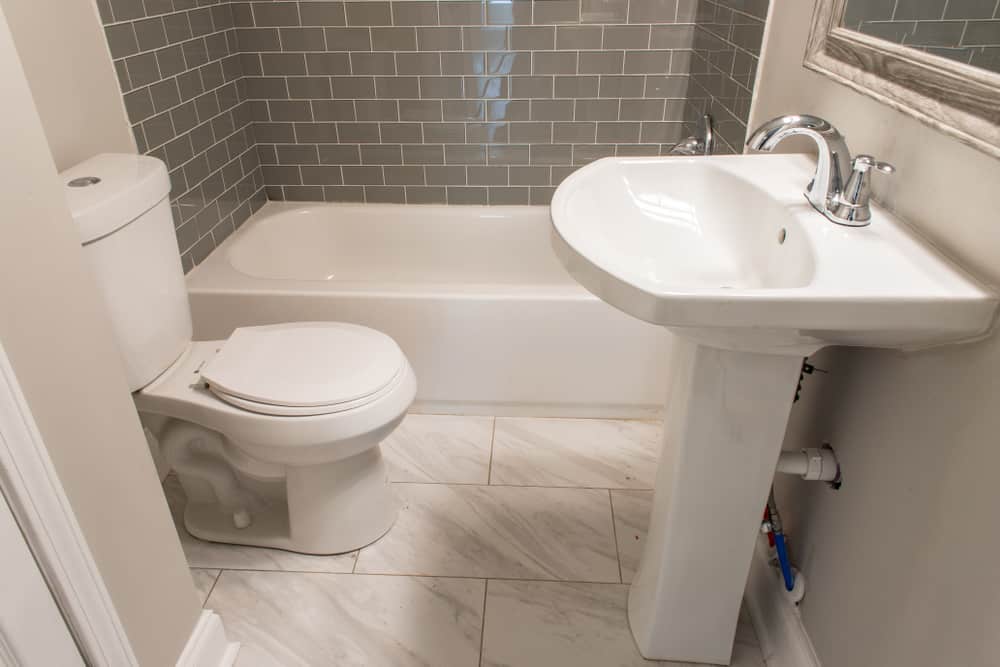 Pedestal sinks are popular elements for your small master bathroom ideas. This bathroom has a single sink mounted opposite the toilet. This leaves the back bathroom wall available for a bathtub. The wall above the tub is a glossy gray brick-patterned tile. There's a large mirror and off-white tile on the other walls and floors. They all make the room seem more spacious.
19. Glassy White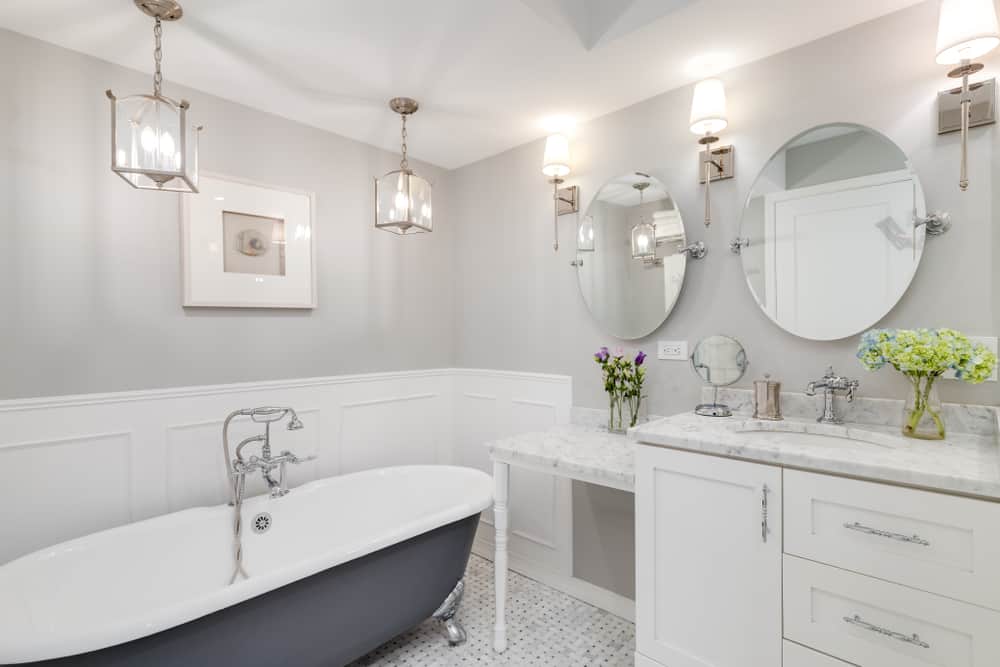 Here are three styling tips to incorporate in your small master bathroom ideas. Use lots of white, lots of light, and lots of glass. Two round unframed mirrors are paired with the clear glass lampshades suspended over the bathtub. Two oval sinks sit on a white marble countertop above a white wood vanity. The clawfoot tub is gray and the ceiling details keeps the space pretty.
20. Call the Curtains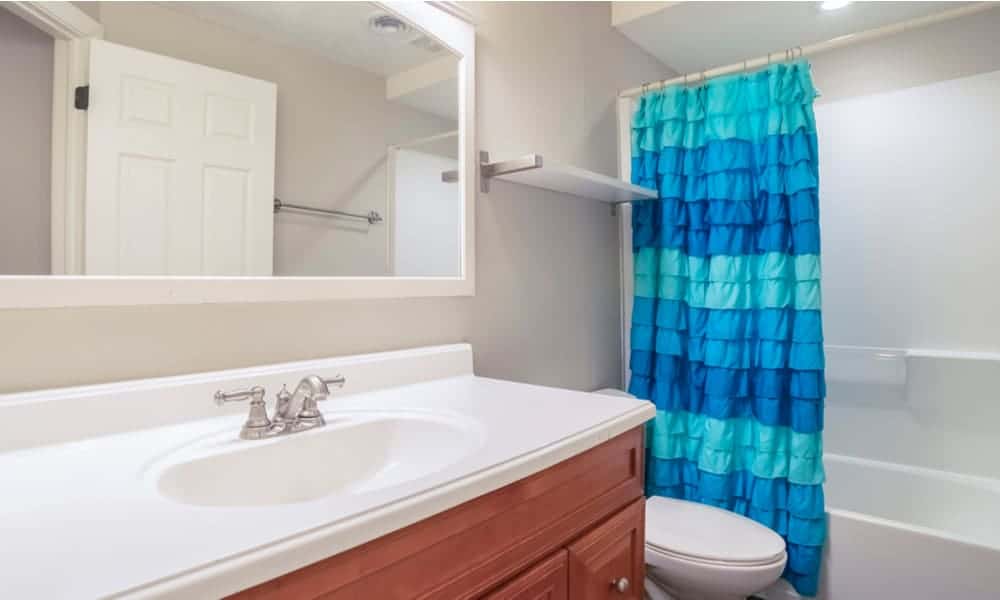 Glass enlarges a space, but it's expensive. So if your master bathroom is on the smaller side, consider shower curtains instead of glass doors. The tub tucks into the corner and is covered by a bright, frilly, blue curtain. The vanity is reddish-brown wood with a white stone counter and rounded twin sinks. A large mirror faces the door, visually doubling your bathroom size.
21. Whiter than White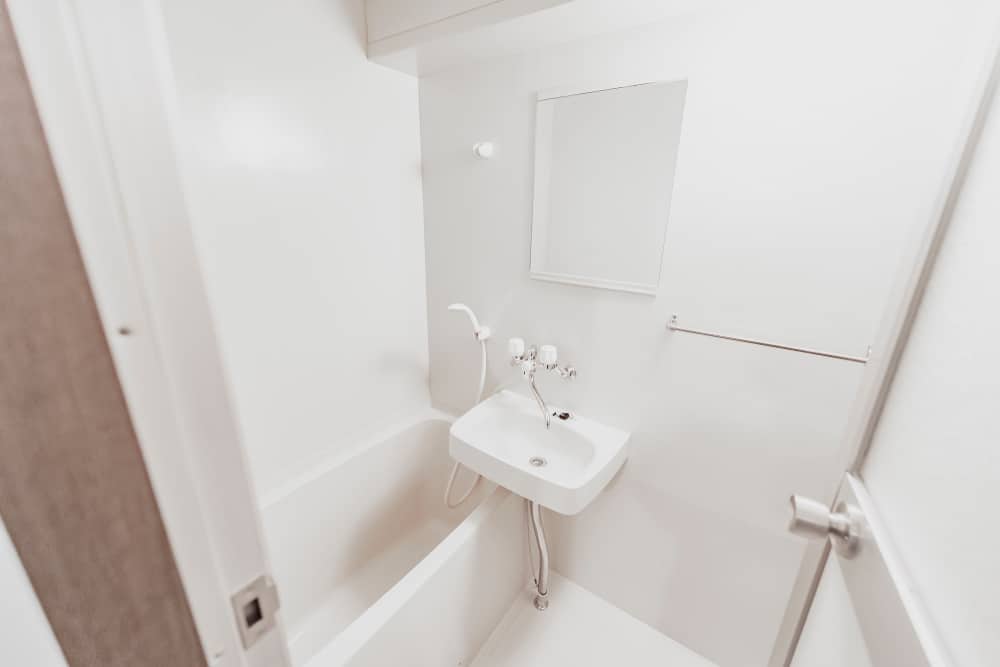 What's the most essential element in your master bathroom? Do you need a toilet for twilight tinkles or a luxurious bubble bathtub? This couple opted for a bath, so it almost fills the room. Everything is painted matte white to maximize the illusion of space. A single sink allows basic bathroom habits, and you could probably install a mirror in that empty slot.
 22. Clever Colors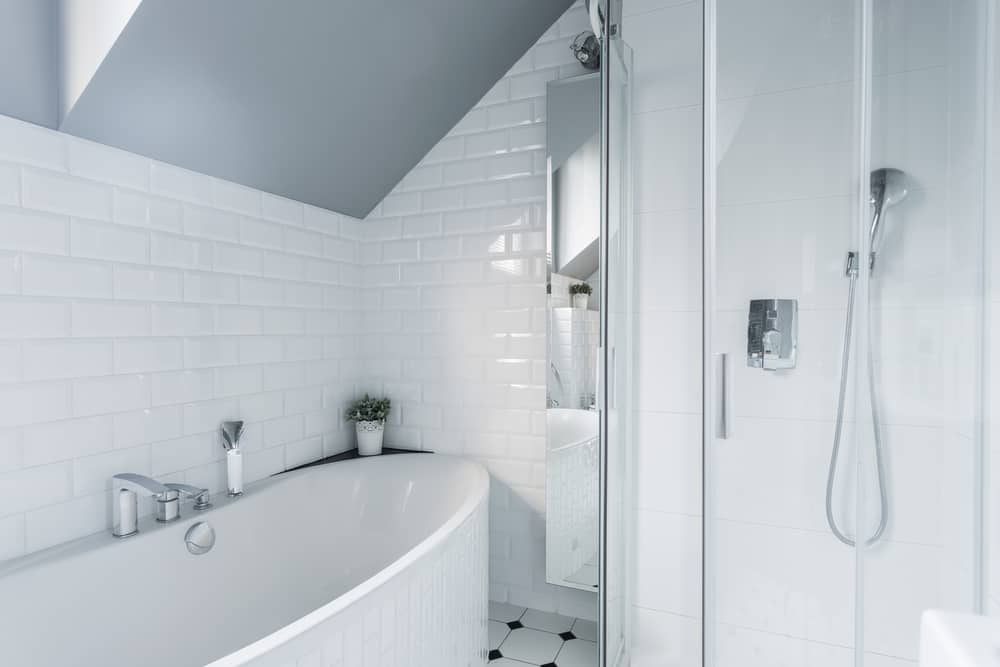 Yes, white can widen a space. But here, the vaulted ceiling is painted dark gray to psychologically recede it from the white walls and floors. The white tile is glossy to enhance reflected light, which helps make this attic bathroom look larger. The small glass shower and curvy tub are tightly packed, and the plant in the corner helps the air stay fresh.
23. Angular Aura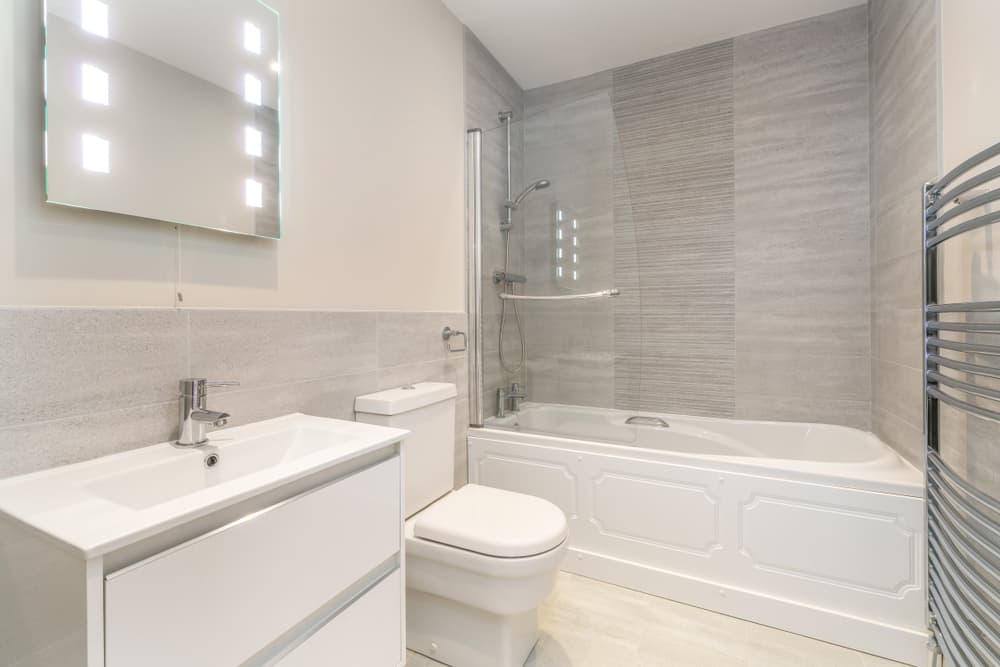 You can tell when a master bathroom is a latter-day addition. The shape is a dead give-away, as we can see in this parallelogram bath. Curvy tubs are a smart choice because they fit better with those weird angles that are plus-or-minus 90°. Mount your shower over the tub and use a single elongated sink in place of a double vanity. Vertical stainless steel storage racks are good too.
24. Bathroom Bowls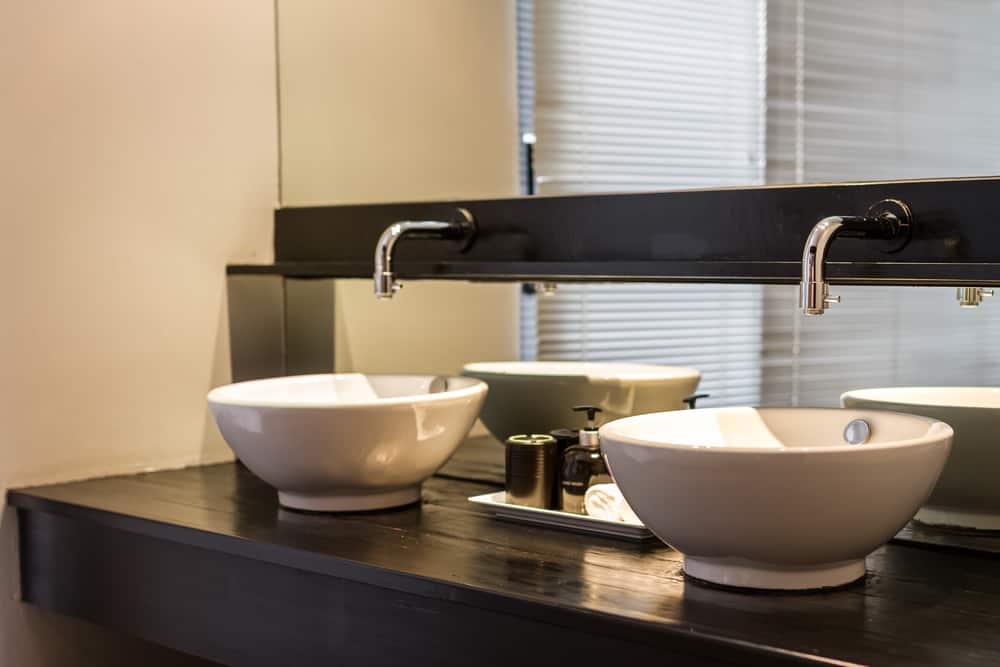 For some residents, it's not a master bathroom unless it has double sinks. So in this small example, a floating wooden counter is installed in the corner, with a wall-to-wall mirror above the counter. Two bowl-shaped sinks are placed on the counter, with wall-mounted faucets. There's no storage below the sinks, but there's a bathtub on the opposite wall.
25. Vessels and Poufs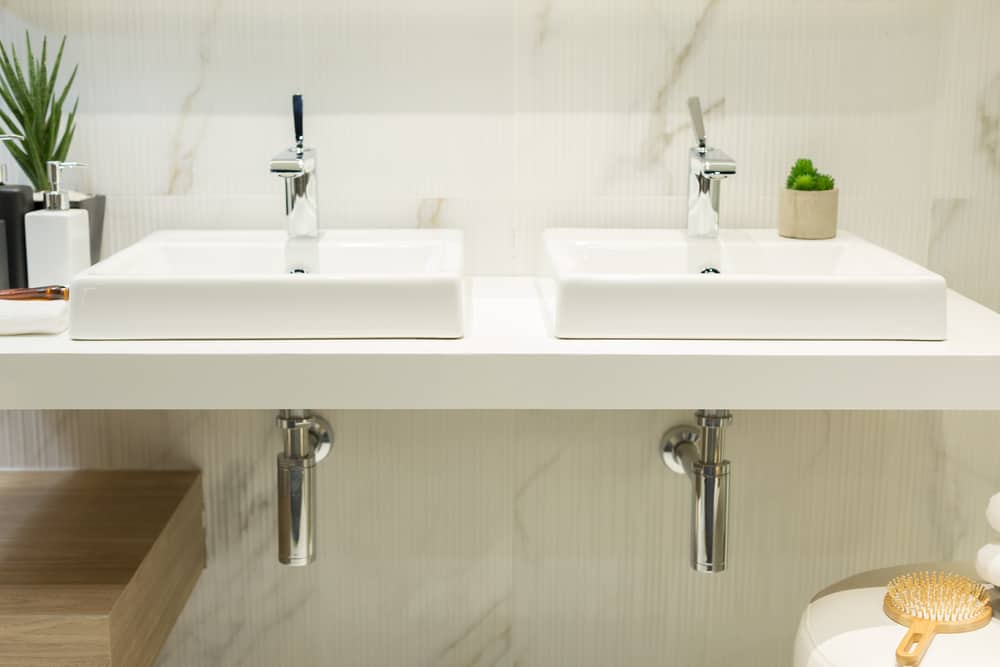 This small master bathroom uses a thin floating counter as the base for its shallow twin vessel sinks. Padded poufs can tuck under the counter so you can sit as you brush your teeth, shave, or fix your face. For storage, wooden floating shelves are mounted under the counter.
26. Uneven Spacing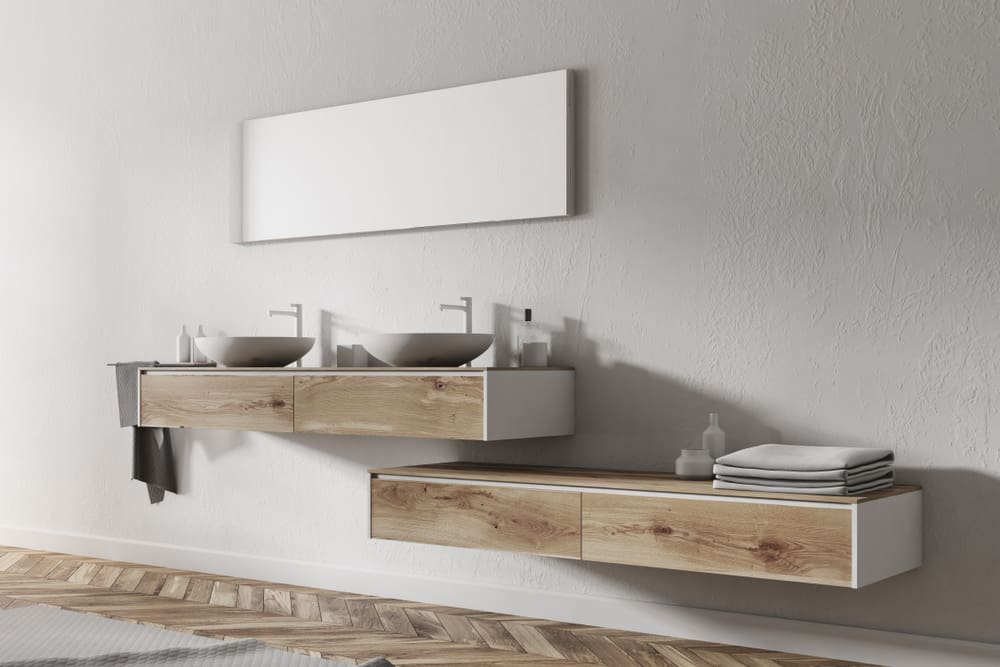 By shifting your symmetry, you can develop interesting small master bathroom ideas. Here, two floating shelves are used in place of a more aligned vanity. Both shelves have a countertop and drawers. So you can mount oval vessel sinks and a mirror, leaving the other shelf for storage. The rest of the room is now wide open for your tub, shower, and toilet.
27. Linear Alignment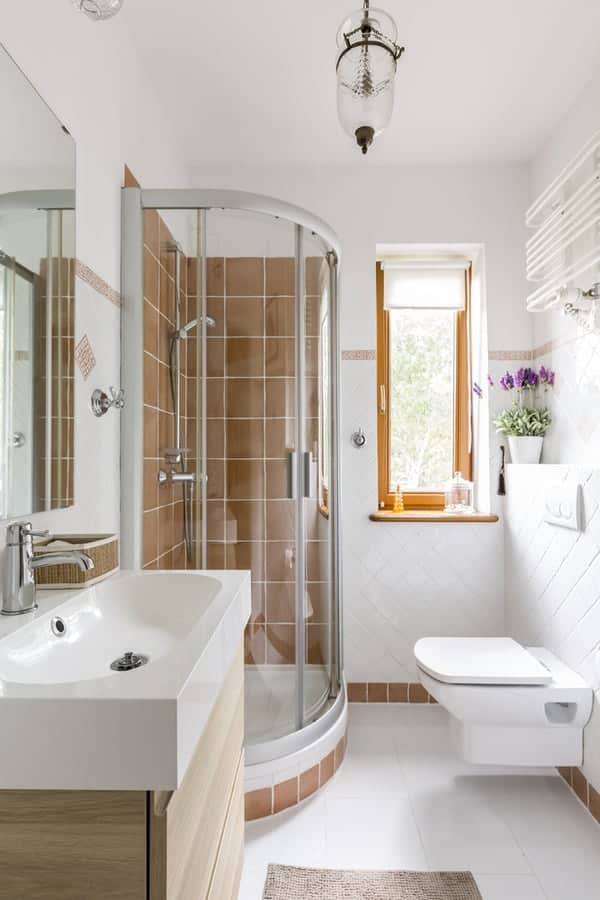 Your small master bathroom ideas are dictated by size as well as shape. This master bathroom is narrow and has a small window. So the corner shower cubicle has a curved glass wall to allow more space. The toilet is a floating model and the vanity has a curvy elongated sink that's fine for two. The bathroom is mostly white with reddish-brown accents to maximize visual space.
28. Smoke and Light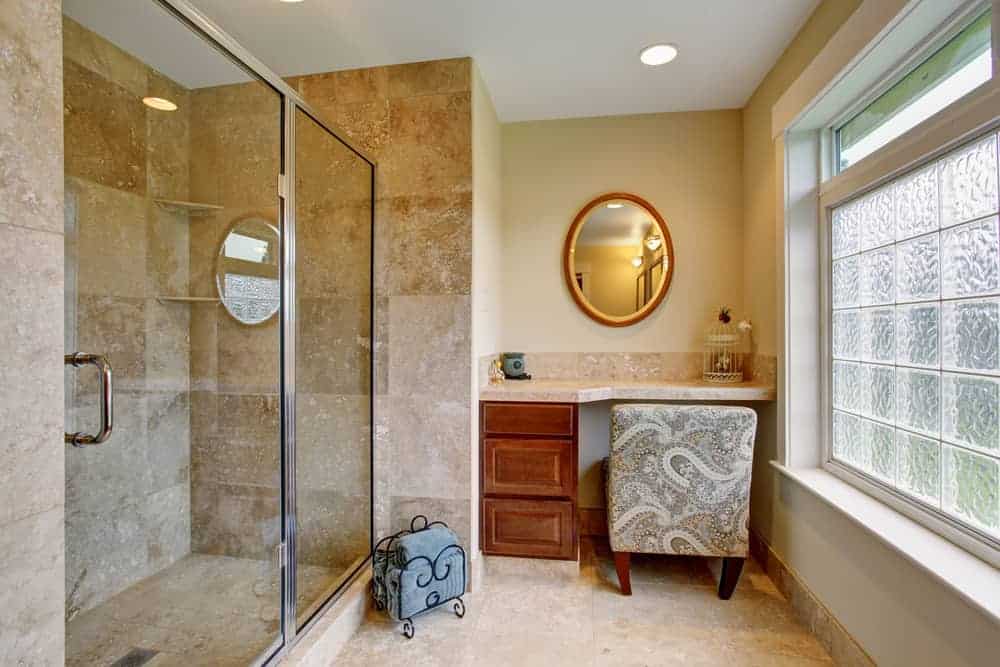 In this small master bathroom, the shower was a priority, so it takes up most of the room. It has a large glass door that's opposite the textures bathroom window. Between them, a sink-free vanity has a comfy armchair, drawers, and a rounded vintage dressing mirror.
29. Aquatic Attic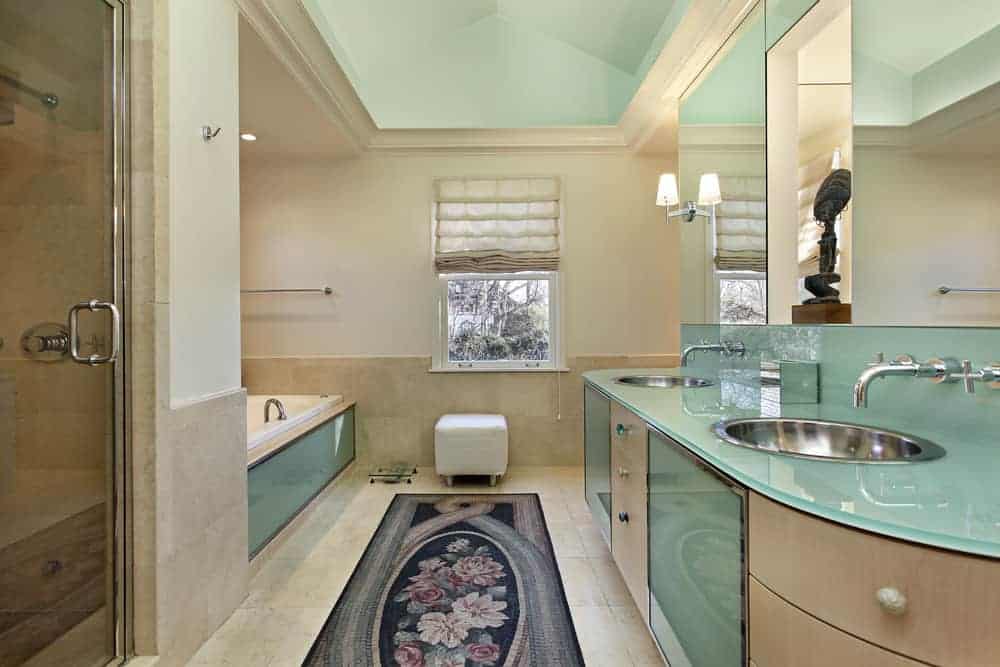 This master bathroom has a double-vaulted ceiling and a narrow layout. So the bathtub and shower cubicle are both recedes while the oval twin sinks are stainless steel. Aqua-colored glass lines the countertop, bathtub coping, backsplash, and vanity doors. The ceiling is aqua too. The oval shapes in the bathroom rug echo the elliptical sinks and the curved vanity cabinets.
30. Black Mosaic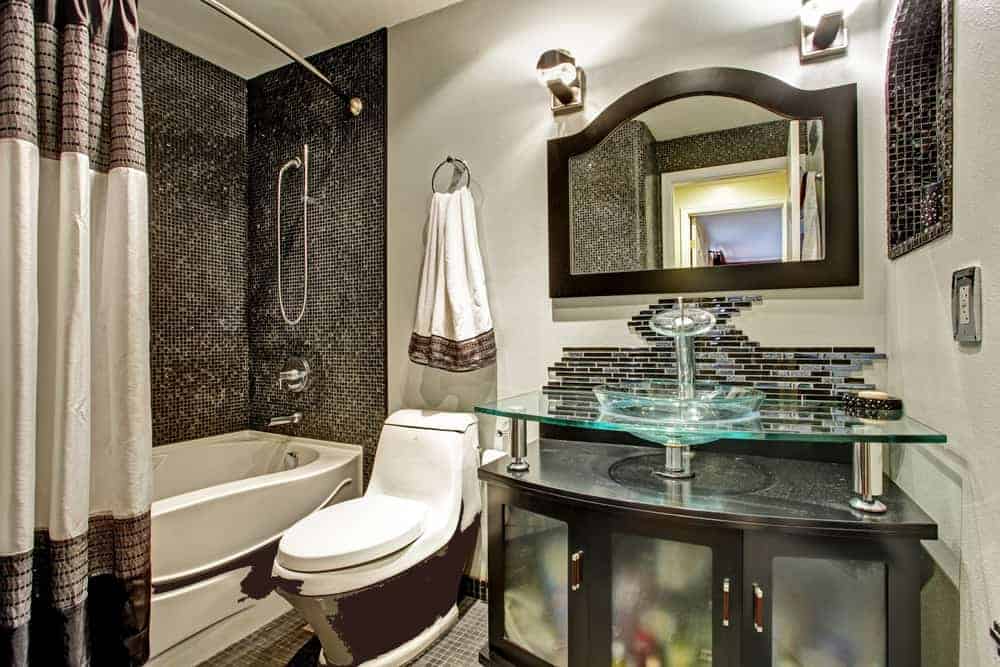 You would think black would be banned for small master bathroom ideas. But this room uses shiny black tile grouted in white. It's used on the shower walls, backsplash, bathroom walls, and recessed shelf to enhance visual space. The sink and countertop are see-through glass with a turquoise tinge. The black toilet base and black vanity add style and sophistication to the room.
31. Tantalize in Tan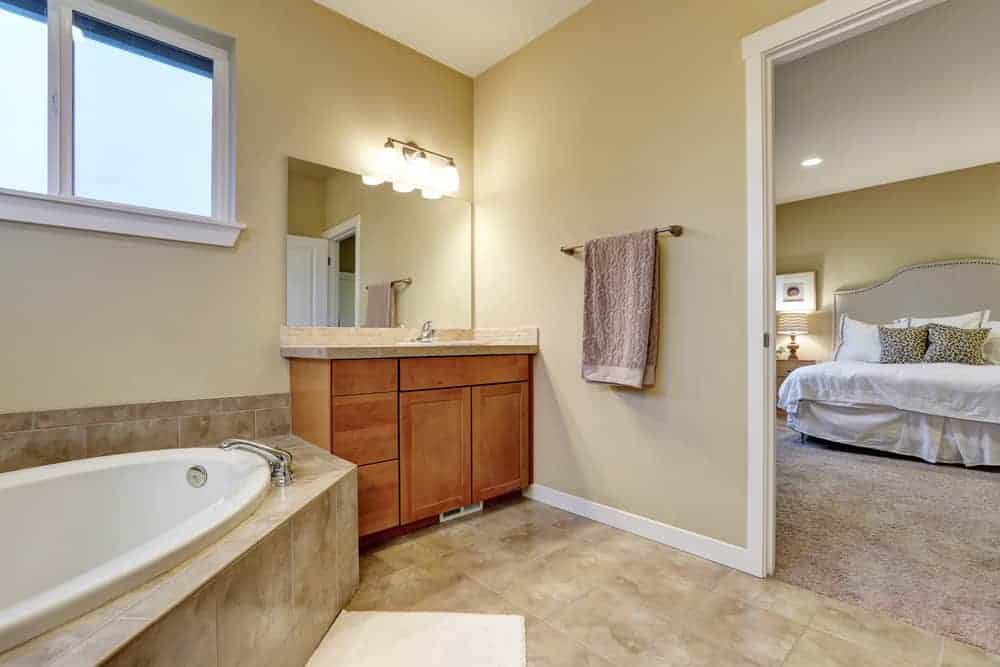 For this small master bathroom, an oval bathtub takes up most of the room. Its tile coping is diagonal to reduce the squashed effect. A wooden vanity with twin sinks stands near the bathroom entrance. The walls, floor tiles, ad bedroom carpet are varying shades of tan.