Shower valves may vary in size, types of faucets, and different manufacturers. Even though two handle shower valves are considered out of date, most of us still have them in our bathrooms.
Once the tap starts leaking, it is necessary to replace valves. It's up to you to call the plumber or to finish this, not a quite simple job, by yourself. Let's see how to complete the procedure successfully.
What to Know About Two Handle Shower Valve
My friends often criticize me that I am old-fashioned since I refuse to change the tap my grandfather installed in our old family house. I know that two handle shower valves are not modern and convenient as contemporary models, but I like them.
Also, I believe that most households still keep a two handle shower. However, people often have a problem to find an excellent professional to replace them because they are not popular for more than ten or twenty years.
Therefore, you will probably need to solve the issue with annoying leaking of your two handle showers valves by yourself.
The primary difference between shower valves with one and two handles is concerned about the mixing of cold and hot water. If you have a two handle shower valve, you actually have separate handles for hot and cold water.
That means that hot and cold cannot mix in the valve. Depending on the type of taps, hot and cold water will mix in the shower faucet directly or in the pipe that is leading to a shower faucet. Therefore, when you turn on a hot water handle, you will have just hot water flowing from the shower faucet. It is likewise with a cold shower faucet.
In case you want to get a mixture of cold and hot water, you should stir both handles according to your needs. As I have already mentioned, two handle shower faucets are a bit out of date in modern architecture and construction, but they haven't extinct.
Therefore, I am sure that many of you need a manual on how to replace two handle shower valve. I hope to help you since it is challenging to find useful instructions on the net.
Necessary Materials and Tools
You will need all the listed materials and tools or just some particular pieces depending on the type of pipes you use, the possible complications, and the brand of the faucet. Let's see the list.
Materials
PEX tubing
Three female threaded adapters for pipes (you may use the old ones as well)
At least 3 to 4 couplings
Pipe-crimp ring fittings
Silicone sealant
Teflon tape
Tools
Allen key
Adjustable wrench
Crimping tool
Caulking gun
Electric screwdriver
Screwdriver
Wrench soldering torch
Hammer
Hex key
Slip joint pliers
Hole saw
Screws
Either propane or MAPP gas
Solder (the type suitable for soldering copper pipes and safe for using for pipes with drinking water)
Snap-on cutter for copper pipes or cutter for PEX tubing
Level
Measuring tape
Pencil
Sand cloth
Fittings brush
Constructing materials (silicone, glue, clay, drywall tape) for repairing and mending drywalls, ceramic walls, and holes
Safety Measures
You have to take care of your safety before you start replacing a two handle shower valve because you should finish some not so simple plumbing. Therefore, make sure to wear:
Protective glasses
Gloves
Solder protective clothes
Also, keep in mind that you may need:
A spray bottle with water
A fire cloth and fire extinguisher for just in case
You will not need some of these things in case you have classical copper pipes in your home. On the other hand, if you need to work with PEX tubing, you won't need to solder anything.
Therefore, I recommend you to use PEX tubing as a much easier solution, especially if you haven't got any soldering and plumbing skills.
Steps to Replace a Head Shower Valve
Replacing a two handle shower valve is not a quick job. However, if you are skilled, have a basic knowledge of construction, plumbing, and soldering, and follow instructions carefully, you can do it.
Step 1. Shut the water down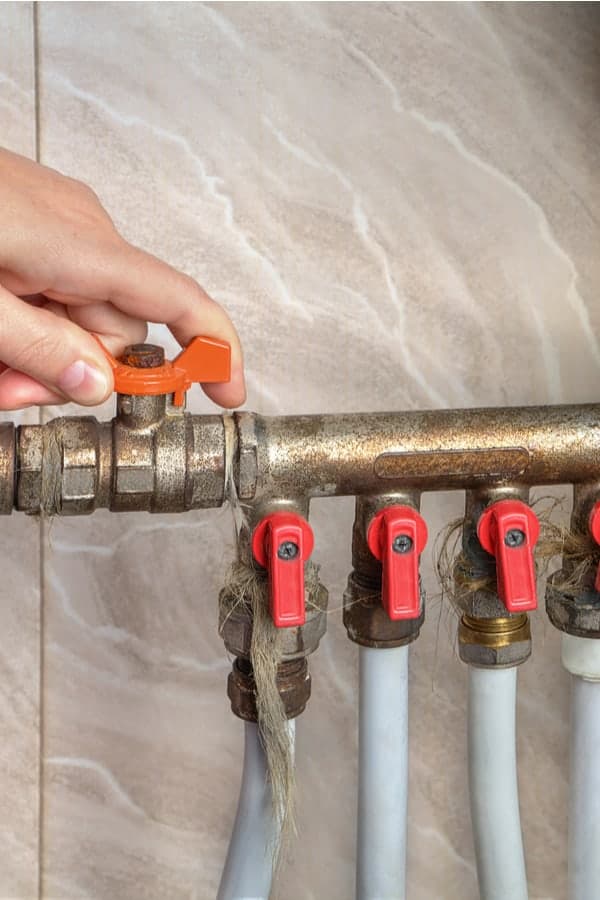 Always shut down water before beginning any job connected with plumbing. In case the valve is in the bathroom, you can quickly turn off the water there.
Otherwise, you need to turn off the main valve and leave the whole household without water until finishing the job.
After that, leave the tap open to let the water run out and release the pressure in pipes. Now, you can begin replacing your two handle shower valve.
Step 2. Take off the handles
Take off the handles' caps by using suitable tools. Depending on a manufacturer, you will need to use Allen key, adjustable wrench, or screwdriver.
Take care not to lose any pieces after dismantling the handles' cups. You need all of them to finish the process. I suggest having a few boxes marked as left and right, where you will put away all the parts for later.
Step 3. Take off the stems
After taking off the handles, you need to take off all that is connected to the two handle shower valve. Begin with taking off the stems from each side carefully. For this specific job, you need to use suitable tools such as a screwdriver, wrench, adjustable wrench, or stem valve remover.
The stems can be like a simple screw, so you need to unscrew them and take out. The others may have handle sleeves around them. That means that you need to take off the sleeves first to come to the stem.
In case there is the plastic stem, you need to remove the screw and pop out the stem. Be careful where you leave stems, because you may need them again when you put back a new two handle shower valve. 
Step 4. Remove the old two handle shower valve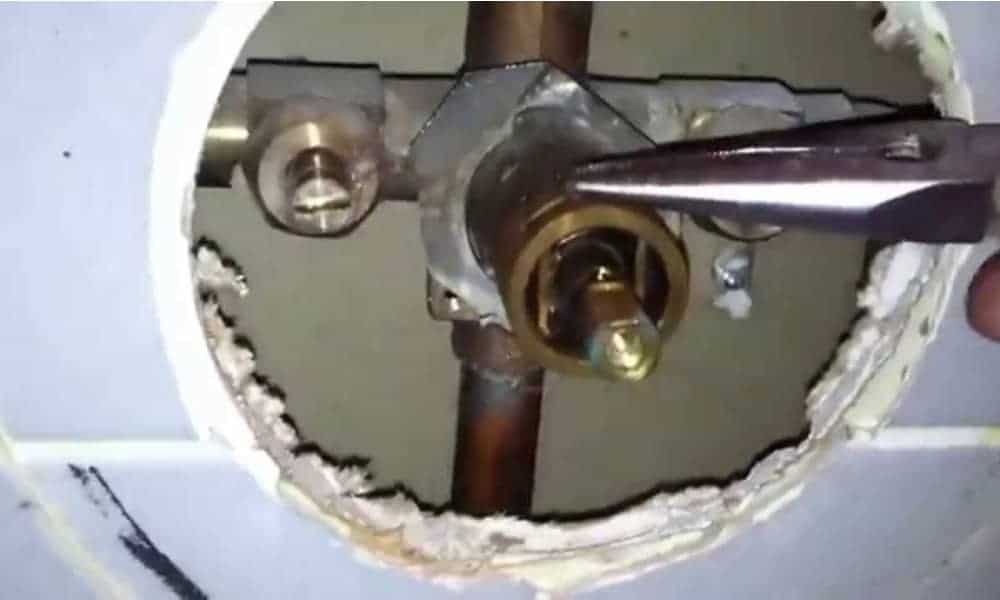 After removing all the parts connected to the shower valve, your next step will depend on the construction of your bathroom.
If you have access from the other side to the wall, the process of changing the valve will be more comfortable for you.
If you do not have access to the other side, you will need to make a hole in the wall. It should be wide enough so you could move without unnecessary inconvenience while changing the valve.
Take off an old valve by detaching it from hot and cold water pipes, as well as the one that is taking water to the shower head if you have it. Take the adjustable wrench to unscrew them.
Keep in mind that the hot pipe is usually on the right, while the cold one is typically on the left. After dismantling the old valve, take care to keep the old fitting for later use.
Step 5. Replace the old valve
Take a new two handles shower valve and put it in the place of an old one. With adequate fittings and suitable tools, you need to screw down a new valve to the pipes. Take care to connect everything as it used to be.
Wrap up adapters and couplings with Teflon tape to prevent possible future leaking. Be sure that the right water line pipe goes to the right outlet, and the left water line goes to the left one. If you are lucky, and there is no need for adjustments, you will avoid soldering and finish the job in several minutes.
If you use PEX tubing, make sure to measure a colon precisely and connect it to outlets using three female threaded adapters and couplings for pipes. Maybe you will need to add extra tubing or replace the old one to fit in precisely.
Always use the PEX tube cutter for a clean cut. Don't forget to wrap adapters with Teflon tape first to prevent possible leaking in the future.
Step 6. Fixate the valve
After connecting everything, it is time to fixate the valve to the site of the old one. Usually, it is a vertical stud attached to the wall or between two vertical studs. It is crucial to connect the valve firmly because water pressure may move it.
Step 7. Install back the two shower faucet parts
When everything is fixated and connected, you can go back to assembling the two handles' shower faucet. It is not complicated if you precisely follow the procedure backward. Firstly, put back the stems. Afterward, put back the handles and all decorative and additional parts that the faucet contains.
Step 8. Turn back the water on
It is time to test your new valve. Turn on the water to your bathroom or household. Try your new valve by turning on handles. If you have finished the job well, there will be no leaks.
Also read:
Conclusion
Congratulations! You have done an excellent job! You should be thrilled and overwhelmed with your accomplishments because replacing two handle shower valve is not an easy job.
I believe that it is time to take a long, hot shower. You deserve it. Enjoy!