Bathroom doors are an essential part of the interior of any home. While you probably won't choose them with the same care as a living room door, you should think about the materials and models that best suit this type of room, as well.
Keep in mind that this door gives the first impression before entering the unique design of space itself. Plus, the right material will withstand the conditions of high humidity and prevent the buildup of ugly spots and mold. If you make the right choice, you will get a beautiful addition to the overall interior style of the house and convenient protection for your privacy.
The Best Material for Bathroom Doors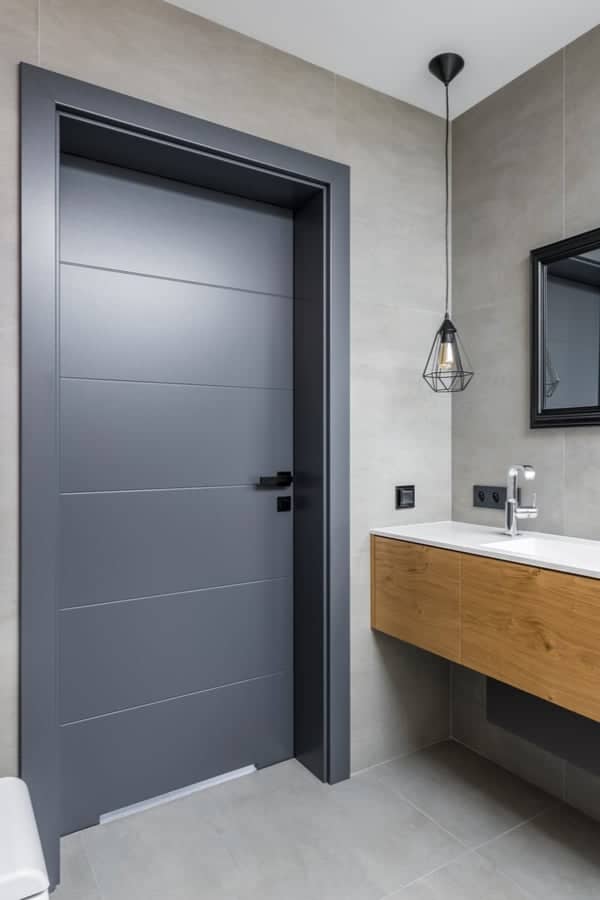 Given the specific conditions that exist behind your bathroom door, it is necessary to pick out the model made of appropriate material that meets some primary requirements. Let's see.
Wooden bathroom doors
You can purchase a wooden bathroom door if this material is the best fit for the interior of your house. However, you should choose the wood treated for high humidity to prevent the warping.
Fiberglass bathroom doors
It is a modern, reliable, and convenient solution for most homeowners. The advantage of this option is the possibility to get wooden-like doors with the best properties of fiberglass, which includes resistance to high humidity and mold. Plus, this is an inexpensive choice.
Steel bathroom doors
They are not the most intimate and romantic choice, but this option is quite reasonable and practical. This material is durable and resistant to condensation and high moisture. Nowadays, there are numerous attractive designs worth considering.
Plastic bathroom doors
Plastic is not lousy material for bathroom doors at all since it is waterproof, highly durable, inexpensive, and easy to maintain. Plus, you can find a lot of colors and styles on the market these days, which makes this solution practical.
uPVC bathroom doors
Installing a uPVC bathroom door is both a stylish and convenient option. If you choose a classic white door, it will fit the usual white walls, mainly thanks to the concealed hinges. Plus, it won't take too much space since this material is quite slim.
Types of Bathroom Doors
After deciding which material for your new bathroom door is the best solution for your home, it is time to pick the right design. Let's consider the options available.
1. French bathroom doors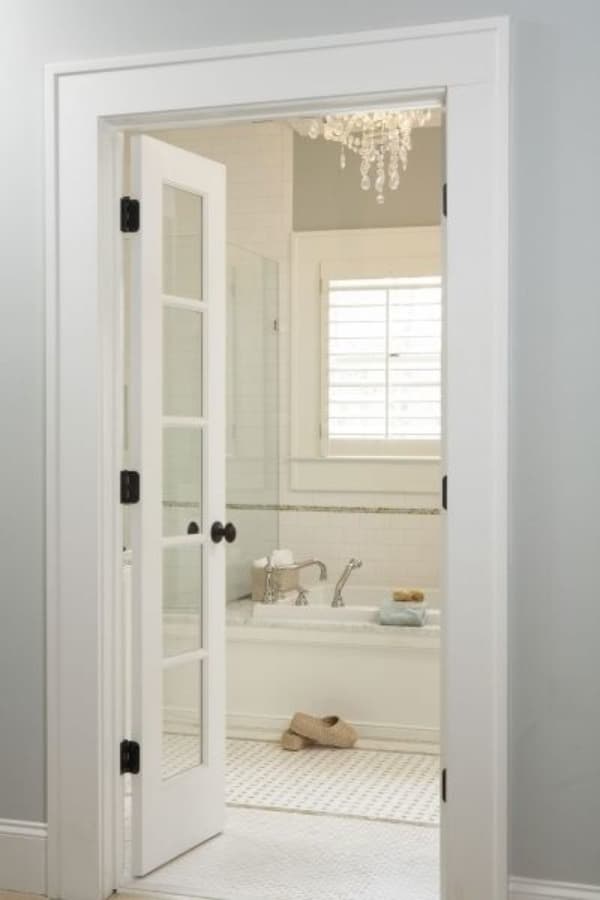 Even though this grand entrance is usually a classy solution for the living room, there are no reasons to avoid installing it as a unique and elegant choice for your spacious bathroom.
Since this model is paneled with glass, it will provide an elegant ambiance and a lot of natural light for your space. Plus, this option always brings a classy touch to the whole interior.
2. Glass panel bathroom doors
If the French bathroom doors are a too extravagant option for you, but you still want to have a well-lit bathroom, this is a convenient solution for you. Pick out the right design with enough glass rectangle panels to create an appealing option.
3. Transparent glass partition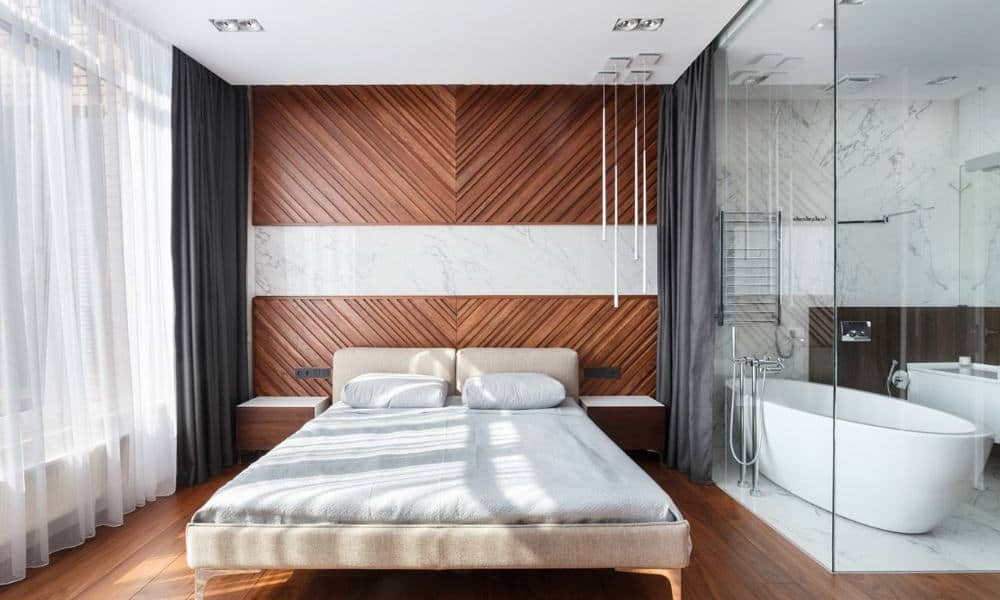 When your master bathroom is an integral part of your bedroom, and a matter of gaining privacy is not crucial for you, you can choose this elegant and unique option.
This model of bathroom doors will protect the rest of the space from a high level of moisture and the steam that creates while you take a shower. Plus, you will save space by avoiding large partitions necessary for more traditional options.
4. Stained glass bathroom doors
This option is something special, for sure! Pick out the intricate patterns and make a fantastic colorful play of light in this the most intimate part of your home. It's up to you to decide among various options, including a simple repeated pattern, ornamental design, or a real picturesque scene.
You can choose to make the whole door a large stained-glass window. Also, your door can be made of some other material with one stained glass panel or even specifically arranged multiple panels that form a particular pattern.
5. Frosted glass bathroom doors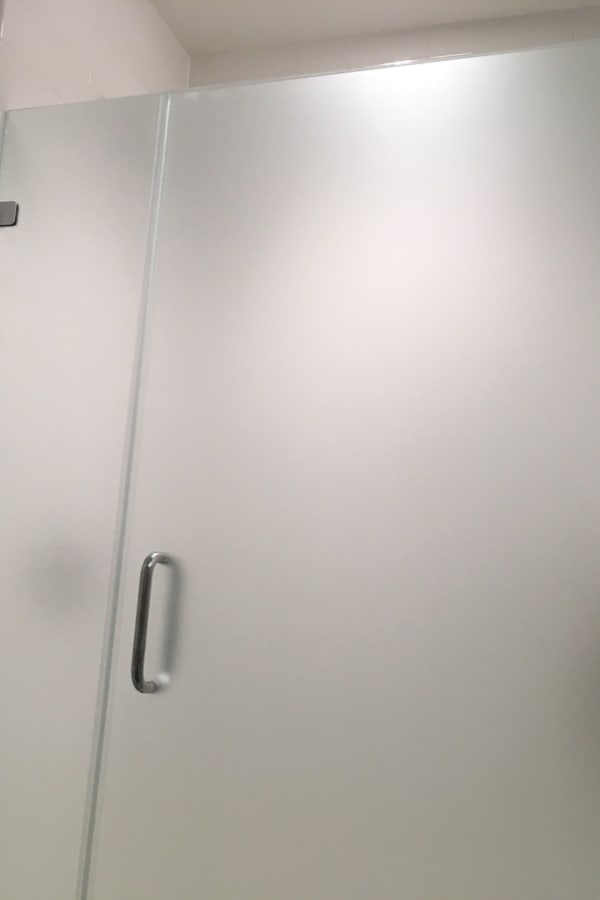 Unlike ordinary glass bathroom doors, this choice will provide an airy and spacious look without compromising your privacy. Luckily, you can find frosted glass doors in numerous designs and styles these days.
If you add frosted glass for shower enclosure panels, you will make an elegant, convenient, and contemporary spatial whole.
6. Mirrored bathroom doors
If you live in a tiny apartment, hanging a mirror over the bathroom door sounds like an excellent idea. This particular and convenient design will maximize your space and make checking your outfit much more comfortable.
There are a few options available. You can pick out to mount the mirror on the door or to integrate it and use the door as a frame. Plus, you can make a collage of smaller pieces of glass if you prefer that way.
7. Sliding barn bathroom doors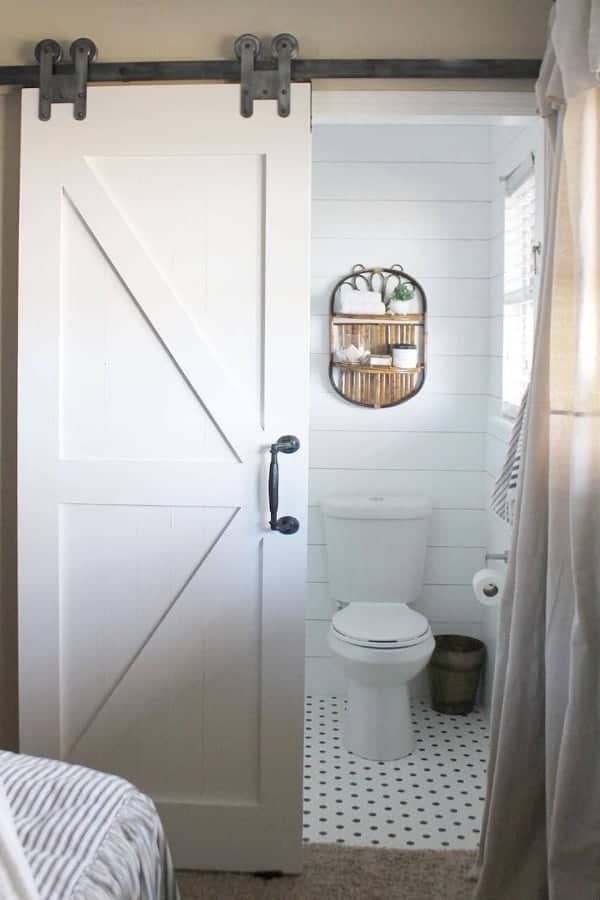 Here is one on-trend option for your bathroom doors. In general, sliding barn doors can fit almost every contemporary style you want to choose for your home. It's up to you to pick out the right design and variety depending on your preferences and taste.
These doors are hung on specifically designed hardware installed above them. This part allows the doors to slide, making this option practical, reliable, and charming. Not to mention that this solution will save you a lot of space and prevent inconvenience with locked doors since they don't contain any doorknobs.
8. Pocket bathroom doors
Since this variation of sliding doors retracts into the wall, it will save you valuable space, which can be crucial in small flats. Installing a pocket bathroom door will help you to make the most of your bathroom, but it can be a bit tricky, plus it requires professional help.
9. Shoji screen bathroom doors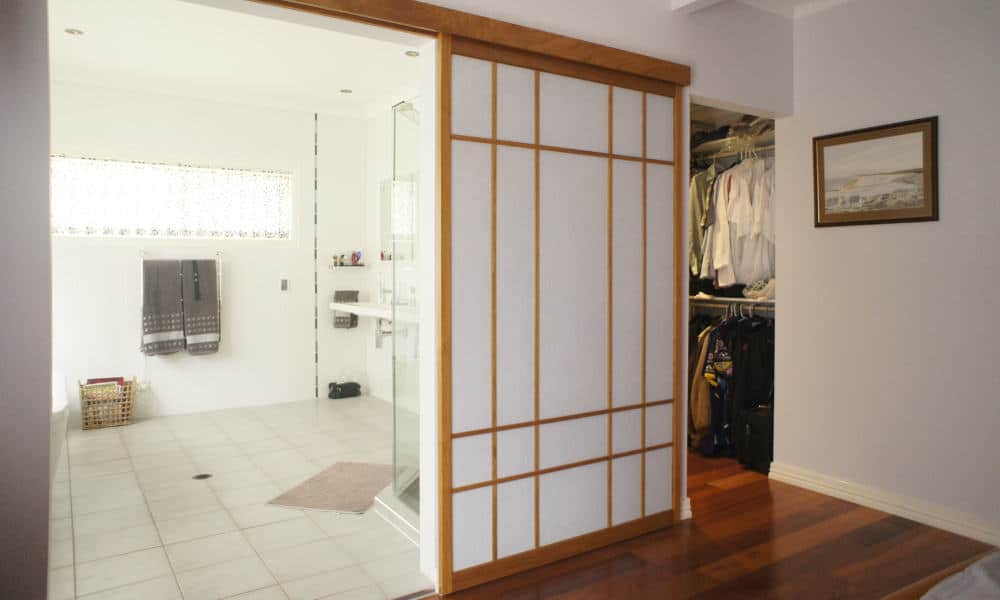 If you are a fan of Japanese-inspired decor, you can choose the Shoji screens for your bathroom door instead of regular designs available. They remind me of sliding doors, but this solution includes unique materials, structure, and style.
These types of doors are a combination of a wooden frame, and window-like compartments made of a specific, hard fiber rice paper. They are beautiful and change the overall vibe of your home. Be prepared that this is not a durable option, although the paper is not too fragile.
10. Panel doors
I know that this traditional bathroom doors may sound a bit dull, but you can make them unique with a little effort. Regardless of whether you choose an option with a single large wooden panel or a few smaller ones, you will get a classic and versatile look of your space.
These doors are moist-resistant, durable, and reliable. Plus, they will look natural in most houses. If you want something more special for your home without significant investment, you can paint your door in a specific color and add some vibrancy and elegance to your bathroom.
11. Brightly-pained bathroom doors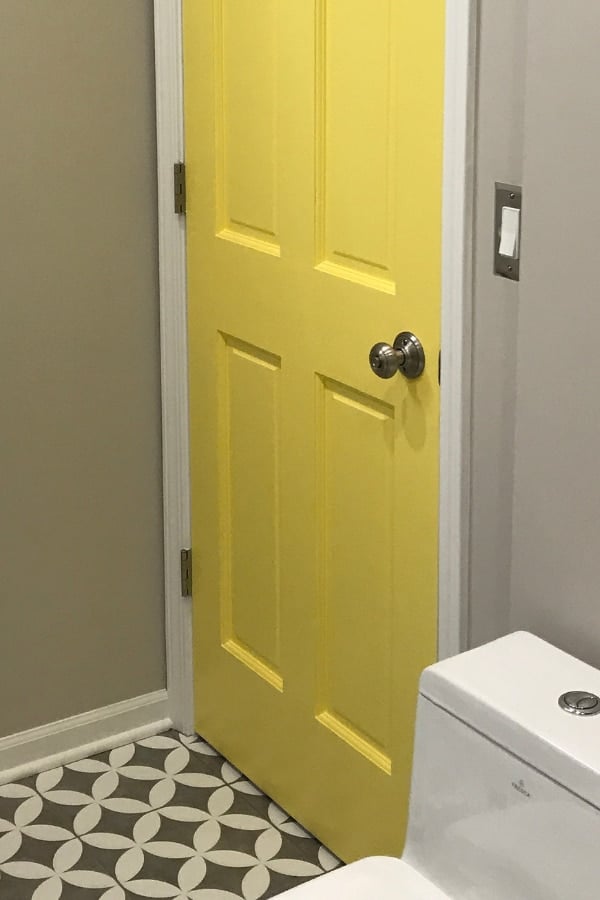 Painting the bathroom door in a bright color is an excellent way to highlight and transform it into a practical and decorative part of your home style.
When you include a unique color in your decor, the inadequate size, shape, and condition of this door won't matter so much. In other words, this is an inexpensive and eye-catching option you will be proud of.
12. Chalk bathroom doors
Painting the interior panel of your bathroom door with chalkboard paint will add a beautiful playful touch to space. You can consider an option to ask your family and friends to leave a message on the inside side of the door after using the bathroom. It is such a unique way to make your space personalized and intimate.
13. Folding bathroom doors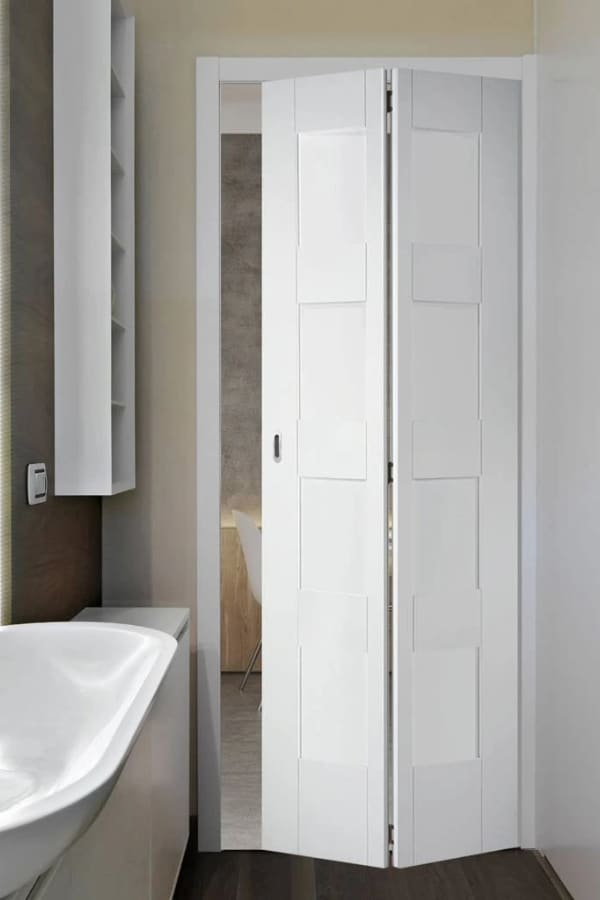 I like this model of bathroom door since it can utilize your space successfully. It is crucial if you have a small bathroom. Plus, this wooden bifold door is stylish and beautiful, as well. An additional benefit is that you can paint it whenever you decide to change the design of your space.
14. Alternative solutions for bathroom doors
Hidden bathroom doors – You can consider this unique idea and install a secret, bookshelf-like door. They are fun and beautiful, even though it is not the most practical option for this purpose.
Bead bathroom doors – You can use this idea if you have a private bathroom connected with your bedroom. Unfortunately, beads are not convenient for households full of people.
Curtains instead of doors – By using curtains, you will get enough privacy without any problems with a locked door. Plus, they are an uncomplicated and comfortable option to install.
Summary
Most homeowners overlook bathroom doors and don't pay attention to the importance of their appearance. I believe that you can see the illogicality of designing the bathroom to the latest standards, while the doors stay neglected, old, rotten, and unsightly.
The bathroom doors should be both functional and beautiful. So, it is time to start looking for the ideal model that fits your taste and the style of your home.