In any bathroom, the bathtub is one of the most important elements. It's not just a functional fixture – it's also the focus and centerpiece of the room, and choosing the right one can greatly enhance the overall visual effect of the space, adding an extra level of style and elegance.
However, before you even begin to think about the aesthetic aspect of choosing a tub, you need to know about the size you are looking for as well as how to measure the space you have available.
For anyone looking for a new tub or thinking of replacing an old one, here we look at standard bathtub sizes and dimensions – as well as the different types of tub available and how to measure them.
Different types of bathtub
Let's get this out of the way before we start: there is no such thing as a "standard" bathtub. There are no standard bathtub measurements, and bathtubs come in a range of shapes, sizes and styles.
This means we can't provide a definitive list of standard sizes, but what we can offer instead is an idea of the sizes that are most commonly found. However, before we move on to that, let's look at some of the different types of bathtub that exist.
If you prefer something more visual, check out this video that introduces the most types of bathtub.
1. Freestanding bathtub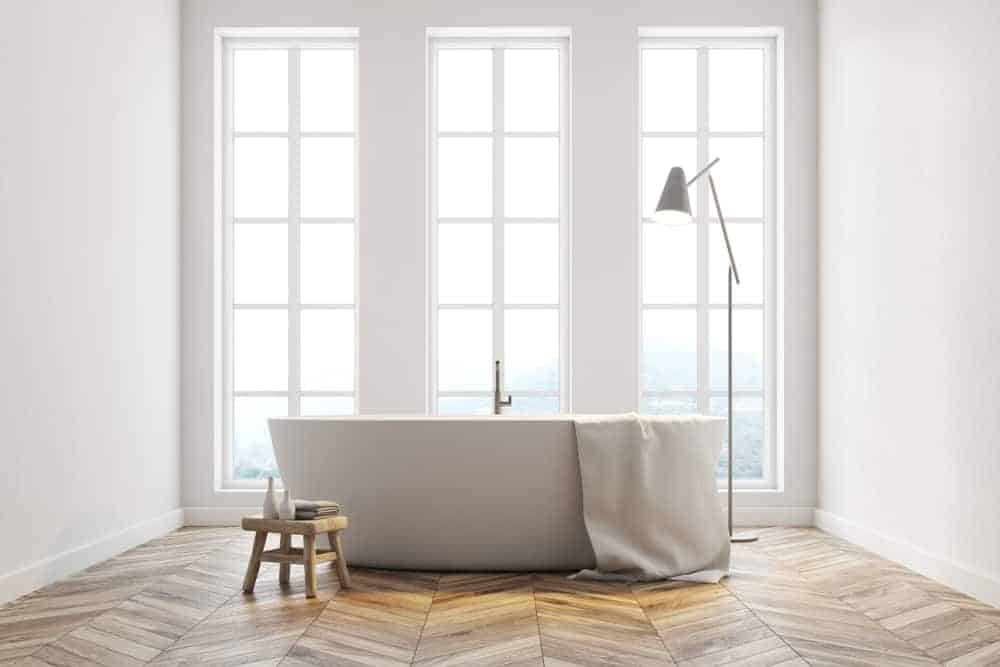 Freestanding tubs are among the easiest to recognize. As the name suggests, they are freestanding units that are not attached to any walls.
They are often placed in the center of a bathroom and can create a striking effect of luxury and opulence.
However, since they are not usually positioned next to a wall, they require a large amount of space and are not advisable in smaller bathrooms where space is more limited.
One advantage of freestanding bathtubs is that they give you a certain amount of freedom when choosing since you are not restricted by precise measurements. As long as you have enough space in your bathroom, you don't have to worry about the exact dimensions.
Having said that, bear in mind that placing a freestanding bathtub in the center of a space that is too small to accommodate it will have a negative effect. It will make your bathroom feel cramped and may even limit your movement.
2. Alcove bathtubs
Although there is no such thing as a "standard" tub, the alcove bathtub is probably the design that comes closest to fitting this description.
They are usually enclosed by three walls in an alcove, hence the name. This means that with this type of tub, you need to be careful to measure your bathroom space very carefully before you start looking for one since you need to find one that is exactly the right size.
Since three sides of alcove tubs are placed along walls, only the side facing out has a finish.
One advantage of this kind of tub is that since they are enclosed on three sides, they are especially suitable for use with a shower. The walls will keep the water inside on three sides, and a simple shower curtain will do the job on the fourth.
3. Drop-in bathtubs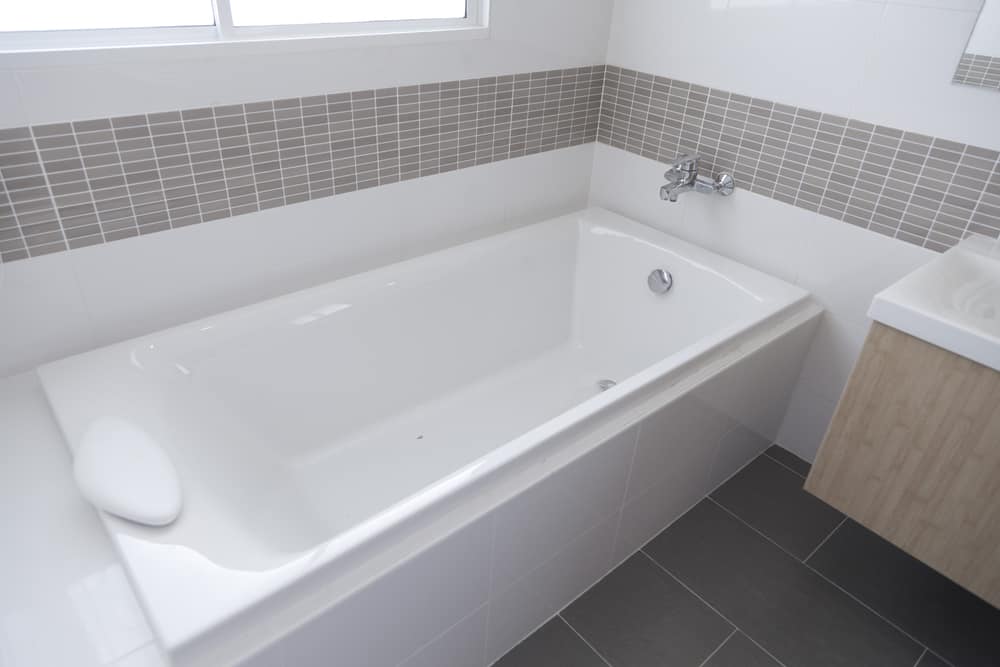 Drop-in bathtubs are often similar to alcove bathtubs. The defining feature is that they consist of only the bathtub shell and are surrounded by an "apron" or "skirt", meaning they have no finished sides.
They can be installed in an alcove, just like alcove bathtubs, or they can be installed against a wall. The name comes from the fact that you drop the bathtub into a preconstructed frame – something that makes installation more complicated than some other types of tub.
4. Undermount bathtubs
Undermount tubs are similar to drop-in tubs but are fitted into a deck that's usually made of a material like tile or stone. They can be a striking visual element in your bathroom, creating a lavish feel, but installation is more expensive.
5. Corner bathtubs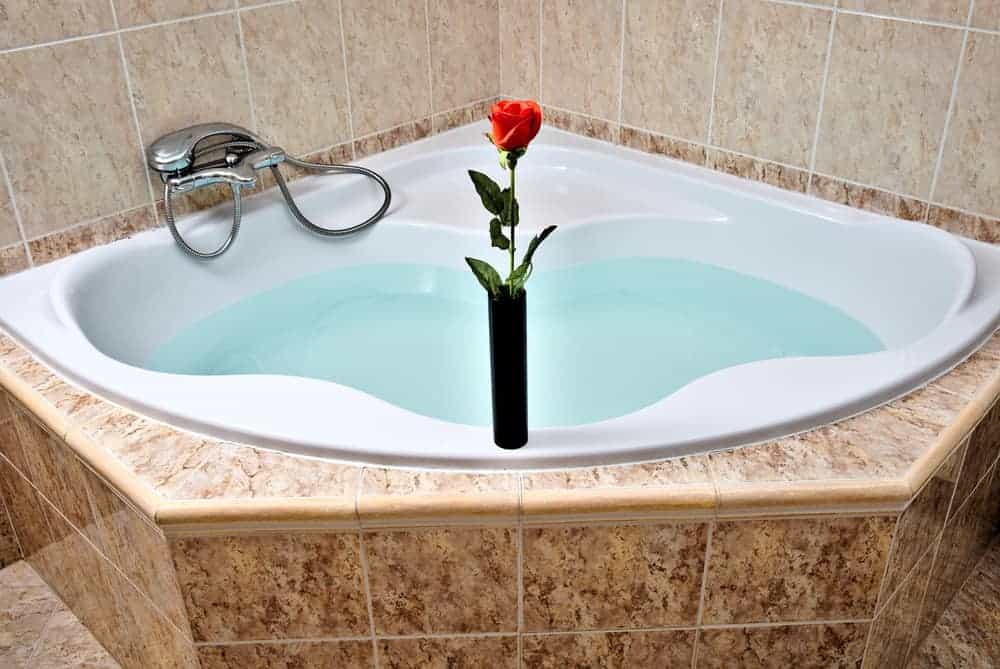 As you may guess from the name, corner bathtubs are bathtubs that are installed in the corner of a bathroom. They are designed to be large and comfortable and are ideal for people who use their bathtub for long, hot soaks rather than just to get clean.
Since they take up so much space, this is another type of bathtub that is only suitable for larger bathroom spaces, and you should probably only consider one if you have a bathroom that can accommodate one. Otherwise, this style of tub might not be a practical solution for you.
6. Walk-in bathtubs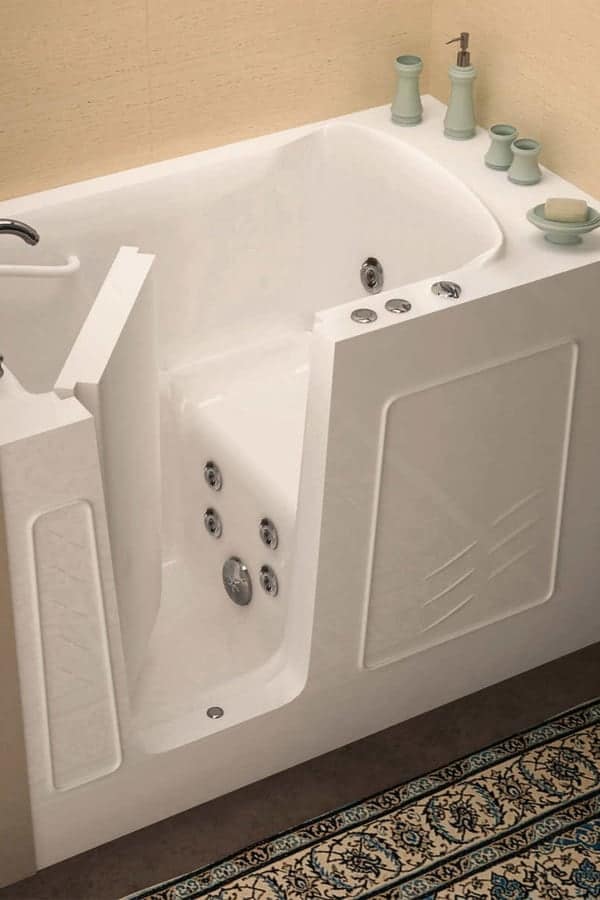 Walk-in bathtubs are those that are designed for people with reduced mobility. The user enters through a side door which is closed before the bath is filled. Bathing is done in an upright seated position, which makes these bathtubs are higher than other models.
Common measurements
As we have stated, there are no "standard" bathtub sizes – but here are some examples of the kind of measurements you will be looking at for each type.
1. Freestanding bathtubs Size
Freestanding bathtubs don't need to be fitted against a wall, so they come in a wide range of sizes. However, some common possibilities are as follows:
Small: 50" long x 24" wide x 24" high
Medium: 60" long x 30" wide x 30" high
Large: 72" long x 32" wide x 30" high
Another possibility when talking about freestanding bathtubs is an oval-shaped version. With one of these, the maximum width is wider, and an example of the dimensions could be as follows:
Oval bathtub: 60" long x 42" wide x 24" high
2. Alcove bathtubs/drop-in bathtubs Size
Alcove bathtubs and drop-in bathtubs have fairly standardized sizes, although many variations are possible. They are, roughly speaking, as follows:
Small: 50" long x 30" wide x 15" high
Medium: 60" long x 32" wide x 18" high
Large: 72" long x 32" wide x 20" high
3. Undermount bathtubs Size
Undermount bathtubs come in a range of styles and sizes, making it impossible to give a list of standard sizes. However, undermount tubs designed to be installed like alcove or drop-in bathtubs have similar sizes to those types, as follows:
Small: 50" long x 30" wide x 15" high
Medium: 60" long x 32" wide x 18" high
Large: 72" long x 32" wide x 20" high
4. Corner bathtubs Size
Corner bathtubs come in a range of sizes, but there are some standard sizes that many manufacturers use. Since they are fitted in corners, there is no length and width – in regular-shaped corner bathtubs, those two measurements are always the same.
Although these are not the only possibilities, the most common sizes are as follows:
Small: 48" x 48" x 18" high
Medium: 60" x 60" x 20" high
Large: 72" x 72" x 20" high
5. Walk-in bathtubs Size
As we explained, walk-in bathtubs are higher than regular bathtubs to allow people with reduced mobility to bathe while seated. Some possible dimensions are as follows:
Small: 48" long x 28" wide x 38" high
Medium: 60" long x 30" wide x 38" high
Large: 60" long x 36" wide x 38" high
Measuring your space
These measurements are only guidelines since each manufacturer produces bathtubs with slightly different dimensions. However, what is more important is that you take accurate measurements of your space before buying a tub.
If you are measuring an existing bathtub to replace it, you need to be careful when you measure it since it is easy to make mistakes.
For example, if you have an alcove or drop-in bathtub that is already installed, parts of the tub will be hidden from view, making your measurements less accurate. This means that to measure one properly, you need to estimate a little bit.
To measure the width, measure from the outside lip to the wall and add an extra inch to account for the part of the tub that is fitted against the wall.
To measure the length, measure from wall to wall and add an extra inch at both ends to account for the parts of the tub that are hidden (so you need to add an extra two inches to your measurement).
Of course, if you are measuring a freestanding tub, you won't need to do this since the whole bathtub is accessible – and having such precise measurements might not be so important anyway.
When measuring, make sure that you measure from the same point on each side or at each end. If not, you will end up adding extra length or width to the true dimensions.
When you have taken these measurements and you are sure about their accuracy, you are ready to start shopping for a new bathtub.
Measure your space and check the dimensions of the tub
As we have mentioned several times, there is no such thing as standard bathtub sizes – although there are some sizes that are more commonly used than others.
Bathtubs come in a range of shapes and sizes – just as houses and bathrooms do – and the key to finding the right bathtub for your home is taking accurate measurements and then choosing a bathtub that fits.