Nothing spoils the look of a bathroom than an unattractive bathtub. Well, you can replace your bathtub, but such a project might be stressful or exceed your budget. However, you can ditch the replacement idea and stick with a tub liner.
Bathtub liners are thin materials used to cover bathtubs, thereby making your tub look clean and new. But before you choose a liner, consider the cost, style as well as its usefulness.
Moreover, it's best to take pictures of your bath when heading to the local store to buy one. The reason is that most home improvement expert, as well as sellers, can help you find a matching liner. You should also measure the essential parts of a bathroom before using this material.
Read on to discover all you need to know about Bathtub liner. Now let's see describe the features of a tub liner for all kinds of tubs including a corner bathtub.
What is a Bathtub Liner?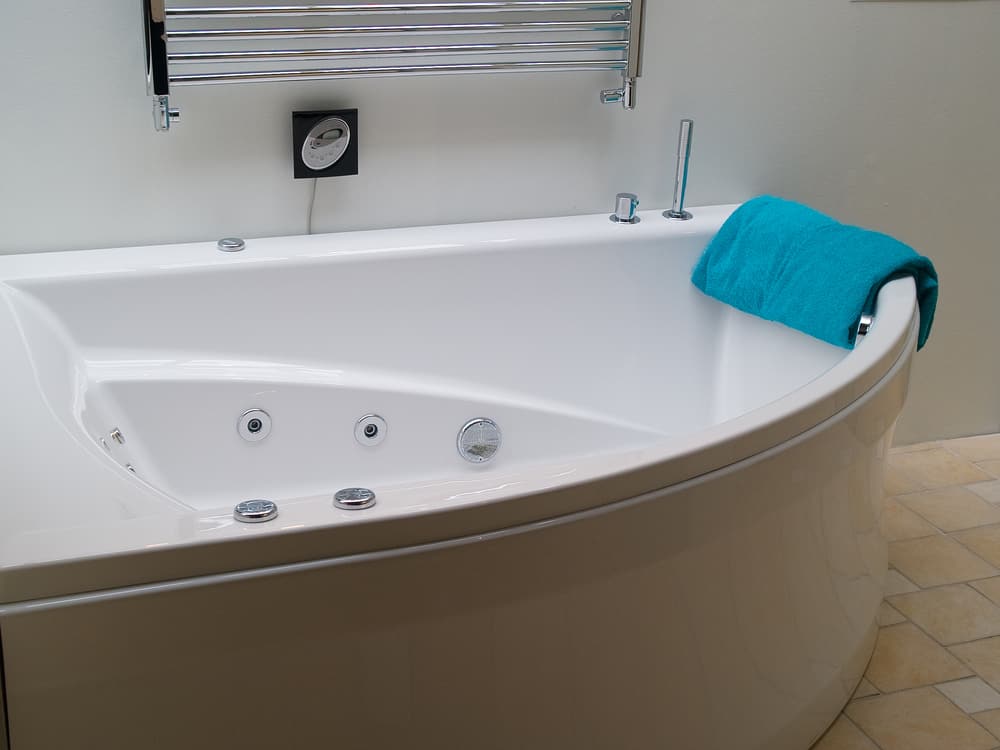 Bathtub liners are sheets made of acrylic or PVC plastic which come in the shape of a bathtub. You can use it to improve the look of your tub by placing the liner over it and then adding an adhesive. Overall, this material swaps the glossy look of your bathtub with plastic features.
Liners come in different colors or styles that can fit your bathroom decor. As expected, these features make these materials popular with homeowners.
Type of Bathroom Liners
Most stores have a large selection of liners on sale, thereby confusing prospective customers. If you wish to find the right type of liner, consider your budget, bathroom decor, and other features. Once you have nailed these options, choose one of these items.
PVC Liners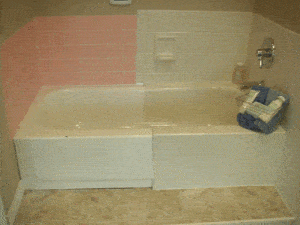 Since these types are made from flexible plastic, they serve as the cheapest form of liners in the market. They are available in different colors and are also inexpensive to install as they do not require extra paint or finishing.
However, these liners develop cracks within a short period, thus making them a poor choice for long term use. Also, they aren't that attractive to the eye compared to the original bathroom finishes.
If you still wish to use plastic in your bathtub renovation project, stick with durable solid surface polymer due to its scratch-resistant properties. But if you are looking for a stronger option, consider investing in acrylic.
Acrylic Liners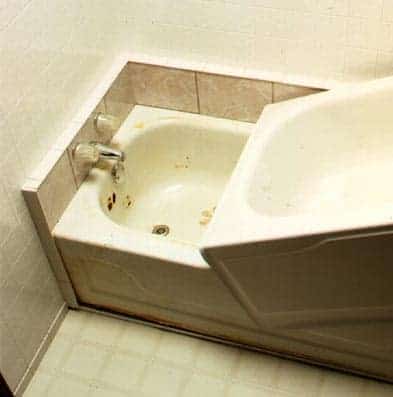 Acrylic liners are made from durable plastic which are thicker than the type used in PVC variants. Furthermore, you can use them in various bathroom renovation projects due to their premium strength and durability. They also have fewer chances of developing cracks than PVC.
Most experts recommend this type of liner because it comes in various colors while offering an original look. It's even cheaper to use these materials than installing a new bathtub.
Not only can you use the acrylic liners for bathtubs but also for showers and bathroom walls as well.
If you want a quick solution to your worn-out bathroom, check out acrylic liners as they are easy to install. Also, they are ideal for covering stubborn stains, spots, and even cracks.
When compared to refinishing, acrylic liners are expensive options. However, the latter can cover the whole bath and shower pans while refinishing touches only the bath's interior.
As mentioned earlier, these liners are popular with homeowners, thus making many stores stock up on such items. Hence, If you wish to use this material for your bathroom remodeling projects, check out your local home improvement store or online store. You can also ask for help from a professional installer within your location.
Advantages of Using Bathroom Liners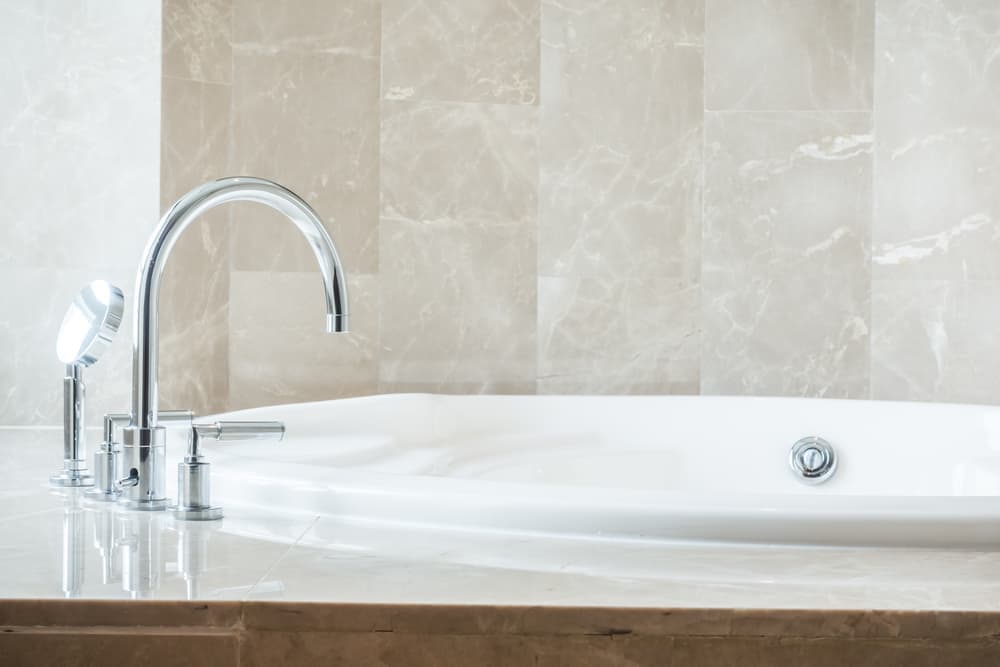 Here are some of the reasons why you should use liners for your bathroom remodeling projects.
1. Inexpensive
Demolishing your bathtub and replacing it with a fresh one might cost a fortune. However, you will spend less cash if you use choose to install a tub liner. Surely, the overall cost of the materials and installation should put a dent in your finances.
2. Readily Available
Since tub relining is a common practice amongst homeowners, it is easier to get a liner that suits your project. Currently, many companies supply tub liners of various colors and styles that will match your bathroom decor. You can even seek the installation services from them.
3. Requires Less Time to Install
You can carry out this task is carried out by spraying special alcohol on the tub's surface. Next, use glue to fix the liner to the tub's surface. After that, leave it to dry for a full day before using it again. With this said, bathtub liners are faster than other remodeling methods, such as replacing the bath.
4. No Demolition Required
Many people have issues changing their bathtubs because of the extra work involved. Most times, this task includes removing and replacing the existing bathtub and tiles. You might even need to upgrade your plumbing to fit the new installations.
However, bathroom liners are easier to install. Instead of performing demanding tasks, all that is required is attaching the material on a worn-out tub.
5. Easy to Maintain
Most people do not love spending hours scrubbing dirt from the surface of bathtubs. If you are one of such individuals, then you will prefer bathroom liners as they offer antimicrobial features. They can also withstand mildew, mold, or filth.
6. Make your bathtub last longer
These products are built with materials that can endure years of regular use. These materials include acrylic and PVC, which are also easy to maintain as they do not have grout.
7. Increases the Value of Your Home
Although most homebuyers prefer baths with tiles, you can go for affordable options such as bathtub surround or liners.
Experts claim that if you spend to install a tile surround in your bathing space, you should expect to get back as much 80 percent of your investment. However, if this type of project exceeds your budget, a new bathtub surround can also help you recoup some money.
8. Easy to Blend to Your Taste
Bath liners serve as the easiest way to make an unsightly tub look attractive and new. Since these solutions come in various shapes, colors, and patterns, you are open to a wide selection of design ideas for your bathtub.
It's possible to pair a bathtub surround with your preferred liner. You can even include extra storage space for items like a bathtub chair and soap dishes to this setup.
Things to Consider When Using A Bathtub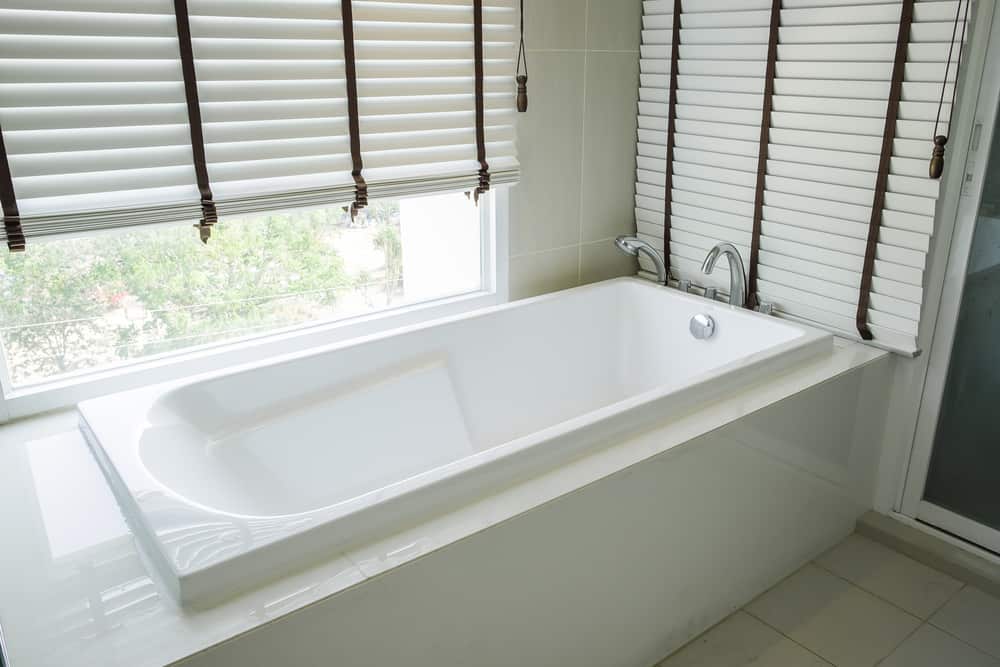 Bathtub Liners are ideal materials in any remodeling effort. However, like everything in this world, it has a few downsides we will like to reveal to you.
Common Issues with Bathtub Liners
Tub liner installations are not temporary. Immediately the adhesive drys, you can't remove the liner from the bathtub. If you try to lift it, your tub will become damaged beyond repairs.
It's best a professional installs your bathtub liner. A poorly inserted liner leaks and supports the growth of mold which adds to your tub problems.
Before installing a liner, you might need to seek the services of plumbers. These experts can help you adjust your bathroom pipes to fit the tub liner.
Tiny cracks in the caulk might experience leaks, thereby resulting in unpleasant odors, mold, and mildew from the tub. 5
Liners are built to cover filth, dirt, and cracks on existing bathtubs. However, they can't handle other problems which are unrelated to the tub appearance. In other words, if you have issues caused by moisture, do not use a tub liner.
You cannot use liners with jet or clawfoot tubs. However, a custom made tub liner might suit such bathroom styles.
Although liners are durable, improper installation can result in cracks. Before you purchase any, ensure the product comes with a decent warranty.
You cannot cover acrylic tubs with acrylic liners.
Prices of Good Bathroom Liners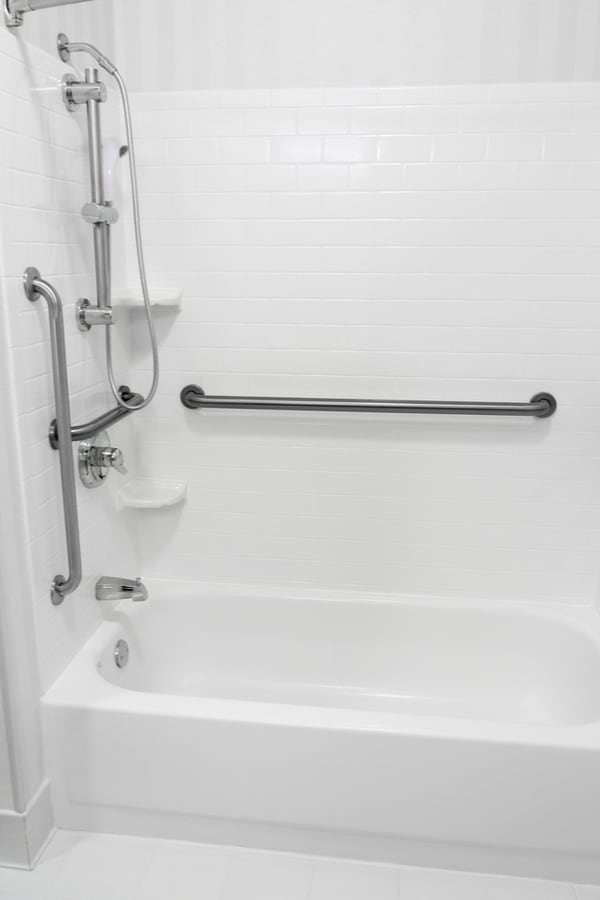 Using a liner is one of the affordable ways to upgrade your bathtub. Here is the cost of bathtub liners as well as other expenses to consider during the installation.
There is no fixed price for a tub liner because the price isn't that stable. However, the cost depends on factors such as the size and materials of the bathtub. Also, this also depends on the type of liner, as well as your location.
The product usually cost less than $2000, but if your remodeling project involves a wall surround, the expenses might double. Most times, if a tub requires an upgrade, the walls will also need one, thus requiring a wall surround.
You must have your prospective installer look at your existing bathtub and take some measurements. This is an important step, especially if you want an estimate for jobs that involve customizing a liner to fit the tub.
How Much Will It Cost to Install a Tub Liner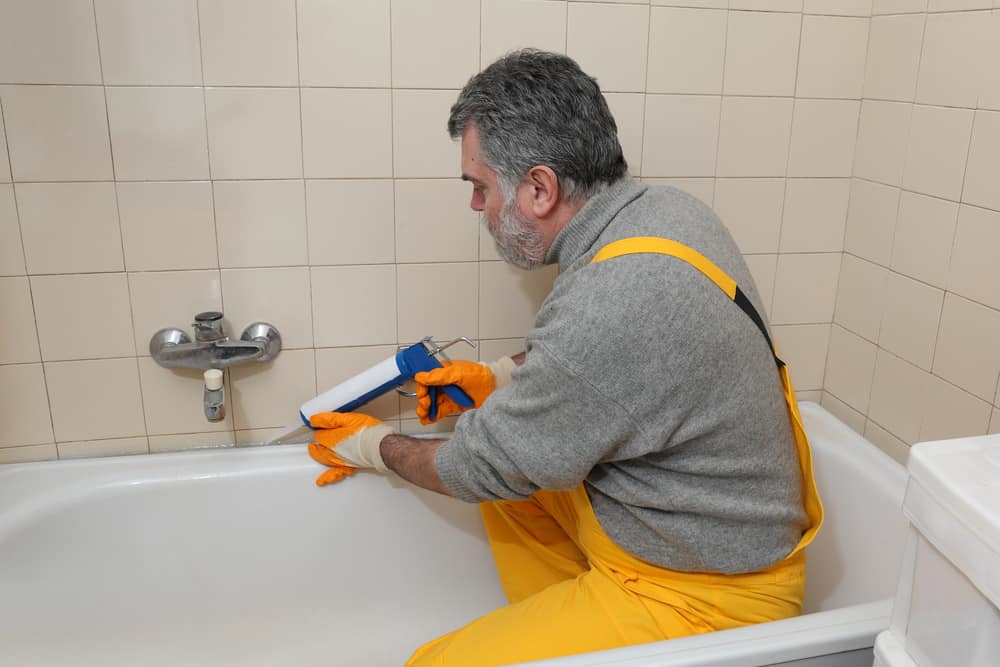 After sorting out the price of the liner, you will need to know the cost of its installation on your bathtub. Let's give you a general idea of the pricing and other issues you might consider when installing a bathtub liner.
Generally, bathtub liners installations will cost you not more than $1,800 or an average of $1,200 (without adding the liner). Unlike most remodeling projects, bathtub liner installations are completed within 24 hours.
For a precise idea of the expenses, check the labor rates in your area. But if you want an online service, Amazon Home Services charge between $730 and $1830.
Although there are various rates offered by contractors, you can increase or decrease your budget if you consider the following tips.
Your preferred choice of liner plays an important role in determining the total cost of the project. If you want the least affordable option, consider PVC vinyl. However, it offers less strength or aesthetics than other models.
100% Acrylic performs and looks better than PVC vinyl. But it might not last long because of its brittle nature.
Acrylic mixed with ABS plastic offers premium durability while looking attractive. Afterall, ABS plastic is a major component of sturdy football helmets.
Tub liners built with PVC go for less than a hundred dollars, thereby standing as the budget option. If you have extra cash, you should go for either 100% acrylic or the variant mixed with ABS plastic as they cost the same.
Best Brand of BathTub Liners
After learning everything, you need to know about bathtub liners, check out the following companies that offer the best deals on such materials.
Bath Planet: gives a lifetime warranty, especially if you own the home. But if you sell your property within two years of its bathroom upgrade, the warranty will be transferred to the buyers.
Re-Bath: also offers a lifetime warranty on its items, including bath liners while a 10-year warranty covers color match items. Furthermore, the company promises a one year guarantee for bathroom jobs handled by their team. For damages caused by manufacturing defects, you will have a lifetime warranty on labor.
Bath Filter: If you purchase a tub liner from Bath Fitters, you are entitled to a lifetime warranty. Furthermore, the warranty will last for long as you retain the ownership of the building.
BathWraps: also promises a lifetime warranty on acrylic tub liners against cracking, fading and peeling.
How to Clean Your Bath Liner
Bathtub liners require less care than a refinished bathroom. All it requires is cleaning with a soft cloth and a mild bathroom cleaner which should be readily available at any store. Remember to rinse after cleaning.
Ensure that your selected cleaner will suit the bathtub liner in your home because wrong cleaning agents destroy liners. You can check with with the company that supplied the liner.
Which is the Best Option: Tub Liners vs Bathtub Refinishing
Cost
If you are working on a budget, choose the refinishing method. Even if various contractors offer different rates for this method, refinishing costs less than bathtub liner.
For instance, to refinish is about $250 to $550. Besides, the least price of getting a tub liner fixed to your tub costs at least $850.
Overall Look
Under this section, refinishing serves as an ideal option for changing the look of your bathtub. Many experts prefer this form of remodeling because it retains the shape of your current bathtub. Moreover, it's the perfect fit for irregular-sized tubs
If the tub is deformed, rusty, or shows cracks, a bathtub liner will offer a better look as it will cover such problems. But if you have a baby bathtub, you might consider refinishing because liners reduce the inner side of the tub.
Durability
Bath liners last longer than refinishing because they are thicker and offer premium durability. However, if water seeps into the space between the bathtub and the liner, it will weaken the setup. Overall, it's better than refinishing that uses a thinner coating that cracks easily.
Tidiness
When it comes to choosing the least untidy remodeling method, bathtub liners are the preferred solution.
Normally, your contractor should ensure your bathing space is free from dust and debris, especially after refinishing or using a liner. But during the project, the sanding and spray paint that comes with refinishing can create a huge mess.
Most companies find ways to lessen the mess by covering the bathroom fixtures and allowing the free flow of air. However, liners do not require such measures as they do not produce dirt.
Drawbacks of Both Methods
Although both options have their bright sides, they also have a few problems. For instance, the thin refinished coat requires special cleaners as regular agents can damage its surface.
When it comes to bathtub liners, water leaks can create a moldy or mildewy surface which can damage the whole bathtub.
FAQ on Bathtub Liner
Before we conclude on everything, You Need to Know About Bathroom Liners, here are some questions about these items.
Will My Tiles be Removed Before Placing a Bath Fitter Wall?
No, they won't. Instead, the bath fitter wall will be placed over your old tiles, thereby creating less mess. Finally, glue is used to set the new surround to the old tiles or wall surround.
Why Can't I Swap Liners for Refinishing?
Refinished coats cannot handle long term use. Most times, they have a maximum lifetime of five years, while liner companies offer lifetime warranties.
Why Can't I Replace the Bathtub Instead of Using a Liner?
The process of replacing your existing tub requires extra cash and effort. It even creates a big mess while possibly damaging the walls or flooring. But with a liner, you will not encounter these problems.