Taking a bath outside in the open air is one of life's great pleasures, and installing an outdoor bathtub to create a sanctuary of relaxation might be easier than you think. That way, you can have a special place where you can retreat to soak away all the stresses of your daily life.
For anyone who wants to try, we've scoured the internet to see what other people have been doing – and as a result, here are our favorite 25 DIY outdoor bathtub plans you might want to have a go at recreating yourself.
1. DIY: Outdoor Bath – SPELL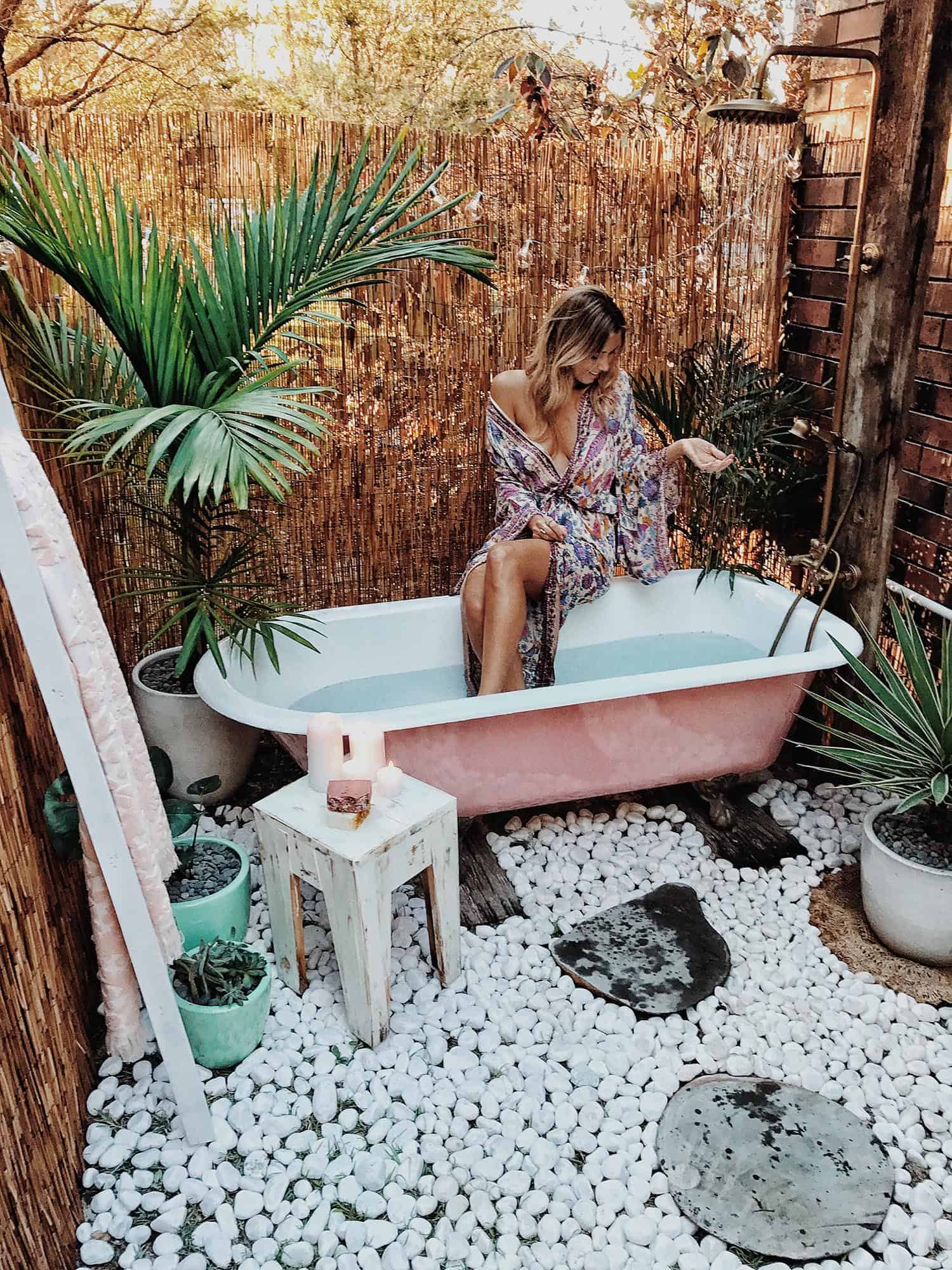 If you're looking for inspiration for the kind of thing that's possible when you install an outdoor bath, then this post would be the perfect place to start. In it, you can see how this blogger took an old bathtub and used it to create an oasis of tranquility and calm where she goes to relax. We're sure plenty of people will be keen to make something similar, so check it out and see if you're one of them!
2. Incredible Off-Grid Wood Fired Bathtub from The Indie Projects
In this video, these YouTubers demonstrate how they built an incredible off-grid outdoor bathtub that looks like the ultimate in wilderness luxury. It's such a great design, and of course, you don't need to live off-grid to build one yourself – so if you like it, why not see if you're up to the challenge?
3. How to Make a "Poor Man's" Hot Tub – Eartheasy Guides & Articles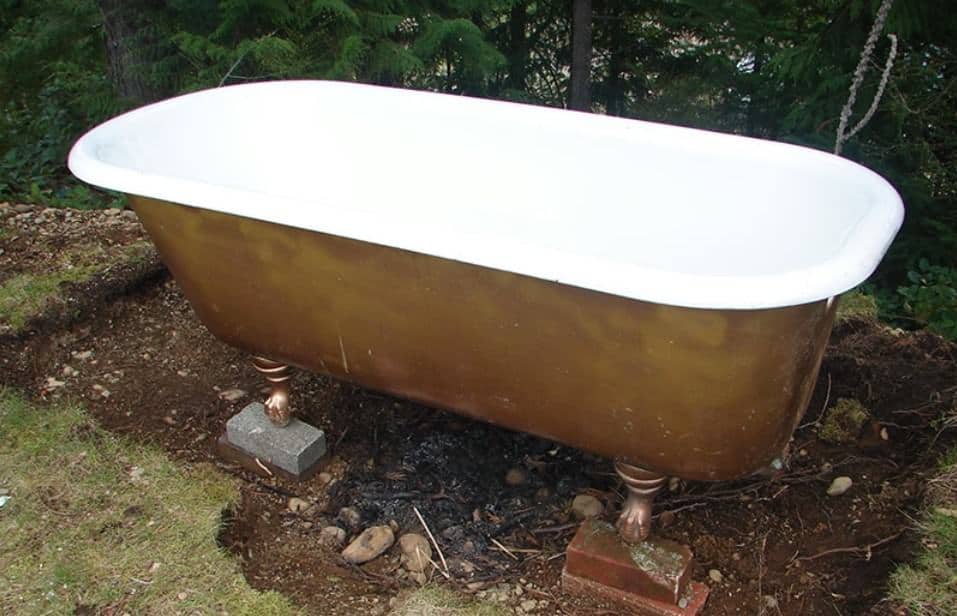 For those who dream of owning an outdoor hot tub but don't have the kind of finances required to install one, this is a great alternative. In this post, this blogger demonstrates how she used an old bathtub to make a "poor man's" hot tub, and we have to say, we love the idea! It's an easy plan to copy, and if you happen to have an old bathtub available, it will cost you very little too. A great idea and one that's well worth a look.
4. DIY Wood Fired Hot Tub from HomeMadeModern
Here's a great plan from an enterprising YouTuber – in this video, you'll see how he made an outdoor wood-fired bathtub from a galvanized stock tank. It's an ideal design for those with limited budgets, and since it doesn't take up too much space, it's perfect if you don't have room for anything bigger. An innovative idea and an inexpensive way to add a touch of luxury to your home.
5. A Beginner's Guide to Building an Outdoor Bath – Plant Life Balance
If you're planning on building an outdoor bath, there are a few things you'll need to consider to ensure you end up with the open-air haven of your dreams – and this post is here to help. It gives you tips about position, plants, water and more, ensuring that when you move from the planning phase to actually installing your bathtub, everything turns out just the way you'd imagined.
Click for More Details
6. Firewood Heated Hot Tub from Review Outdoor Gear
Sometimes it's not practical to plumb in an outdoor bathtub in the conventional way, in which case, another solution to consider is building a wood-fired version. That's what this video teaches you about, making it a recommended watch for anyone considering a similar project at their home.
7. Wood-Fired Outdoor Bath: 6 Steps (with Pictures) – Instructables
Here's another great plan for an outdoor wood-fired bathtub. Whenever we need ideas or a tutorial for any DIY project, the Instructables website is always one of our first stops. As ever, this plan includes clear instructions along with plenty of photos to help you understand what you need to do at each step, making this another excellent addition to the Instructables' collection.
8. Making an Outdoor Wood-Fired Bath
In this simple tutorial, this YouTuber shows how he took a regular bathtub and installed it outside by adding a wood-fired heating system. We love the simplicity of this idea – it's the kind of thing even rookie DIYers will be able to manage – so if you're looking for a quick and easy way to enjoy outdoor bathing, this could be just the plan you need.
9. Build Your Own Fire Bath – Pip Magazine
As this blogger writes, there's nothing better than kicking back under the stars in an outdoor fire bath, and if that sounds like something you'd like to experience, this is the plan for you. In it, you'll learn how to install a cast iron bath over a pit fire, allowing you to enjoy long hot alfresco soaks at any time of day or night. Check out the post to find out more!
10. Off-Grid Outdoor Bathtub Set-Up
Here's an amazing idea that definitely merits a look. In this video, this YouTuber shows how he installed an outdoor off-grid bathtub that also recycles the bathwater to give the trees a drink. The plumbing part involved laying a 200m water pipe underground, but the result was worth all the hard work. It's such an impressive plan, and it's ecological too. Great job!
11. All You Need to Know Before Installing an Outdoor Shower or Bath
In this post, you'll find out about all the kinds of things you'll need to think about before installing an outdoor bath of your own. It doesn't give you a specific plan to follow, but it does give you plenty of invaluable advice about aspects like plumbing, drainage and location as well as choosing which type of outdoor bathtub to install. That way, you won't need an exact plan to follow because you'll have all the information you need to create one of your own.
12. Making a Wood Hot Tub out of 2x6s
For those who want to make a tub themselves rather than buying one and installing it outside, this will be an interesting video to watch. In it, this talented YouTuber shows us how he made a tub mainly from 2x6s – and if you like his idea, it shouldn't be too difficult to recreate it at home.
13. $100 Wood-Fired Hot Tub
Installing an outdoor bathtub doesn't need to cost lots of money, as this video proves. We love the idea of this wood-fired tub, and one of the best things about it is that it can be installed anywhere. So whether you want an outdoor tub for a regular house, an off-grid property or even the deep wilderness, this is a plan that will show you how to do it.
14. DIY Stock Tank Hot Tub – The Filson Journal
Here's another plan for a wilderness outdoor bathtub that's heated by a wood burner. The photo of someone enjoying a soak in the forest with a can of beer looks like heaven to us, and we're sure plenty of others will agree!
15. Rocket Stove Hot Tub – How I Made It
In this short video, this YouTuber demonstrates how he made a simple but highly effective outdoor rocket stove tub. It looks like the height of luxury, but there's nothing particularly difficult involved in making it, so it's the kind of idea that lots of people will be keen to copy.
16. Building a Backcountry Hot Tub – Teton Gravity Research
There are many different ways to install an outdoor bathtub, and the method you choose will depend on the kind of experience you're hoping for. If you're more interested in creating a rough and ready solution for outdoor bathing rather than installing anything too fancy, this plan for a backcountry tub will be the kind of thing you appreciate. It's among the most rudimentary designs we've seen, but it looks like it does the job – so why not see if you can make something just like it yourself?
17. Wood-Fired Outdoor Off-Grid Bathtub
Here's a great idea for a "redneck" bathtub we're sure lots of people will love. This YouTuber explains that he's living in an off-grid cabin where there's no power to heat his bathwater. It's bath day, and it's so cold he has ice in his beard – and this is the solution he came up with. It's an uncomplicated design, but sometimes that's all you need. Give his video a watch to see how he did it!
18. Fab DIY Outdoor Clawfoot Hot Tub – Improvisedlife.com
In this post, you'll find a wonderful idea for an outdoor bath area. There's little in the way of explanations telling you how to make it, but if you're in search of inspiration rather than a detailed tutorial, this is a post you'd do well to read!
19. Simple Outdoor Bath Design Idea How-To
Like the post in #18, rather than giving you a plan to follow, this video is a great source of ideas for outdoor bathtubs. When you install an outdoor tub, it isn't just about the tub itself because you also need to pay attention to the surroundings and the setting – and if you need ideas for how to create your outdoor oasis, this video will give you plenty of suggestions about what's possible.
20. See a Soothing Backyard Bathhouse Born from a Salvaged Tub – Houzz.com
As we just mentioned, with outdoor bathtubs, the setting is just as important as the tub itself, and this post shows you one example of how beautiful the whole thing can be. Imagine spending long hours in a tub like that, perhaps reading a book, listening to music or drinking a glass of wine. Sound like bliss? Then give the post a read to find out how to do it!
21. Wood-Fired Off-Grid Outdoor Bathtub!
This is another video from the same people who uploaded the video in #2. It occurred to us that putting a bathtub over an open flame doesn't seem too different from boiling yourself in a giant pot. However, these YouTubers show that it's quite safe, so if you need an off-grid bathing solution, their idea is one you might like to copy!
22. Build a Wood-Fired Cob Bath for Free
Some of the plans we've seen for outdoor bathtubs and hot tubs look like they will cost quite a lot of money to replicate, but the version in this post is essentially free. That means as long as you have access to an old bathtub, you won't need to spend anything else on this project, and that's got to be worth trying out, right?
Click for More Details
23. DIY Rocket Stove Hot Tub for $100
The rocket stove tub in this video wasn't free, but copying this idea will only cost you around $100 and five hours of work, so if you like the idea of outdoor bathing but don't want to invest lots of time or money, this is a plan you should appreciate.
24. Build The Most Beautiful Bathtub Pool with Outdoor Living Room
The off-grid wilderness outdoor bathtub this YouTuber shows us how to make is one of the most incredible we've seen. It might not be the kind of thing everyone will be able to create, but the video is worth a watch just to see how amazing her work is. She really is so talented, and everything is done with only the most rudimentary tools and materials. Check it out and see what we mean!
25. Propane Powered Clawfoot Tub
As this YouTuber explains, he saw something like this outdoor bathtub online and decided to have a go at making one himself. He did a fantastic job too, and if he can do it, so can anyone else. What do you think? Is it something you would be able to build? Why not give it a go and see how it turns out?
Plenty of great ideas for outdoor bathtubs
As you can see, there's no shortage of great ideas for outdoor bathtubs that should give you plenty of inspiration to have a go yourself.
We've enjoyed collecting these plans for you, so we hope you've enjoyed watching and reading them all too. And above all, we hope we've helped you find the plan you needed to get started on a DIY outdoor bathtub of your own.