As an ideal, practical, and elegant solution, different countertops for every household aren't a distant dream anymore. Both my grandmothers had kitchens organized in the same style as half of the people throughout the country. They were standard, and even the different models of cabinets looked alike somehow.
Nowadays, you can choose and arrange the kitchen on your taste and preferences. Luckily, you don't need to pick out some uniformed and boring styles you hate. I will list you the best kitchen options with elegant countertop on a budget ideas you will enjoy for sure. Let's see.
Kitchen Countertop Ideas on a Budget Ideas
1. Open style kitchen with a white wooden countertop
Even though your living space doesn't have a separate living room from the kitchen area, you can find an adequate and creative kitchen cabinet with a white wooden countertop for you. The excellent idea is to place it in one corner of your living-kitchen space.
The small island-shelf will be suitable for quick meals, reading, and studying, as well. To avoid boredom, you can make different combinations, as well. For example, try to pick out a darker cabinet with a pure white countertop made of the chosen material.
2. White kitchen with a glossy black countertop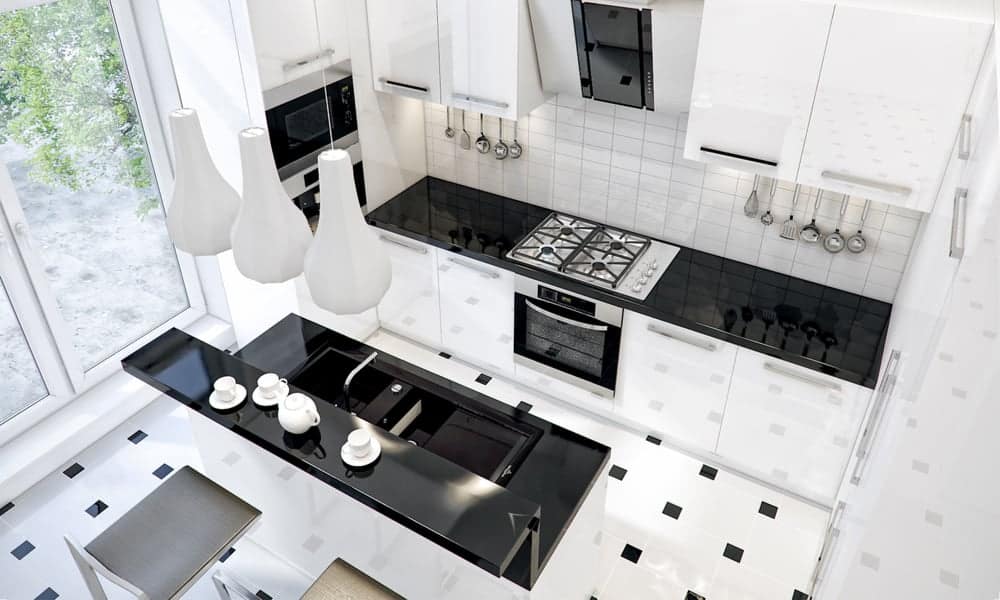 Black and white are never passé. The stylish white kitchen will perfectly match a black, high-glossed granite countertop.
The kitchen sink and garbage disposal should also be black to fit with the built-in stove and oven perfectly. Keep in mind that you can highlight the glossiness of your kitchen by adding adequate lighting from different angles.
3. White, long kitchen cabinet with a beige countertop
Stay modern and stylish by arranging a white kitchen that will bring the effect of cleanness and tidiness into your home. I highly recommend you to pick out a beige countertop made of solid surfacing and place it along the wall. Take care to choose a long enough model for all kitchen gadgets and appliances.
Avoid adding a kitchen sink because it may ruin the elegant appearance of the kitchen you want to achieve. To gain extra working space full of drawers and shelves, adding a kitchen island with a countertop of the same material is an ideal solution. It will be practical and give you a sense of comfort.
4. Stylish corner cabinet with a wooden countertop
This stylish and modern countertop is an ideal option for a kitchen with a lot of natural light and at least one long wall. Pick out a practical model of the cabinet with an elegant countertop made of marble to bring magic into your space.
The combination of a built-in stove and this one-piece model look quite impressive to me. Plus, its length is suitable for all the appliances you want to add, including the kitchen sink and induction cooktop.
5. Stylish black kitchen with an expensive countertop
If you need a big office kitchen solution, there is one for you. You can pick out the length and size of this black kitchen, with an attractive countertop made of granite or marble, depending on your needs. Place it against the wall to create an imaginary angle with the so-called corner part.
If you want to avoid bringing a table into this space, you can connect a wooden kitchen island with the same countertop at a 90-degree angle. After adding a kitchen sink, you will get a 3 in 1 solution that provides the functionality and saves precious space.
6. Elegant kitchen with a granite countertop
A combination of granite countertop with wooden drawers always leaves a neat impression. The glossy model will be an ideal option for you if you are a perfectionist and have a sophisticated style.
Elegant white kitchen sink with stainless steel kitchen faucet will make your kitchen looks super tidy, polished, and crystal clear. That makes this place a dream choice for orderly people.
7. Studio kitchen with a metal countertop
If you live in a studio, you will need a practical solution for your small home. I will recommend you this simple futuristic cabinet with a metal countertop you can place against the wall.
By adding a kitchen island with the same type of countertop, you will divide your kitchen from the rest of the room elegantly and conveniently. Plus, you can use it as a functional dining table at the same time. Thanks to its bright colour, this piece of furniture will make your home looks more spacious.
8. Stylish corner cabinet with a white countertop
It is an excellent solution for a kitchen with a window, but without enough space for a cabinet. As always, the corner model is a highly practical and convenient solution for such a case. By installing one, with a countertop made of marble or solid surfacing, you will get more space for all your appliances, as well as more drawers, shelves, and a dining table.
White countertop, in combination with white walls and elegant contrasting details, such as yellow chairs, will give your kitchen a chic look. Natural light will provide the extra whiteness and spaciousness you will appreciate.
9. Kitchen cabinet with a marble countertop
If you tend to avoid the classic look of your countertop, you can install a cabinet with a marble one and a circle-shaped kitchen sink, as well. It is an ideal solution for the corner kitchenette, which will save you a lot of space and provide the necessary efficiency.
If you prefer a rustic style, you should choose the countertop made of granite or wood with a brick background wall. By using dimmed lighting from cabinets, not a ceiling, you will gain the effect of the tucked and warm household atmosphere.
10. Art deco kitchen with a stone countertop
Rich in materials and design, an art deco kitchen truly sets the tone of the sophisticated and profound style. Ornamented doors of your cabinets and cupboards will look creative and classy, but having natural light will make them truly perfect.
Bright kitchen furniture, in combination with the darker stone countertop, will make an incredible contrast. Embroidery and chic cupboard handles, silver kitchen sink, with an elegant kitchen faucet, and induction cooktop altogether will make your kitchen functional, charming, and attractive.
11. English classic kitchen with a marble countertop
Dark colours reminded me of the past when all the furniture in the kitchen were classy and well-built. Arabesque design of the kitchen cabinets painted in rustic gold sends the clear message of your traditional style.
The glossy, white marble countertop surface makes a desirable contrast and sets the tone of elegance and profound taste in your kitchen. Plus, it is functional, and there is enough space on the countertop for cooking, chopping, and preparing delicious meals.
12. Contemporary kitchen with a glossy countertop
There are no cabinets connected with a wall here, which makes your island the centre of the kitchen. In combination with a dining table, it looks quite futuristic. The combination of glossy white cabinets and a massive marble countertop look impressive and stylish.
The built-in kitchen sink and induction cooktop make your island both beautiful and practical. With adequate cupboards and shelves, this kitchen will represent a neat and clean space you can be proud of.
13. Minimalistic kitchen with an easy-to-clean countertop
Angular cabinets facing your terrace or balcony are an excellent option to make a border where the kitchen ends. The minimalistic approach with floating corner cabinets fit most styles.
The glossy white countertop with solid surfacing in combination with grey cabinets looks sophisticated and highly contemporary. If you prefer a minimalistic style, always avoid dark countertops and colourful designs.
14. L-shaped kitchen with a light wood countertop
An L-shaped kitchen in front of the natural light is my dream kitchen. You will notice that there are no walls included. A kitchen island with a lightwood countertop is a more bar-like model with high chairs included.
The build stainless silver kitchen sink and built-in gas stove will make your life comfortable. Plus, the combination of high-quality materials and unique design makes this place chic and perfect for party people.
15. Grey kitchen with a stylish countertop
We usually connect grey with a modern business-like style, but you can find a grey, super-modern kitchen in this colour, as well. It creates an ideal combination with white cupboards and greyish countertop.
With adequate lighting, your kitchen will literally glow. Since all metallic elements in the kitchen are usually grey, they will match your kitchen perfectly.
16. Green kitchen with an acrylic countertop
In my opinion, the green kitchen is always grandma-like. Every time I see such a style, I start feeling the delicious meals my grandma was making for her family. It is always a positive, vivid, and entirely nature-like option.
White acrylic countertop with an induction cooktop and white kitchen sink are an ideal solution for people with children. Your kids will adore green cabinets, plus their fingers won't make any noticeable marks on such a surface.
17. Modern kitchen with a black stone countertop
If you like having a modern, good-quality countertop matching your induction cooktop, the one made of black stone will fit ideally.
It is not glossy, so you don't need to clean and wipe your kitchen all the time. Plus, the stone is an excellent choice when you have a habit of putting hot cooking pots on your countertop.
18. Full granite backsplash and a countertop
Different in colours, designs, and thickness, granite is an ideal material for your countertop. Usually, it is shiny and glossy, which makes this piece of furniture looks great and classy.
If you add modern white and grey full granite backsplash, you will get a beautiful and contemporary kitchen. It will match every style of other pieces of kitchen furniture.
19. Granite countertop with a double sink
Shiny chrome kitchen faucet in combination with silver double kitchen sink matches perfectly with granite countertop. The best option is to pick out the white and silver granite to avoid dullness and simplicity.
A double sink countertop is an excellent and highly convenient option for a large family. It will save space and make your life much more comfortable.
20. Spacious kitchen with a black countertop
It is definitely a fantastic solution for you if your kitchen is spacious. A mixture of a massive dark countertop with beige, almost cappuccino-like kitchen elements is so classy.
The almost black countertop, occupying along three walls, will provide an elegant look for the whole place by breaking the monotony of beige cabinets. Plus, there will be enough space for all the appliances you need.
21. Wooden countertop style
White kitchen parts with a light-brown wooden countertop look rustic and sophisticated at the same time. You will have a feeling that you are in a lovely countryside kitchen with a traditional cooker.
The wooden countertop reminds me of the big old kitchen my grandma had. It will merely make you spend more time cooking, which is an ideal solution if you are a keen cook.
22. Tuscany style countertop
This kitchen is proof that spacy kitchen can be both sophisticated and warm. With a built-in double white kitchen sink and an induction cooktop, it is also modern and practical.
I am sure that you will highly appreciate a wooden countertop, which gives an intimate and soft look to the entire space. Moreover, you can use the central kitchen island as an eating area, as well.
23. Wooden kitchen with a granite countertop
We don't have a lot of opportunities to see a wooden kitchen nowadays since they are expensive and too massive for most modern homes.
If you can have one, choose the granite countertop suiting ideally to wooden cabinets. Thanks to differences in thickness and design of granite, you will get a rich, unique, and tasteful kitchen.
24. Wooden kitchen with a grey countertop
It is a combination that sounds odd, but it looks fantastic. A dark grey countertop with light wooden cabinets provides a formal and intimate atmosphere.
If you prefer the futuristic and elegant design, you will find this kitchen stylish and original. Its subtle style is perfect for you if you don't like too many details.
25. Spacious kitchen with a black marble countertop
In every possible combination, black looks elegant, chic, and mystique. Therefore, it is always a smart and desirable option for a kitchen. The unusual design, which includes a black marble countertop and black cupboards, screams – I love black!
If you pick out this kitchen style, you should try to find all the built-in appliances in dark colours. As a top, the marble countertop with golden handles on cabinets will give a luxurious effect to your kitchen.