Most people think about the number and appearance of bedrooms once when the time comes to buy a new home. Most of them never focused on a bathroom even though it is probably the trickiest part of every house.
Basically, the price of your new home can depend on the type of bathroom there. Maybe it sounds weird, but you can pick out among four primary types of this crucial space. Let's see what terms 1/4 bath, 1/2 bath, 3/4 bath, and full bath means precisely, and how you can increase the price of your property by converting one type of bathroom to another.
What is a Full Bath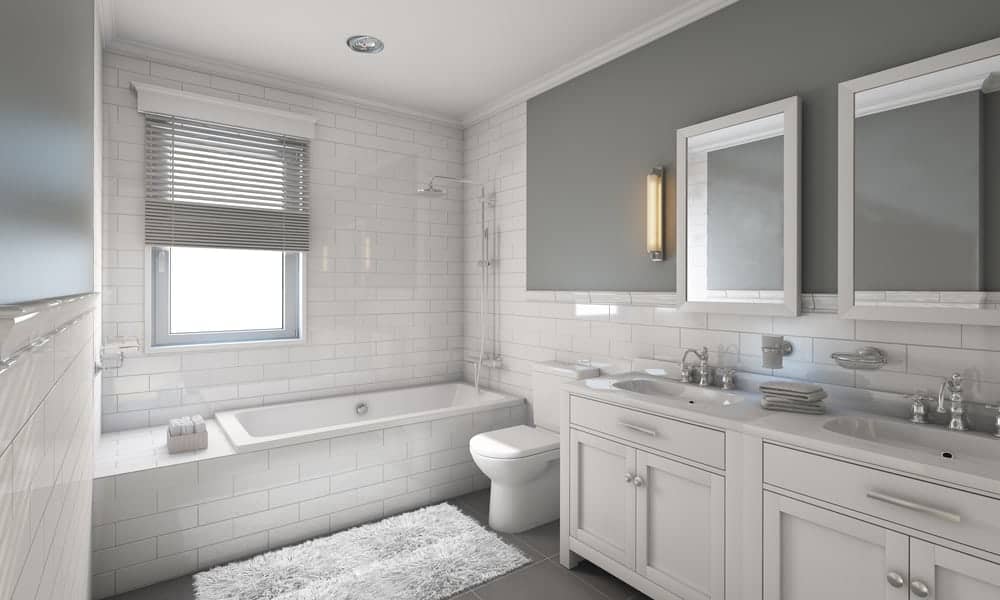 This type of bathroom offers the entire package, including toilet, sink with running water, bathtub, and shower. As for the bathtub and shower, you can choose between two variations available:
Full bathroom with a separate tub and shower cabin
Full bathroom with a tub combined with a shower
There is always an option that your bathroom features two sinks or toilets, for example. Keep in mind that these are variations that won't affect the form of this space.
For instance, you can have a bathroom with two sinks, a toilet, and a tub, without a shower. In such a case, you can conclude that your new home doesn't have the full bathroom since one of the elements misses. The number of sinks won't change that fact.
Unfortunately, most houses don't offer this comfortable option because of the space required. If there is, it will be one, usually a master bathroom, in most cases. There are a few specifics that every full bathroom needs to meet:
Arrangement of elements
The tub and shower should be close to each other as much as possible. They are always away from the door, and in most cases, you will see the vanity between them. Next to the sink or vanity is a toilet, placed opposite in the separate corner.
Size
A full bath requires all elements arranged at 40 to 45 sq. ft (3.7 – 4 m2). However, the average size of a full bath usually goes up to 60 sq. ft (5.6 m2), depending on the style and square footage of the house.
If you are the lucky ones, you enjoy a comfortable, large full bathroom that runs up to 145 sq. ft (13.5 m2) and beyond. It is a case when your home is built the way the master bathroom is set up parallel with the master bedroom. It often contains double sinks and vanities for extra comfort.
Remodel cost
Remodeling this type of bathroom is always expensive and depends on the space available and materials used. The average price in such a case is approximately $13,000 to 15,000. However, this job may cost you up to $30,000 if your house is old, and you face some unexpected complications.
What is a Three-Quarter (3/4) Bath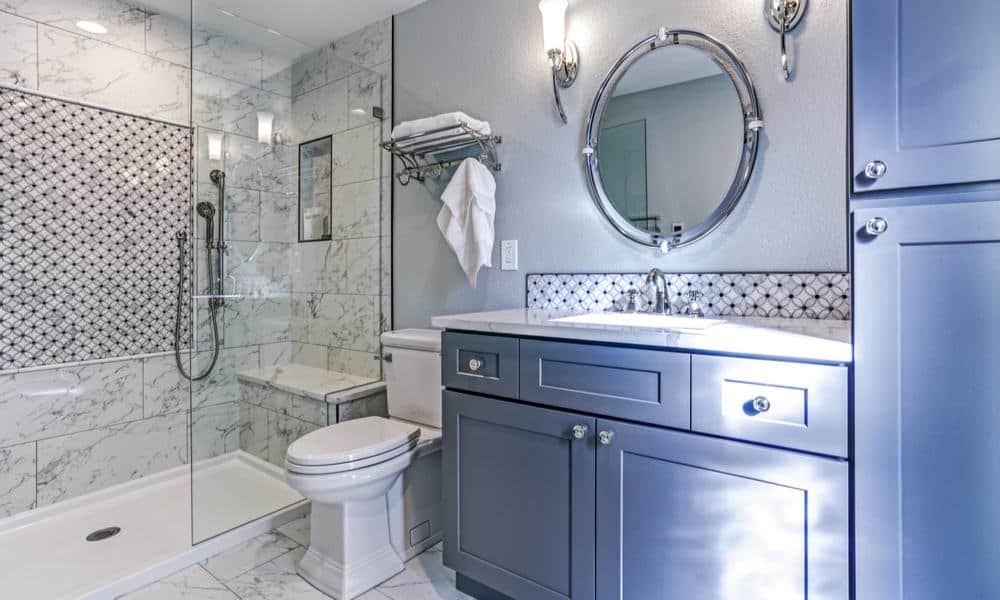 In most cases, people misinterpret a three-quarter bath as a full bath. In fact, it is a space containing a toilet, sink, and stand up shower without a tub.
Some old homes still have a combination of a toilet, sink, and tub instead of a shower. In such a case, you can quickly add a showerhead over a bathtub. That way, you will increase the value of your home by getting a full bath.
This type of bathroom is usually a bit smaller than a full option, but it can be even more functional if you organize it well. In most cases, homeowners get this type by adding a shower and upgrading an existing half bathroom.
The advantage of this option is the opportunity to get all necessary bath elements and save some space at the same time. That makes this design efficient for smaller and mid-sized houses, as well as flats. The specifics 3/4 bathroom needs to meet:
Arrangement of elements
The layout of the necessary pieces is more compact than a full bath since this type is smaller. The shower is still next to the wall or window, while the toilet is next to it to save space. The best place for a sink is opposite the toilet bowl, closer to the door.
Size
In most cases, you will need at least 35 sq. ft (3 m2) for your 3/4 bath. However, the average size is from 40 to 50 sq. ft (3.7 – 4.6 m2), while more sizable 3/4 baths approach the average size for a full bathroom.
Remodel cost
Following the size of the space, you will need approximately $5,000-9,000 to remodel your three-quarters bathroom. However, the price will vary depending on the scope of work and your requirements.
What is a Half (1/2) Bath (Powder Room)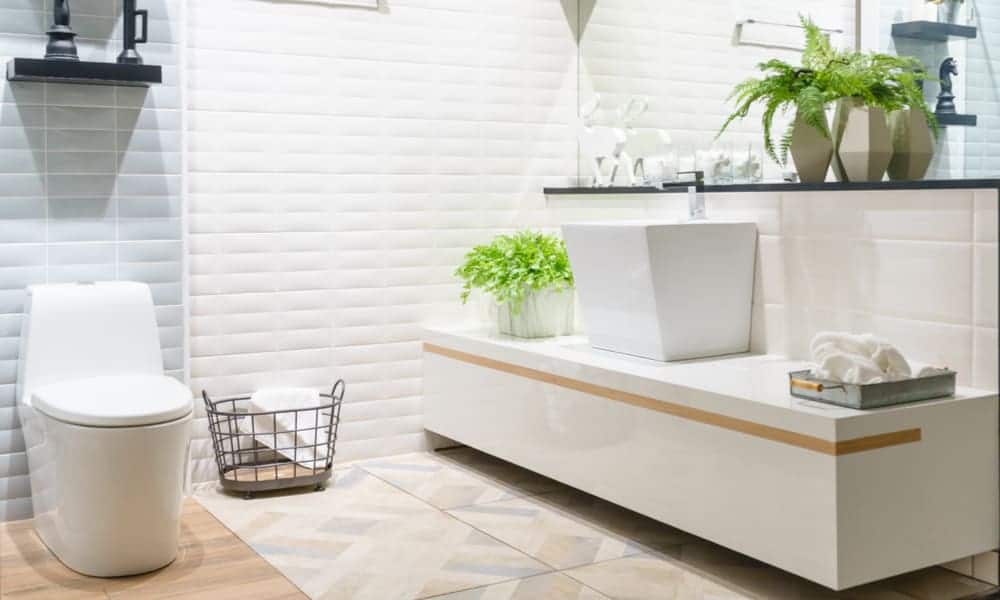 This type of small-sized bathroom features only two out of four primary elements that make equipment of a full bath. In almost all cases, it includes a toilet and sink. The term 'powder room' goes back to the Victorian era. It was a small room or closet where people powdered their wigs. Nowadays, it is a makeup space for women.
You can install it for your guests or the members of your family who can use it while the main bathroom in the house is occupied. It is also an excellent solution for the ground floor without bedrooms. However, keep in mind that two half bathrooms can't be an adequate replacement for the full bath.
Arrangement of elements
Since this room is small, you should place a toilet against the wall, while the sink with or without vanity is on the opposite side.
Size
There are no specific dimensions typical for half bathrooms, and you can organize it in the way that suits you best.
The smallest of them are only 11 to 12 sq. ft (1 – 1.1 m2) in size, while most common are these around 18 to 20 sq. ft (1.7 – 1.85 m2) in size on average. If you have enough space in your home, you can extend your half bath to 20 to 32 sq. ft. In such a case, you can transform this space into the three-quarter bath whenever you need it.
Remodel cost
Since this bathroom is small in size, it is not expensive to remodel when needed. The average price for that job is modest $2,000 to 4000, but it can be pricier, depending on the model of the toilet bowl you want to mount and the type of vanity you choose.
What is a Quarter (1/4) Bath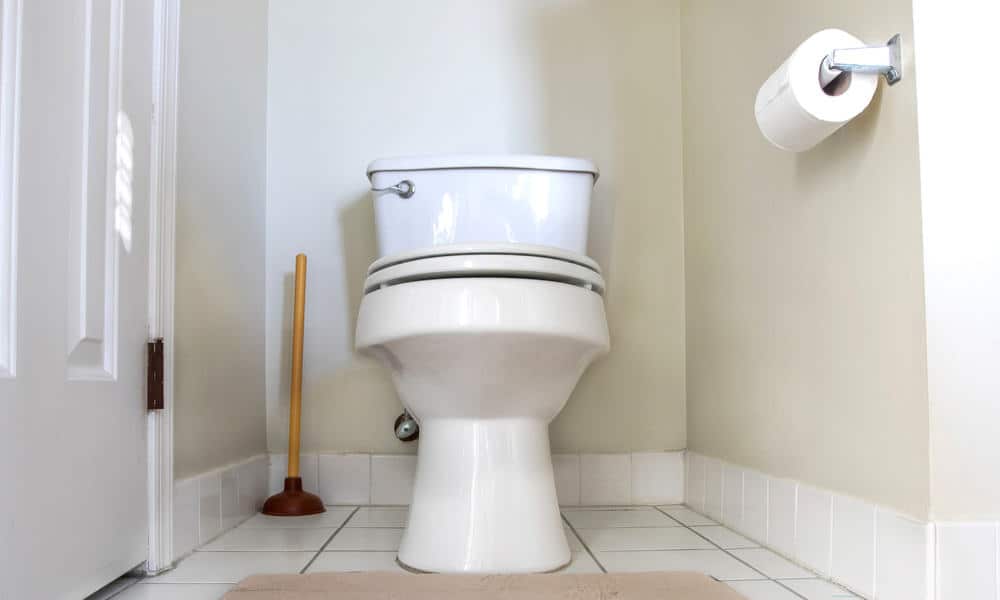 These tiny in-home bathrooms are quite uncommon varieties in the average homes in the US, except the oldest ones. This space contains only one of the four possible elements a full bathroom has. In most cases, it is a toilet. It can be quite odd since there is no possibility to wash your hands after using it.
The other possibility is to have a quarter bath with a shower cabin, but it is not a standard solution either. An even rarer case is that you only have a sink installed here, which makes it a washroom. I suppose that people organize such a space for guests.
On the other hand, I can imagine why someone like installing a tub in the bathroom and nothing else. It seems like an ideal way to enjoy full privacy without other members of your household, who ask for the quick entrance.
Size
You can expect that a quarter-bathroom takes up very little space. To make it more spacious, you should mount a round toilet instead of a model with an elongated bowl. Believe it or not, it can save you at least 2 inches (5 cm).
Determine the Number of Bathrooms in Your House
In some cases, it is not easy to determine the type of bathroom in the house. For example, if your bath features two sinks without a toilet, you can say that this is a quarter bath with two sinks.
On the other hand, there is no particular term for the bathroom with both a shower and Jacuzzi if there is no regular tub. It is just a full bath with Jacuzzi.
Additionally, you can determine the number of bathrooms in your house based on the following scheme:
A full bathroom with a half bath makes your house a home with a 1.5 bath.
If you have both full and three-quarter baths, you can consider having a house with a 1.75 bath.
A house with a combination of a full bath, a three-quarter bath, and a half bath is a home with a 2.25 bath.
Two full baths and one-half bath means that you have a house with a 2.5 bath.
The Number of Bathrooms Adds to a House Value
In 2006, the NAHB (National Association of Home Builders) determined the value a bathroom can add to the price of your house.
It seems that a half bathroom can add more than 10% to the average house value. On the other hand, that value will rise over 20% if you have a full bathroom installed.
If your house contains an equal number of bedrooms and bathrooms, an additional full bath will increase its overall value by 20%. At the same time, a half-bath will increase it up to 10%. In case you have a bedroom without a bath, that percentage can be even higher.