The bathroom is an integral part of every home and the crucial space for each family. I suppose you like to organize that space in the best way possible for many reasons. The essential one is the health of your family. If this room is too damp, poorly ventilated, or has no window, you may face the issue with mold.
That is the ultimate reason to do something and transform it properly. On the other hand, you may decide to change something in your home but have no money for expensive solutions. In both cases, painting is an excellent and inexpensive option. Everything you need is good-will, adequate tools, and paint color you like. So, let's choose the best paint for the bathroom together!
Choose the Right Type of Paint for the Bathroom
At the very beginning, you need a precise guideline on the painting process, color types available, and quality finishes.
Proper preparation
The first thing you need to do is to clean the walls and remove every trace of existing mold, dust, and soap scum. Cleaning the walls will help the paint adhere well to the wall and last longer.
Do it with bleach, white vinegar, or some other proven organic cleaner. Don't forget to protect the corners, floorboards, and doorways with painter's tape, plastic sheeting, and old clothes before starting painting.
Choose Waterproof and Mold-Resistant Paint
Mold-resistant paint is always the best paint for the bathroom. Nowadays, you can find specific ones that feature antimicrobial additives. Thanks to their innovative composition, these paints are entirely waterproof.
Make sure to paint the top and bottom corners thoroughly, since they are the most critical places when it comes to mold growth. Then finish the rest of the wall. Once you do the job, it will prevent the development of the new mold.
Balance wall color with the interior
Balancing the color of the walls with the rest of your interior is the must. If you like garish tones, you should use them to decorate the walls of your bathroom. In such a case, take care that your furniture is neutral with emphasized details.
On the other hand, if the interior of your space is conspicuous and ornate, you should choose gentle and neutral wall tones.
Small bathroom solutions
The best paint for the bathroom if it is small and on the dark side are white, icy blue, cream, pearl gray, and soft green. To make the space visually larger, you should paint all the walls of the same color and combine them with bright tiles.
One more catch! If you paint a ceiling on the same color as walls, you will make the bathroom looks bigger, with the ceiling that looks higher than it actually is.
DIY project
Luckily, wall painting is not so hard, and you can do it on your own if you prefer that way. After picking out the desirable color, you can start working. Always begin the job from the corners and keep going until you paint the whole wall. Once you finish it, you should try to provide the necessary airflow and let the paint dry for a few days.
Type

 of paint to use in bathroom
Keep in mind that picking the right finish is not only a matter of aesthetic but a way to protect your walls from the moisture and the development of the mold. The best paint for the bathroom, especially finish, needs to fulfill two primary properties:
Mold-inhibiting properties – High-quality bathroom paint contains additives that can't prevent the occurrence of mold entirely, but it helps in reducing its amount.
Washable properties – You should choose tight and resilient paint for your bathroom to make regular washing the walls more comfortable. Plus, this type of structure will protect the space from the damage caused by high moisture.
Nowadays, you can find five primary types of paint finishes on the market. Pick out the right option for you, depending on your needs and the conditions in your bathroom.
1. Matte (flat)
You can use a matte finish for the walls in your toilet. It is not the best paint for the bathroom since it soaks up the light and absorbs moisture. Namely, this type of paint contains more pigment particles and a low concentration of binders and resin.
That makes it low luster and rich, but prone to water infiltration. Plus, you can't wash it regularly to avoid the growth of mold.
Super matte – This saturated and rich color reminds me of the velvet. It is attractive and highly appealing, but you should avoid this option for painting your bathroom. Once you use it, you can't wash it without damaging the finish layer and protect your space from the mold.
2. Eggshell
This slightly sheen, washable paint is an elegant option for your bathroom. The advantage of this choice is its feature to hide imperfections on the wall successfully. However, you should avoid it if you don't have a window in this room or the ventilation is inadequate.
3. Satin
This velvety option with moderate luster is an excellent solution for the high-traffic bathroom. Its durability is the primary reason why it is one of the best paints for the bathroom on the market. You can use it when your private space is mild-humid and dark, without a window.
4. Semi-gloss
A semi-gloss finish is an ideal choice for your bathroom even though it can't prevent mold growth entirely. However, thanks to a high level of resin and binders, it repels moisture successfully. Plus, you can quickly wipe down the mildew and stains in the walls and corners.
Avoid using this paint for too large areas since it highlights existing wall imperfections. However, it is excellent as an accent or in combination with other finishes.
5. High-gloss
It is definitely glamorous and the best paint for the bathroom, but it can look a bit schizophrenic when used over large surfaces. It is durable, easy-to-clean, and provides a glass-like effect, which is a desirable feature for small spaces. However, you should use it in combination with tiles.
6. Super gloss
You can use this paint for a tiny, dark bathroom since its rich, liquid sheen will bounce light and make your dull space vibrant and bright. Use it moderately for smaller surfaces and to emphasize details in the area.
The Most Beautiful Bathroom Colors
Which is the best paint for the bathroom that suits your space depends on a few factors, including your preferences and the bathroom size. If it is small and cramped, you should choose lighter paint colors, such as tender green, cream, and pale blue. That way, you will get a tranquil ambiance providing a spa atmosphere.
You may like a combination of two neutral colors, as well. The secret is in their mutual relationship. Always combine 70% of lighter color with 30% of darker one, to get the illusion of wider space.
Don't forget to pick out the wall color matching your furniture. For instance, the cocoa color of walls will create a dramatic contrast if your bathroom cabinet and mirror frame are white. Let's consider the options available:
Bright white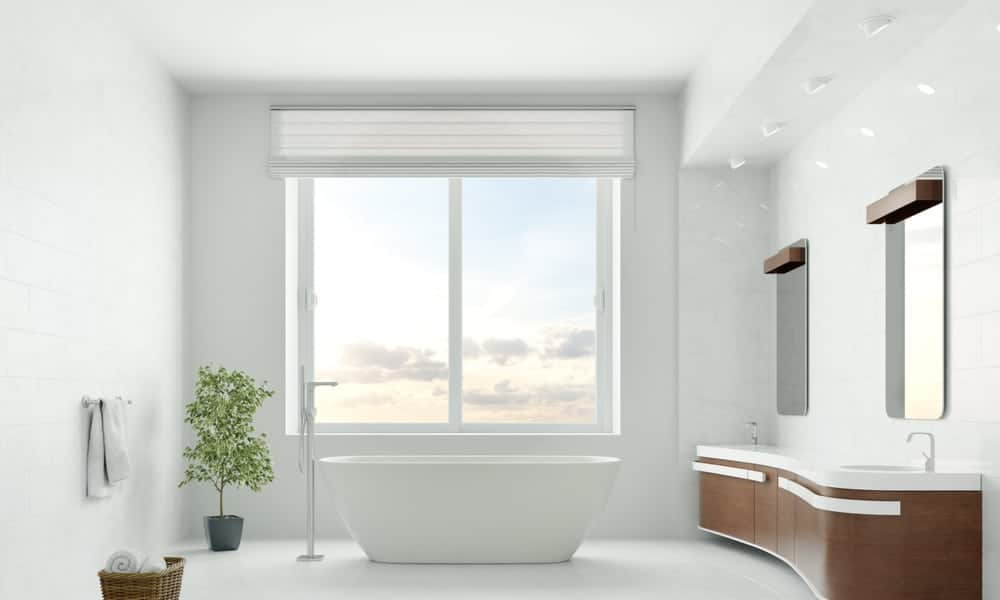 Many people avoid white since it reminds them of the hospital, but this color can be the best paint for the bathroom if you use it smartly.
Add different tile textures, wood accents, or yellow, green, or pink accessories to enrich your classic clean white space, and you will get the ultimate elegance.
Creamy white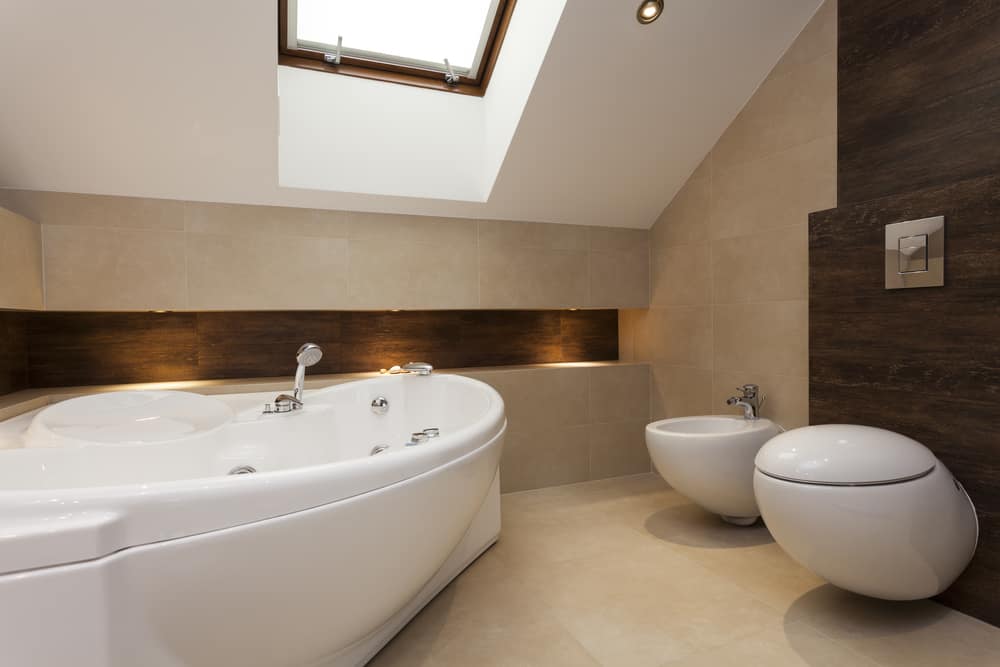 If you feel that a bright white is too intense for your taste, but you like the purity of this color, you should add a bit creamy shade into that cleanliness. Enjoy this gorgeous classic option and the warmth it can bring into your small, dark space.
If you accent it with lavender color and some vintage pieces, you will have all the reasons to be satisfied with the result.
Light green
Green is always something special. This color will bring calm among the sharp edges of the contemporary bathroom and provide the serenity to you after a hard-working day.
Use it if your bathroom is sunny, and combine some freshness this color offers with sun rays coming inside. Earthy tones of the furniture will be the best match for your lively walls.
Pistachio
This green shade is the best paint for the bathroom if you are a highly energetic and optimistic person. This vibrant pastel variation of green fits ideally to bright white details, which will help you create a sophisticated style of your space.
Teal (dark greenish-blue)
You should definitely consider rich teal as another elegant choice for your bathroom. This color can be too much if used alone, but it will look fantastic on one wall, among others painted in white.
Goldenrod
Yellow is never the color of choice for the bathroom. However, if you use this warm and rich shade, you will bring a touch of glamour into your private area. Combine it with brass or bronze details to brighten up a small and dark bathroom.
Light blue
Bring a gorgeous piece of the sky in your bathroom and transform it into the real relaxing spa-like space. Light blue walls will match perfectly with humble white tiles and greyish accessories. Yes, it is undoubtedly the best paint for the bathroom you can find on the market.
Powder blue
This color is an excellent option when used to bring an elegant accent to the room painted in some complementary shade. However, you can be unique and give a traditional touch by painting the entire space in this color.
Since it is a bit dark color, take care to pick out white bathroom furniture in combination with a grey countertop.
Cerulean blue
It will be the best paint for the bathroom for your home if you dream about the gorgeous color of the sea while waiting for the summer. Although this is actually a bright color, it is incredibly calming, which makes it an ideal solution for a family with small kids.
To get an entirely nautical-inspired look, you can combine this wall color with traditional white details and pieces of the furniture.
Soft gray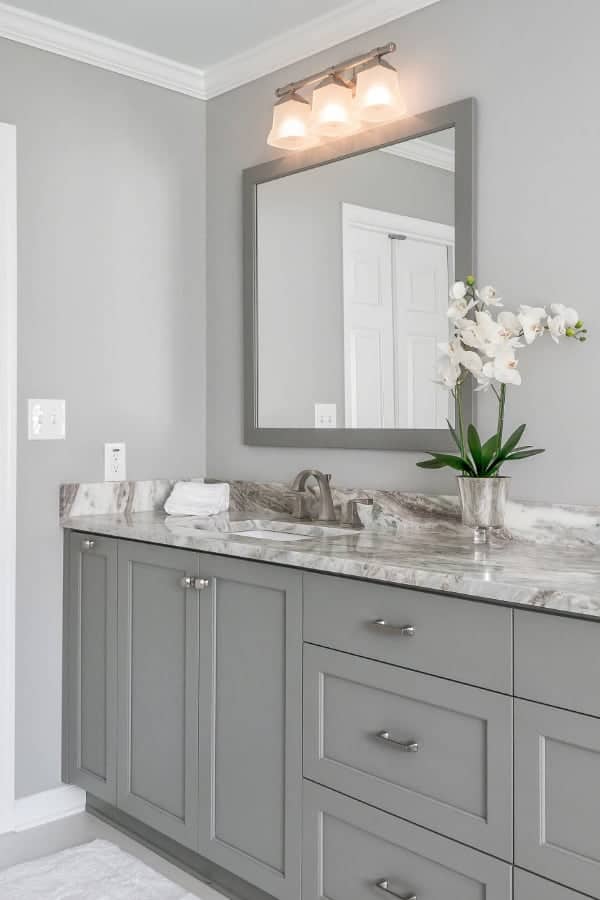 If you have kitschy or noticeable furniture, a soft, light gray is the best paint for the bathroom walls in your house. This color is on the cooler side and reminds of concrete and granite. However, it provides a calm and relaxed atmosphere at the same time.
If you add the vibrant and bright color of shower curtains and towels, you will get the real win-win combination.
Ash grey
This color reminds me of the shadow. You can use it as the best paint for the bathroom furnished in a modern style. If you combine it with countertops made of elegant granite or stylish marble and charming light tiles, you will enjoy glamorous space while taking a shower.
Charcoal
If you look for something unique and a little bit dramatic, charcoal can be the best paint for the bathroom you can find. It is a sophisticated variation of a soft gray, which will bring some warm elements and contemporary touch into your space. It is a great, chic match to the natural wood floor and shiny metallic details.
Taupe
This particular color is an excellent choice if you look for neutral shades for your space. However, don't forget to add some warm and vibe details to make your bathroom more personal and elegant.
Nowadays, you can decide among classic brown-gray shade, gorgeous brown-heavy taupe, stylish gray version, and a contemporary, purple-based option.
Brown
In general, it is a bit unusual color for the bathroom, but you can paint your walls this way if you prefer earthy shades and a relaxed atmosphere of the modern spa.
If you have metallic gold details on the cabinet, you should consider a dark chocolate brown color for the walls, as well. It will look a bit dramatic!
Bathroom Paint vs. Standard Paint Costs
When you exclude overpriced designer paints, the best paint for the bathroom will cost you as much as most of the high-quality standard colors. On average, you need to count on about $50 to $65 per 1 gallon (3.8 l). Since most bathrooms are not sizable, you will probably need less than that amount of paint for two recommended coats.