When you decide to decorate your home, you usually try to make it beautiful, comfortable, and cozy. However, it shouldn't be your priority when it comes to the kitchen floor. OK, it is essential to have lovely flooring material, but it is crucial to pay attention to practicality.
You need an easy-to-clean, functional, and durable kitchen flooring, which is stylish, elegant, and attractive at the same time. Plus, it should fit with your kitchen cabinets. One more thing! If you plan to install underfloor heating, you need to consider materials, which can withstand high temperatures.
What type of flooring is best for kitchens?
1. Wood kitchen flooring
Wood is a viable and convenient flooring material for your kitchen. It will add warmth and light sense of timelessness to any style you use. Nowadays, we usually choose hardwood for flooring since it is a durable and comfortable option requiring low-maintenance.
The most common types of wood you can choose for your kitchen floor are:
Real wood – It will warm up your kitchen, especially the white one. Properly treated, it will be resistant to moisture and scratches, and it will last long.
Scandi oak – It is a super cool solution for your home. The warm, light natural tones will work excellently with white cabinets, kitchen sink, and induction cooktop made of steel, for example. This option will transform your kitchen into a contemporary, fresh, and elegant place.
Excellent alternatives include:
Dark wood laminate – It is a budget-friendly alternative to the real wood floor, and can look authentic if you choose the right quality.
Faux wood floor tiles – These wood-effect porcelain tiles look like the real wooden parquet flooring. However, they require lower maintenance, which makes them more practical for a kitchen. Plus, these tiles are an excellent choice if you want to install underfloor heating.
Pros
If you take care of your wooden floor adequately, it can last for decades
It works with most decorating styles, including all options from traditional to modern
You can choose between a few types of woods, such as walnut, oak, and cherry
It requires low maintenance
Cons
Laying requires professional help
It is a costly solution, and you should calculate the cost of sub-flooring, as well
Wood is noisy while walking across it
It requires occasional refinishing
2. Parquet kitchen flooring
A delicate parquet in combination with elegant kitchen faucets and trendy countertops is an excellent option for your kitchen. Keep in mind that this natural material expands and contracts as a result of alternately rising and falling the level of temperature and moisture.
Pros
Parquet made of oak, pitch pine, or tropical hardwood is an excellent choice for the kitchen
You can combine it with a tiling area near the kitchen sink and garbage disposal
If you fill the gaps adequately, you will prevent moisture from penetrating below your parquet
Cons
You need to calculate an excellent water-resistant top-coat in the cost
It can't stand splashing with grease, bleach, and acid
It requires using a proper wooden floor cleaner
3. Bamboo kitchen flooring
There are a few types of bamboo kitchen flooring with different properties, characteristics, and price you can use, including solid bamboo floor planks, strand-woven bamboo, and engineered bamboo. All of them can be an attractive option for residential kitchens.
Pros
It is a strong, durable, and elegant material resistant to moisture
Bamboo reflects light and keeps your kitchen bright and airy
Since it is a renewable, bamboo is an eco-friendly option
Cons
You can't use bamboo in its natural state since it is not water-resistant
If not maintained properly, you can face the occurrence of staining, scratches, and even mold
4. Engineered wood kitchen flooring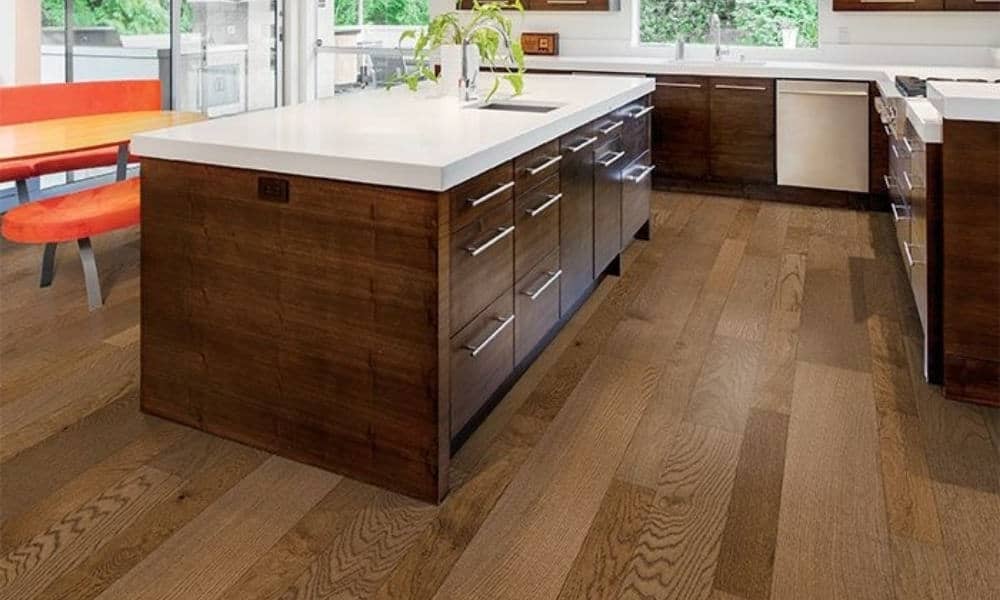 Engineered wood is an excellent water-resistant alternative to hardwood or laminate. It won't expand and contract like natural wood flooring. Plus, anything thrown on the floor can't damage this material.
Pros
It can deal with all atmospheric challenges comfortably
Since this type of flooring won't swell or warp, it requires low maintenance
It provides stability to the kitchen floor
It is an environment-friendly option
Cons
Depending on engineered manufacturers, the same product can be of different quality
It is a costly option
5. Brick kitchen flooring
Bricks are maybe an unusual choice for flooring, but they can bring charm, elegance, and style in your kitchen. Expertly incorporated with contemporary elements, they will add a touch of rusticity to the modern kitchen.
Pros
It is a durable option resistant to breakage and scratches
Properly installed, this floor will last for decades
It is an inexpensive material
Brick won't lose heat quickly, which makes them warm and comfortable
Cons
There are no many color options of bricks available
As an absorbent, they are not resistant to moisture and stains
6. Concrete kitchen flooring
If you prefer a tough, durable, and elegant kitchen floor, you should consider polished concrete. Plus, it is an ideal solution for an uneven floor surface. You just need to concrete over it!
Pros
Since it helps in reflecting the light in a space, you will get a bright kitchen
You can choose among numerous colors, patterns, sheens, and shading or to fashion them to resemble different types of stone
It requires low maintenance
It is an eco-friendly, long-lasting, and budget-friendly solution
Cons
It requires sealing from time to time
You will feel discomfort if you need to stand on concrete for an extended period since it is too hard and cold
It is susceptible to moisture and slippery
7. Ceramic tiles Kitchen Flooring
Since tiles are durable, elegant, and cheap, they are probably the most common choice for the kitchen floor. Include your creativity and pick out the desired pattern, including chic chevrons, vintage chessboard, bold geometrics, hexagons, Victorian borders, mosaic, or multi-sized tiles. If you are a traditional type, you can choose neutral ceramics or glossy floor tiles, as well.
Pros
Tiles are inexpensive, highly durable, and virtually indestructible
The surface of tiles is easy to clean
You can lay them by yourself
Cons
Since ceramic is cold, it becomes uncomfortable for standing after a while
Unless you seal grout lines carefully, it can be challenging to keep them clean
Additional materials necessary for laying will increase the overall cost significantly
8. Porcelain tiles Kitchen Flooring
Porcelain is a harder, stronger, and purer type of ceramic tile. Its long-lasting, glazed surface is resistant to moisture. Nowadays, many designers use this elegant and stylish material for contemporary kitchen flooring. There are two types of these tiles. Unglazed porcelain is always in natural, earthy color, while glazed one comes with a glass-like coating in the desired color.
Pros
Thanks to the flexibility of their design, you can use porcelain tiles resembling wood, marble, or granite
It is a fireproof material resistant to liquid and stains, which requires low maintenance
You can successfully repair this long-lasting flooring if needed
Cons
It tends to be quite heavy, which makes the process of installation a laborious task
Porcelain is expensive
There are no adequate regulations that require fulfilling the specific characteristics of this product
9. Mosaic glass tile kitchen flooring
Even though most consumers use mosaic glass for countertops or walls, you can lay them on the kitchen floor, as well. These luminous tiles are highly sophisticated and timelessly elegant, but they are a costly option, as well.
Pros
Although the standard dimensions are 0.5 x 0.5 inches (1.3 x 1.3 cm), you can find them in any size
You have a standard rectangle, squares, triangle, and irregular shapes at your disposal
It is an easy-to-clean, quite durable, and eco-friendly material
Cons
You can't use glass tiles if your kitchen is a high traffic area
Installation is complicated, and you can't do that job by yourself
They are slippery, susceptible to scratches, and breakage
It is an expensive solution
10. Travertine kitchen flooring
Travertine is a type of limestone and forms around deposits of mineral spring. You can find it in a variety of earth tone colors and usual tile form. If you install this all-natural stone properly, it will add a unique beauty to your kitchen.
Pros
Well-polished travertine is a stylish, durable, and long-lasting material resistant to stains
You can repair it effortlessly if necessary
Cons
It has specific maintenance requirements, and you need to apply a stone-sealing agent periodically to prevent wearing
Laying is quite complicated since travertine tiles are heavy
11. Slate kitchen flooring
The large-scale slabs of slate will provide a rustic vibe to your kitchen. It is a beautiful material full of natural variations and ridges, which will look better with age and add some depth to the entire space.
Pros
It is a durable material resistant to scratches, cracks, and breaks
If you damage your floor, it is possible to repair it
You will enjoy its unique appearance
Slate is an excellent choice for your kitchen if you want to install a floor heating system
Cons
You can't expect consistency of this material
Since it is cold and hard, slate requires regular maintenance
Laying these tiles is quite tricky, and you need to ask a professional for help
It is a highly expensive option
12. Cork kitchen flooring
I like this warm and sustainable natural material coming in numerous patterns and colors. Since it is resilient and requires just sealing once in three to four years to become moisture-resistant, cork is highly convenient for lining the kitchen floor. You can choose between 12 x 12 inches (30.5 x 30.5 cm) tiles and 1 x 3 feet (30.5 x 91.5 cm) planks.
Pros
You can quickly lay this comfortable, long-lasting material by yourself
Since the planks of most types of cork have a layer of built-in underlayment, you don't need to add the foam underlayment
It is a quite inexpensive option
Cons
You can damage it with high heels, or your pet can scratch it with claws
13. Linoleum kitchen flooring
The huge advantage of linoleum is availability in a wide range of colors and patterns. Unlike vinyl, it is an all-natural colored product made of a biodegradable and renewable mix of linseed oil and cork powder without harmful VOCs.
Pros
It is easy-to-clean, eco-friendly material
Since this type of flooring is resilient, it is comfortable for walking
Always purchase linoleum with a protective coating, because it will make it unsusceptible to staining and resistant to moisture
Cons
You can scratch it if you are not highly careful
The new product can be slippery
14. Vinyl kitchen flooring
Vinyl flooring is a durable synthetic material with an imprinted pattern. Nowadays, you can find a wide range of colors and trendy designs. The cheapest models are 0.04 inches (1 mm) thick, but if you want a long-lasting product, you should pick out those thick at least 0.14 inches (3.5 mm).
Pros
This budget-friendly and soft underfoot successfully imitates the look of wood, stone, leather, or tiles
You can quickly lay it by yourself, even right over the subfloor
It is an easy-to-clean option
Cons
It is an artificial, non-degradable material
It is quite easy to gouge and scratch this material, which makes it an inadequate choice if you have toddlers or pets in the house
15. Rubber kitchen flooring
Rubber flooring is an excellent option thanks to its durability, low maintenance needs, as well as the resistance to water, stains, and damage. Despite all the benefits, many homeowners avoid this material because of the limited design and color options.
Pros
Since this material is resilient, it is comfortable, slip-resistant, and conforms to the shape of your foot
DIY laying is not complicated
It is an eco-friendly material
Cons
Even though new rubber flooring has that unpleasant 'car-tire' smell at the beginning, it will fade over time. However, most homeowners prefer avoiding this inconvenience
Acidic liquids, grease, and abrasive cleaning agents will discolor the surface of the rubber
The distinctive rubber surface is unattractive
Summary
It is possible to get the desired kitchen flooring material at an affordable price if you are skillful and decide to do the job yourself. On the other hand, there are numerous exclusive options, which may cost you a fortune.
However, the price shouldn't be the primary reason for picking out the particular material. It is crucial to find the one, which is durable, sturdy, and resistant to moisture, breakage, and scratches. If it is also beautiful, elegant, and stylish, you can be sure that you have won a winning combination!