Are there fabulous ways to make my bathroom attractive? Do I need to get a professional interior designer to decorate my bathroom? Many homeowners never fail to ask such questions or search far and wide looking for the best decorating ideas to use in their bath space.
Luckily, we've put together numerous ways to make your bath one of the eye-catching spots in your
home. The exciting part is that these ideas cover all parts of the bathroom, such as its lighting, paint color, and fittings, etc. It also offers great insight on how to beautify various sizes and styles of bathrooms in any building.
Now do you want to give your bathroom a facelift? Read on as we reveal to you the best 100+ bathroom decorating ideas that will suit your home. The best part is that these tips are easy to carry out and will not leave a hole in your pocket.
1. Harmonize Color Fixtures
A master bathroom with a navy blue and gold mirror will match up well to beautify the space. Using a chandelier will spice it up completely.
2. Cover the Floors with Paint
Installing tiles can be demanding in terms of cost and time. Forgo the bathroom design tile ideas and paint the floors. Go for a custom look by adding hand-painted details. If you don't know how to go about it, you can adopt the graphic painting design by Leanne Ford.
3. Budget Savvy
Instead of splurging on expensive fittings, upgrade your bathroom with affordable but interesting pieces. Imitate Sarah Gray Miller's bathroom make-over by placing a rug with an animal image, a small board with bold typography. Add a vintage style stool and some artwork on the wall to make the space artistically pleasing.
4. Bare Lighting
Illuminate your bathroom with a beautiful exposed bulb like this Luxury bathroom of Diane Keaton.
5. Be Creative
Use an unconventional storage unit that will suit your bathroom spaces. If it falls within your budget, you can install a cabinet and include the sink, the bath faucet, and a mini-fridge for storing beauty and skincare products. This way, when you close up the cabinet, it makes ones full focus goes to the painted walls, light fixtures, and the romantic bathtub.
6. Find New Uses for Reclaimed Items
Simple bathroom ideas with the use of reclaimed pieces will brighten up the look of the space. If you do not know how to go about this look, draw inspiration from a North Carolina home that uses an old planter as a trash can.
Enhance the space by painting your walls in flagstone before hanging a reclaimed-pine mirror over a pedestal sink. Use open-wire cubbies as your storage options.
7.  Rug Style
Give the bathroom a vibrant look by using multi-colored runner rugs instead of a bath mat just like in this Idaho farmhouse own by Alison and Jim Luckman.
8. Play with Patterns
Combining patterns might be confusing for some homeowners, but if handled well, it can make your space look elegant. Use white palm leaf wallpaper and pair it nicely with pattern floor tiles to spruce up space. Spice up this setup by adding a bronze palm chair and a framed abstract painting.
9. Wallpapers with Book Pages
If you want a DIY bathroom decorating idea, then consider this simple option. Reprint the pages of books with brilliant images and use them as wallpaper on your bathroom wall.
10. Make the Mirror a Center stage
This master bathroom of Caitlin Wilson brings in simple herringbone tile and added antler mirror as the center of attraction.
11. Give it a Countryside Feel
If you love to have a rustic feel of farmhouses, consider millwork on the wall and install place vanity mirrors against it. To create a complete the country feel, swap the cabinet's door glass or wood with chicken wire.
12. Creativity in Art
Spice up your space by making it look like a smaller version of an art gallery. Apart from adding framed pictures on the walls, invest in a reclaimed clawfoot bathtub and dress form for an eclectic edge.
13. Floral Print Approach
During springtime, there is one great way to spruce up your bathroom. Like in the Chenault James Michigan home, you can add some fresh flower and decorate the space with framed floral prints design.
14. Make it Exotic
Apart from your bathtub and paint, you should also pay attention on the shape, tiles, and doorways. Overall, this idea by Commune Design will make your bathroom space attractive and comfortable.
15. Victorian Style
Combine vintage and modern styles by using a new bathtub with an antique table and milking stool. Use terracotta tiles for your flooring option. Furthermore, enhance this idea by adding custom cut mirrors embedded in a salvaged window frame.
16. Adopt Natural Attraction
The Mother Nature around this California Farmhouse motivates the master bathroom for a more decorative idea. As you can see that right from the plants in the see-through vase and the earthy limestone floor to the gray curtains, all this design blends with the natural environment.
17. Invest in a Fancy Copper Tub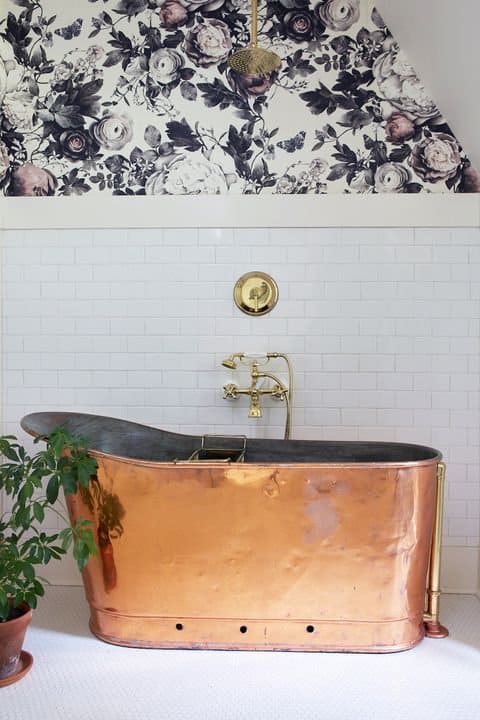 Most homeowners have enamel or ceramic bathtubs in their home. Even if these materials are ideal, you can still try something different.
According to Leanne Ford, you can spice up your bath space by using a classic copper tub. Pair this tub with gold accented fittings and brown flower pots. Add a Standing copper bath to serve as an ideal alternative because they are easy to use and maintain.
18.Display Artwork
Framed art on the wall can make any space in your home look luxurious. Imitate the Long Island beach house master bath by using vintage prints from an online store.
19. Antique Claw-Foot tub
An adorable vintage bathtub in your bathroom like the one in Debbie propsts Connecticut abode will create an amusing view anytime and anyway.
20. Go with Natural Materials
Dabbing paint over your walls is one of the best bathroom decorating ideas. But if your bathroom has a natural stone or brick wall, don't bother painting it. Implement this fantastic idea of Arent & Pyke's by exposing these materials to add more character to the bathroom. If you still want to add some color, then place bright accessories.
21. Match Black and White
Paint a portion of the wall in dark tones and hang a black framed art onto it. Add a white extra-large Hoesch bathtub against the painted wall.
22. Wood Inspired Space
For homeowners, you can make your bathroom look all-natural with elegant wood material like the Wyoming home.
23. Go Monochrome
Dump the idea of using different hues and go with one color. Using a single color tiles will save you the stress of thinking of how to match colors. Consider this additional idea offered by 2LG studios as they crown this look with custom vanity and mirror.
24. Use Silky-Soft
Do you have a freestanding tub? If you do, then turning it into a Zen zone with silky-soft towels and padded stool will work excellent. Adding a colorful traditional rug close to the tub is also great way to your feet a treat after a long bath.
25. Suspend Simple Mirrors
Here comes a thoughtful design for a bathroom with multiple windows and a close guest cottage. Instead of hanging blinds to prevent light and cover up the fantastic view for some privacy. You can suspend West Elm mirror from the ceiling with pulley with the aid of thick sisal rope just like the master bathroom in this California wine country home.
26. A Touch of Greenery
2LG Studios present a great idea on how to brighten your bathroom by adding palm leaf tree to the corners of this space. A palm leaf tree will serve as an ideal option.
27. Bring in Some Color
Whitewall tiles, sinks, and bathtubs are classic bathroom elements. However, they could become boring within a short period. Break the monotony by hanging an old hand-painted sign above the tub. Complete this idea with lab inspired lightning.
28. Reclaimed Sink Ideas
This Arizona ranch home presents you with great bathroom ideas on a budget. Rather than getting a new expensive sink, you can install a cheap old farm sink. Then add a new brass faucet to achieve a stylish wash place in your bathroom.
29. Bold Shower
Change the appearance of your bathroom by using honeycomb-like tessellation pattern on shower wall portion. This is also a great way of featuring a luxe design without spending a lot of money.
30. Embrace Simple Design
Having an attractive bathroom with a few accessories is one of the features of minimalism. Follow this Studio DB design by placing a bubble bathtub in front of an elegant window for a clear view of your environment. For a luxury touch, add an arty table and hang a large overhead bulb.
31. Patina Ceramic Tub
The Upstate New York guest house reveals a simple bathroom idea on how to add a bit of glamor to the interior space. All you need is a ceramic bathtub with a little appeal.
32. Etagere Maximize Storage Space
Drilling holes in your wall for cabinets might be annoying. Elizabeth Roberts displayed an alternative idea by adding étagère to store towels and toiletries. Since it is not enclosed, you can choose to place a few decorative items to make it chic.
33. Attractive Bathtub
Going with the usual might not be a great idea. Instead, install an old claw-foot tub that offers a center stage attraction when any houseguest steps into the bathroom. Give the bathtub more bold statement with a porcelain floor tile set up in a herringbone pattern onto the wall. Also, add Moroccan lantern and vintage storage cabinet with little verdigris.
34. Blend Your Style
Using a little bit of modern and industrial ideas can add more elegance to your bathroom Like in this Black Lacquer Design. Pair white tiles with gold hardware, and pendant lights to make the interior space look a bit industrial. Add some color and give your feet a treat with a plush area rug.
35. Creativity in Art
Spice up your space by making it look like a smaller version of an art gallery. Apart from adding framed pictures on the walls, invest in a reclaimed clawfoot bathtub and dress form for an eclectic edge.
36. Barn-Door Theme
A well-polished barn door looks attractive when it is set up in an unbelievable spot like in the shower stall. Furthermore, add a brass bar outside where you can hang your towel.
37. Eccentric Design Ideas
Does your bathroom have a weird shape? Then you need clever ideas that will fit even the most difficult interior layouts. Apply the Leanne Ford design by using a cycle turquoise sink and add some greenery. Install a long-standing faucet and hang clean white linen on the wall for some refreshing twist.
38. Use Wood Paneling
Wood Paneling has an amazing effect when used correctly in bathrooms. Also, a combination of Corian countertops, vase with greenery, and a floating bath sink in your bathroom will add a new feel.
39. Countryside Update
Give your master bathroom a feel of Antiquity with vintage sconces, and an old copper sink basin as seen in this New York farmhouse. Add a pinch of pizazz with reclaimed wooden frame mirror and hessian shower curtain.
40. Enhance Tiny Space
A small bathroom might be challenging to work on due to its limited space. However, interior designer Shaun Smith shows that you can beautify the space by playing with colors as well as adding hand towels, floral, and paintings.
If the bath is too small to contain shelves, invest in a hamper, and place a tray on it to hold your necessities. For a smarter design, place a classic urn under the sink.
41. Southwestern Vibe
Here comes another fantastic option from this 100+ bathroom decorating idea? Draw some Southwestern inspiration by investing in a claw-foot tub and vintage beveled mirrors with different shapes.
42. Salvaged Sink styling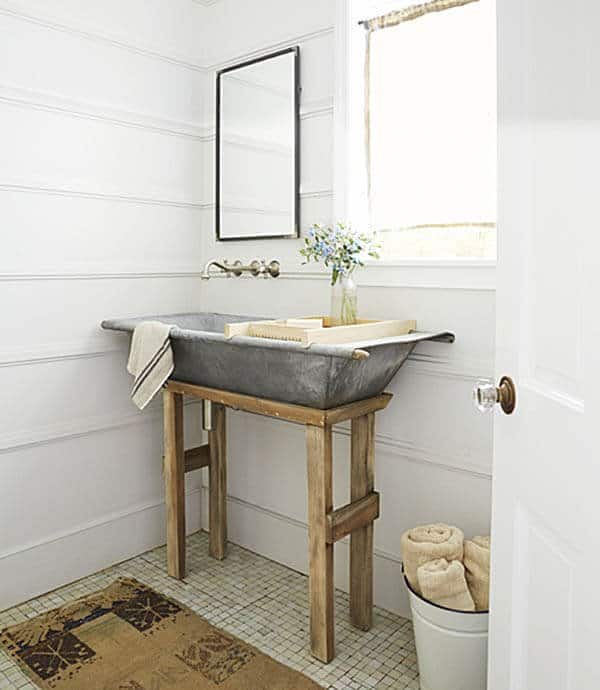 Metal hay- collecting bin mounted on a tall slim wooden stand can act as a stylish wash sink like in this California cottage powder room.
43. Create a Visual Interest
Dump expensive fittings for simpler alternatives. Instead of installing a fancy chandelier, imitate Hecker Guthrie by using modern lighting options. Rather than using gold-accented mirrors, go with round frameless ones. With this design, the sculptural metallic and red marble sink with dark wood walls in the bathroom will stand out to create a strong attraction.
44. Install Practical Accessories
Although accessories increase your visual interest, you can also use them to perform other tasks. For instance, install a meter by Orange Research that will measure the amount of water used in your bathroom. Bring in a commercial styled sink made from enamel iron for a final touch.
45. Use Softer Partitions
Create a more privacy in your bath like in this Commune Designed bathroom by adding a stylish but functional partition. If your space has an Art Deco-inspired mirror, blend it with a cream-colored screen to add a modern feel and for more privacy. Folding screens is another great option for a temporary basis.
46. Carved Bowl sink
A good way to highlight more creativenesses on your bathroom basin is to add a carved stone sink. Get a perfect idea from the design in Lynne Knowlton' house.
47. Install Floor to Ceiling Storage Unit
If you don't feel comfortable using overly exposed storage, try Robson Rak's design of using cubbies with ample space. You can place your toiletries and cleaning products in the closed spaces while your towels and decor item on the shelves. To enhance the look of the bath space, place folded tonal towels in the open shelves of the cubbies.
48. Imitate the Outdoor
Have a view of the outdoors and allow natural light by using modern glass doors and windows. Remember to add some curtains for privacy. Then bring in natural feel with some green plants which also provide fresh air.
49. Wood Mosaic Accent
Place a mosaic that takes the look of stacked firewood onto the wall to give the bathroom a rustic accent. After that, add a small paper with bold lettering to draw the attention of houseguest like in this once-dreary bathroom.
50. Farmhouse style
Create a traditional millwork on the wall with beadboard wainscoting and crown molding, and then connect it to the window in simple shutters. Furthermore, line on top of the crown molding with seashells.
51. Rustic Accents
Cover the walls with a very tall spring blue painted beadboard to create an airy space as viewed in this New Hampshire. Give the bathroom a rustic feel by adding a reclaimed sink and cast-off claw foot tub.
52. Place a Step Stool
Studio DB shows that you only need neutral tones with geometric tiles in a kid's bathroom. Help them reach the sink by placing a wooden fun step stool underneath.
53. A Small Twist of Classic Design
From adding Floor tiles to the installation of romantic bathrobe, sconce, marble vanity, the Studio DB design idea offers you a blend of classic design with strong art Décor. Substitute your mirror with colorful sconce that draws more attention.
54. Dump the Mirror
Instead of mirrors, you can place a piece of abstract art over your sink. Add more elegance with a single pendant light while placing toiletries on a custom shelf above the sink.
55. Use Brown Tones
Make your bath unique with light brown painted paneled wall and Step it up with hardwood floors, and framed art. For the bathtub, opt for Dark-brown Newport Brass faucet and hand shower attachment Furthermore, install a Newport Brass faucet and hand shower attachment. Finally, add a cycled mailbox as a bath caddy like in this Georgia lake house.
56. Square Spaced Pattern Wallpaper
Decorate your powder room walls like this Connecticut farmhouse with patterned wallpapers featuring Andrew Martin print and Britain penny black stamp.
57.Cabin Vibe
For a bathroom with wood paneling, you can paint your wall like the one in this Hampton home rustic bathroom to create a cabin lodge ambiance.
58. Simple Gold Accent
Arent & Pyke shows that adding metal fixtures with gold accents is a fabulous way to enhance a simple bathroom space. Invest in accessories such as faucets, mirrors, or drawer knobs with a touch of gold. Place them alongside dark colored drawers or scones for a luxurious look.
59. Place the Wallpaper Halfway
Are you looking for the perfect way to use less wallpaper and still achieve a perfect design? Well, you can cover the bathroom space halfway up instead of placing them all over the walls. This design not only saves cost, but it also prevents water from splashing on the water paper. For a white-tiled bathroom, it's best to go with bold wallpapers to jazz up the interior space elegantly.
60. Choose Fanciful Floor Tiles
Tiles are affordable and durable ways to floor your bathroom. However, you can take it further by choosing tiles with whimsy tone and pattern. Enhance this look with colorful towels and Art-deco inspired pots.
61. Luxury Approach
There are few ways to make your bath space look interesting than installing a claw-foot bathtub. Set up the tub under a modern, jewelry-inspired chandelier while a black and white geometric tiles remains underneath. Place some artwork and plants on your window sill. Also, consider investing in a round black side stool for your essentials.
62. Matchless Sink
Getting a Kohler trough sink is one of the bathroom decorating ideas small spaces will love. Add some window shades, an antiqued-brass and bronze light fixture and a hand-writing sign to spice up the look. For a tighter bathroom, you can maximize the space with the use of peg rails rather than of towel bars.
63. Jazz up White Bathroom
A white bathroom without an attraction tends to get boring on the long run. For this reason, break the monotony with a sea life print, vintage lab cabinet, and cart handle storage. Furthermore, cover halfway the walls in grey paint and Place a Philippe Starck mirror right above the sink.
64. Match Up Tiles
Mix two set of tiles with different colors and patterns. Use one on the walls and lay the other tiles on the floors. Contrast the look with a black framed mirror and white sink.
65. Newspaper Wall Design
Give your bathroom space a graphic appeal with old newspapers. Stick them on the walls by using wallpaper glue and flat craft sealant for a perfect finish. Also, add a vintage medical stand as a store for your hand towels.
66. Brass Emphasis
Adding brass hardware just like the one in the Lake Tahoe cabin will create an outburst of beauty to a shiplap wall.
67. Bold Taste
Get inspired by the chic bathroom in this North Dakota home. Combine a simple black-and-white palette for the flooring while polished wood for the ceiling.
68. Give Lighting a Twist
Chandeliers and pendant lighting are one of the popular ways to brighten a bathroom. However, you can make your space stand out by using a floor lamp or single scone instead, as done in the design by Hecker Guthrie.
69. Embrace Vernacular Architecture
If you stay in the tropics, you can place a vintage bath alongside a vivid rug from a craft market. Keep mosquitoes away with canvas shades and zippered screens.
70. Splash a Fresh Hue
Refreshing colors are one of the most amusing 100+ bathroom decorating ideas for your home. Borrow this idea from 2LG studios- install minty green tiles, and match them with a terrazzo vanity with slim legs. On top of the vanity, place some bowl sinks with a matte finish. Complete the look with floor tiles in a fan formation.
71. Antique Medicine Chest
Try adding an antique feeling to your bath space with a weathered wooden Red Cross medicine chest and ceramic painted cup.
72. Bring Some Class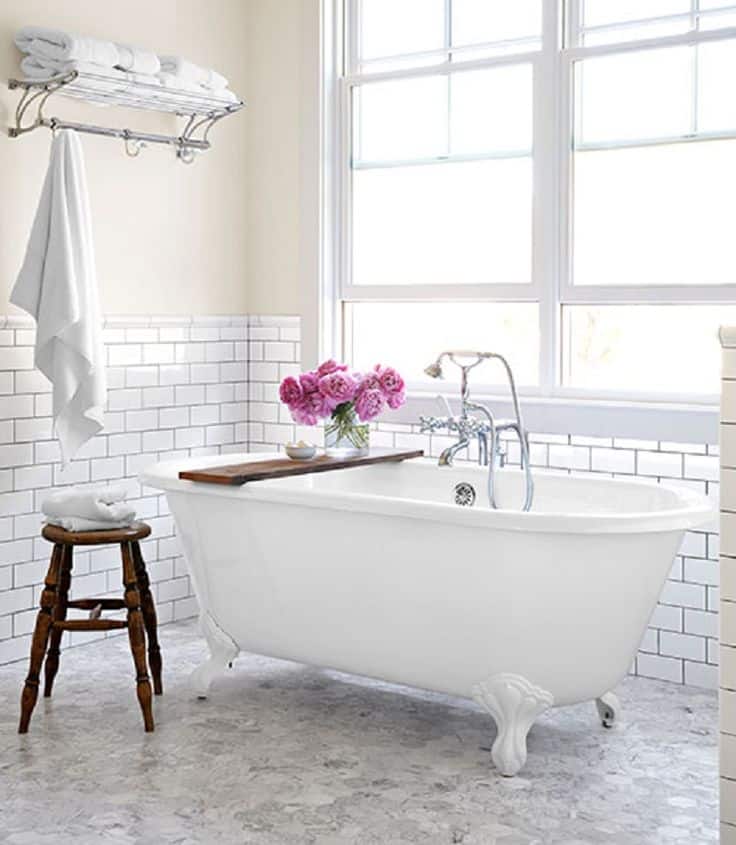 Pair Carrara marble floor with horizontal strip tiling set up in herringbone pattern. Consider a clawfoot tub to create a center stage attraction and place a wood plank as a bath shelf like in the master bathroom of this California home.
73. Go Rustic
Most times, attractive bathrooms remind us of the countryside. One of such bathrooms can be found in a California home with Pennsylvania bluestone floor, a vintage clawfoot tub, and a hammered brass pendant light. The walls are given a two-tone painting to give a wainscoting feel.
74. Use All Spaces
Maximize the space in your bathroom by utilizing all available spaces. Items to place on these surfaces include ornate candlestick holders and flower plants.
Add a floating tub like the one in Elizabeth Roberts for an exciting attraction. Place a wooden chair beside this piece to increase your visual interest.
75.Augment the Space
Create a free movement in your bathroom by replacing the door of the master bathroom with a simple twilled curtain as you can see in the California bungalow
76. Don't Hang Artwork
Bringing artwork to your bathroom like Arent and Pyke is a novel way to make this space look refreshing. However, resist the temptation to hang them. Instead, seat the fine-art on the countertop and allow it to rest against the wall to give the space more elegance.
77. Mirror Décor
This Martha's Vineyard home presents a way to use of iron sconces to harmonize an attractive circular mirror which is framed elegantly with reclaimed wood in a powder room.
78. Indoor Greens
Bring a nature appeal into your shower by placing potted plants on a vintage column. Frame a fern leaf and hang it on the wall beside a clawfoot tub. Paint the bathtub in dark tone to make it the center of attraction.
79. Natural Light
No need to use a curtain, allow natural light to brighten up the bathroom. Paint the interior all-white, add white clawfoot tub, and make it dazzle with a chandelier.
80. Give it a Classic Spa-like Look
Turn your bathroom to your spa by combining warm marble floors with pink surfaces. Instead of opting for a linen closet, consider a unique towel rack.
81.All-White Design
In a bathroom with pitched ceilings, a standard height shower might not be the best option. Hence, save more money by getting worn-out bathtub for a budget-friendly price. Then refinish the tub to make it look new before installing.
82. Vintage Fixture
Even if installing new fixtures are one of the simple 100+ bathroom design styles, reclaimed items can also offer an exciting look. Having said this, use a vintage bathtub, sink, and medicine cabinet. Place a pedestal shelf on the tub for your toiletries.
83. Find New Way to Use Old Pieces
Are you looking for bathroom decorating ideas on a budget? Install a new mirror on a vintage medicine cabinet and complete the look with sconces side by side. Also, create a washstand from an old table by using a Kraus sink set and marble top.
84. Serious Bargain
Using inexpensive splurges isn't a bad idea if you want to add more elegance to your master bathroom like in this New York home. You can add claw-foot tub close to a large window to elevate the master suite.
85. Add Texture
You don't have to hide the blemish portion with bright accents at all times. Instead, engage viewers like in this Texas home with a rusted corrugated metal wall, and one lone starred towel.
86. Go Crazy on Floor Tile
When choosing flooring options, think playfully. Hence, instead of using dull ceramic tiles, invest in floor tiles with black and white pattern. However, try to keep the wall simple so that you don't shift the attention.
87. Eye-catching Wallpaper
Get bold graphic wallpaper and contrasts it nicely with a hand-crafted wood mirror to create an unusual accent.
88. Basic Upgrades
Changing the basics in your space are some of the bathroom design ideas on a budget. Draw more attention with linen towels, marble hooks, unique floor tiles, and pink floral wallpaper. This tactical design and upgrades will make the toiletries blend in and become unnoticed at first glance.
89. Basement Bathroom
If you have a basement, you can add extra functionality by creating a mini space bathroom. After that, beautify the walls with white paint and another portion with tiles arranged in a herringbone pattern. Create a bold statement in the space by adding a mirror with a well-design shelf beneath it and salvaged flea-market chest below.
90. Vintage Inspired Space
Set up an antique millinery stand in the bathroom where you can incorporate your old objects like a cowboy hat or vintage shoe.
91. Artistic Covered Quarter
Hang a framed cut paper image and simple artistic drawing on the wall close to a cast iron bathtub covered in white. Place a long plant stand close to the tub for easy reach of your toiletry.
92. Cheer up your Powder Room
Change the look in your powder room by investing in a unique vanity. Add yellow Lucite framed mirror for a sophisticated touch.
93. Cast Iron Tub
Impress your guests with a freestanding cast iron tub covered in white china. Add some tones with a zebra print ottoman then finish the look with a Restoration hardware mirror. Add a cheap pendant light for a more stunning look.
94. Use Old Trough
Give your bathroom a vintage appearance with an old feeding trough sink.
95. Creative Tiling
Arrange your tiles in an irregular pattern to make your bathroom look attractive. Go with colors and shapes that blend seamlessly.
96. Blend the Materials
Rather than using a specific material for your interior, it's best to mix it up. Using a wood mirror, bronze hardware, and bluestone-topped vanity is a great approach just like the Marsha Ahearn Massachusetts bathroom.
97. Choose Unusual Spot
Make your bathroom look interesting by placing your fixtures in an unusual spot. Take this step by installing a matte black faucet in the center of the room. Blend this arrangement with a neutral color and luxe marble flooring. Introduce a freestanding mirror and a wooden stool at the edge of the bath space.
98. Open Showers
Open showers are some of the latest bathroom designs for home improvement. Install one with fittings from your local hardware store and place it opposite your bathtub. Add a reclaimed mining basket for your toiletries.
99. Personalize Vertical Spaces
Designing tiny vertical bathrooms might be tricky due to the less available space. However, it will make a lot of sense to enhance and spruce up this tiny space elegantly. To do this, Paint the walls with romantic colors such as blush pink, and then hang different framed art paintings based on various subjects.
100. Wooden Sight
Use wooden material as the center stage of attraction in your bathroom. Create an eye-catching view with wooden bathtub deck and window frame, and blend it elegantly with modern subway tile.
101. Perform Small Upgrades
Carrying out a bathroom decoration of your choice doesn't warrant you to perform expensive renovation projects. Instead, make use of small upgrades like hanging gritty photograph against black and white print striped wallpaper. Then add accent magazine rack, a hand towel ring, linen curtains, and an ornate chandelier which blend nicely with the bathroom design.
102. Bedroom to a Bathroom Design
If you have space and cash, try converting a master bedroom to an expansive bathing space. Maximize the space with glass shower enclosure. Cover the walls and floor with subway tiles and limestone tiles, respectively. Go green by adding two potted plants.
103. Spa-like Feel
Create a herringbone pattern around the tub with printed porcelain and match it up with quartz countertop. This perfect combination will give your master bathroom a sensational feel.
104. Expose Materials
Nothing says "Vintage" like the combination of the uncovered metal ceiling, brick wall and castor bathtub in the bathroom.
105. Break the Rules
Extend your playful side to the bathroom with various patterns, shapes, and colors. Rather than the usual, go with twin oval sinks with circular vanity and linear frame. Highlight this design with brightly colored wall tiles, and mock floor tiles.
106. Add Vintage Chest
Antique pieces are easy ways to make your powder room look elegant. Try working with vintage chest and pair with an old firkin under a Porsche sink. Use a target-like game board for the wall decor.
107. Patina Décor'
An urban Farmhouse soapstone sink will work well in a bathroom with muted colors. Garnish the interior with a patina flowerpot, large mirrors, and old light fixtures.
108. Rustic touch to Vanity
Having an antique cabinet for extra storage space like in this Tennesee barn can also serve as repurposed vanity in the bathroom. Add a flaked paint to give it a rustic look.
109. Add Large Mirror
The Quaint California house adds a massive vertical mirror and a tiled dwarf wall in the bathroom to make space feel wide.
110. Make the Tub the Spotlight
Turn your bathtub to the major attraction by installing it beside a large window with fancy sheer. Instead of fixing the faucet to the wall, think about using the floors.
Also, hang a long clear pendant to add more luxury without shifting the attraction. Remember to jazz up the vanity with few plants and statement pieces.
111. Embrace Two-Toned Paneling
For smaller space with low ceilings, a two-toned paneling on the wall will make a lot of difference. Give the room a sense of height by placing artworks on the floor to draw attention to the lower part.
112. Give Vintage Design a Modern twist
Using a mixture of vintage and modern trends are stylish ways to give your space a facelift. Give the bath space a vintage twist by using marbleized wallpaper and an antique mirror. Also, repaint the wainscoting with dark color to highlight the corner sink.
113. Simple Dresser Vanity
Instead of expensive marble vanity, you can use a simple affordable dresser. And then install a sink on it and seal with Waterlox to make it resistant to water.
114. Substitute the Hardware
Carrying out a simple upgrade isn't a bad idea. Hence, instead of opting for towel rails and classic wooden shelves, you can go for better alternatives. Having said this, you can install a metal wall hook for your towel and red marble for toiletries.
115. Add a Unique Vanity
Every stylish bathroom deserves an attractive vanity. If your space allows just like in this studio DB design, you can make yours special by adding a velvet stool and light up mirror. Give the view an extra color with flowers nicely placed in a white vase.
116. Cheerful space
Add Calcutta marble tile floors, painted White tie bathtub, and a small stool for your bathroom essentials.
117. Use Kraft Paper
Are you thinking of making the bathroom look moody and durable? Then try an affordable Kraft paper with a coat of varnish. Spice up this idea with some vintage framed art.
118. Calm Feel
Make your bathroom feel more sensational with an antique mirror, countryside prints, and gilded sconces. This design gives an outstanding look of a classic boutique hotel.
119. Maximize the space
Using an antique chest as a store hub for towels and bath supplies is one way to maximize the storage space in the bathroom.
120. Make it Moody
Play down the seriousness in your bathroom by installing light patterned wallpaper. Brighten up the look with a modern pink bulb and mirror. You can use wallpaper with neutral and playful tones to also achieve the same result.
121. Bucolic Haven
Georgia log cabin displays a leather-wrapped mirror, brass hardware, and a butcher-block counter which create a vibrant and buoyant interior bathroom space. Highlight all the fixtures and material with a white rustic upholstered wall.
122. Use Contemporary Floating Sink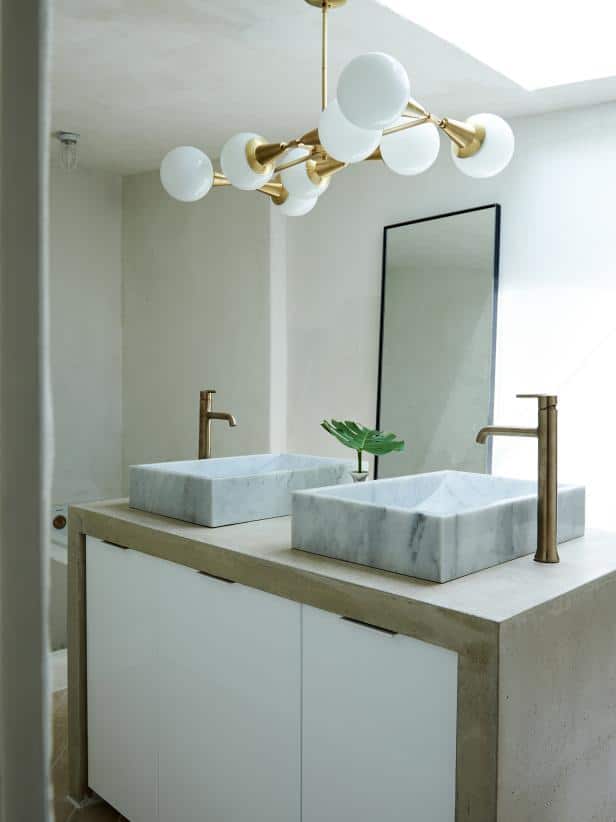 A kitchen island is a popular design known by homeowners, but have you heard of sink island design? This design consists of floating sink vanities instead of installing them against the wall.
123. Art on Stenciled Wallpaper
Are you looking for an edgy alternative to wallpapers? Then use an affordable stencil on the wall. Use red paintings from a thrift-shop for more wall art and rest framed Art on it for more visual interest.
124. Pronounced Characters
Place a whiteboard with bold typography against the upper of the wall to create an eye-catching view in the bathroom.
125. Create a Fireplace
If you have a bathroom with large arch window, you can make the space magnificent by adding a marble sunken bathtub with a built-in fireplace at one end.
126. Interesting Flooring Options
Pair white subway tiles with a Rejuvenation tub. Bring in a touch of greenery by placing an ornate plant on a long wooden stand.
127. Underwater Themed Wallpaper
Give your home a tropical look by installing wallpaper with different fish images. Apart from making your bathroom look great, it gives an aquatic feel.
128. Outdoor/Indoor Shower
If you want to add a covered outdoor shower, construct it beside your indoor shower. Separate both spaces with glass to create a flow of ambiance. Also, place a plant on an artsy stool in the external bathroom to create an outdoor feel.
129. Dazzling Fixtures
With the right blend of accessories and materials, you can an all-white bathroom look elegant. Use Carrie marble for floors, walls, and countertops.
130. Decorative Pattern
Get inspired by the renovation of Tennessee farmhouse. Expand your window, make the shower longer, apply open cabinet, and install a custom vanity. You should also harmonize the space with mix patterns by blending black-and-white decorative tile with green toilet wallpaper.
131. Use Invigorating Color Tile
Work with a color scheme that will make the bathroom look more energizing. Go with a blue and gold combo and install some simple storage onto the wall. Add a vintage mirror to complete the makeover.
132. Give your Feet a Treat
Allow your feet to enjoy some softness with a cozy rug. Enhance the rustic feel with an antique bath and rattan chair.
133. Create Extra Privacy
Create a unique shower spot with a circular motif on the floor and a marble wall slab. Then add a curtain for a touch of more privacy.
134. Bring In Vintage Furniture
Installing built-in shelve isn't the best decorating ideas for renters due to its cost, maintenance, and rental constraint. Having said this, consider using vintage pieces such as an armoire to store your bathroom essentials. Add vintage-inspired print wallpaper and a colorful spiral stool like the one in this master bathroom decorated by Arent & Pyke.
135. Add Potted Plant
You can give your bathroom a minimalist decoration by adding a potted plant. Allow extra natural light to highlight the idea.
136. Profound Sink
If you look at the design idea presented by Jeni Maus in her California home, you will is a blend of a deep-seated sink with industrial fixtures. Surely, this is a great idea to add if you have kids.
137. Allow Natural Lighting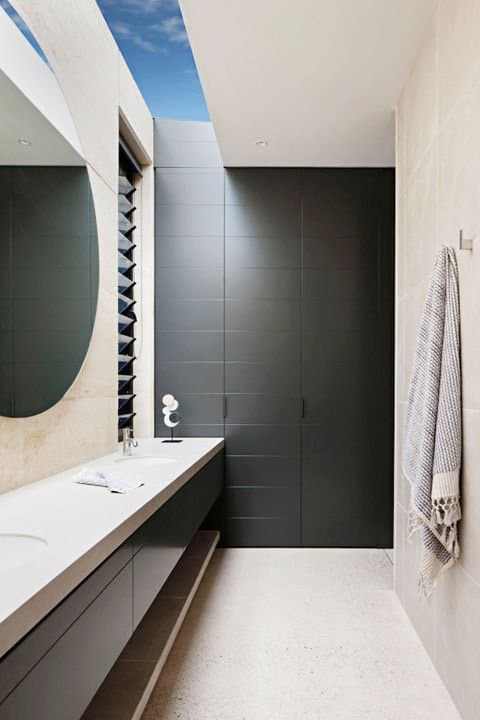 Natural light combined with large mirrors can make narrow spaces look wider. Increase the brightness in your room by installing a skylight window and a big round mirror. However, if you have less sunlight, stick with pieces with reflective surfaces and vanity mirrors.
138. Go Crazy with Materials
Another easy way to decorate your bathroom is to avoid sticking with a single color material, instead mix various types. Adopt this bathroom idea by having a hardwood floor while its area under the tub will contain a marble slab for splashing.
139. Soften the Space
Are you looking for the perfect way to turn your industrial looking bathroom to a spa-like paradise? Place a plush area rug and striped hand towels to soften the grey interior. Consider installing a black bathtub, as it fits perfectly with the color palette.
140. Make the Small Space Classic
A small bathroom with a minimalistic design is a great idea to maximize the space. But most times, the simple ideas usually make the bath space look tinier. Hence, fill up that space with interesting bathroom tiles, gold accents faucets, and modern white vanity. Add a final touch of elegance with a round mirror.
141. Simple Light Fixtures
You can update your white bathroom with ornamental mirrors and hardware light fixtures. Choose hexagon tiles as a flooring option.
142. Make Use of Bright Colors
Vibrant hues can make any space look better. Use sunny yellow backsplash tile and the overhead lighting in the bathroom. Also, contrast it nicely with gold-accented faucets and white double sinks for an added glow.
143. Create Extra Powder Room
If your home has ample space or corners, you can add another powder room for your guests. Surely, under the stairs serves as an ideal spot for this project.
Maximize this limited space created by placing a mirror and a hook above the water closet. Add extra comfort by placing an eye-catching rug on the dark wood flooring.
144. White Renovation
If your bathroom looks unsightly, give it a luxurious retreat with a white farmhouse style beadboard wainscoting and a claw-foot tub. Then brighten up the walls and ceiling with white paint.
145. Paint the Ceiling
According to Julie Root Interiors, painting your ceiling in neutral, high gloss paint keeps your bathroom classic while giving it an effortlessly cool elegance. Since bathrooms are known for excess moisture, it's best to use high-quality paint sheens which are easier to clean and maintain.
146. Add Sophistication
Paint your bathroom with Benjamin Moore ballet white and finish the floor with hexagonal tile. To enhance the interior look, add Anthropologie mirrors, light fixtures from Hardware Restoration, and a nice standard sink.
147. Vibrant colors
A knitted rug on the floor and a partial colored cabinet will create a great accent to the bathroom.
148. Exhibit Your Interests
Designing your bathroom, with a theme in mind will result in a well-defined space. It's also a perfect way to express your interests. If there is a collection of naval paintings on your bathroom wall, you could add a navy blue bathtub with a white interior.
Place naval inspired pendant overhead and sconces on both sides of the window. For the floors, use a dark blue rug with a square motif that contrasts nicely with the tub.
149. Metallic finishes
Holly William's bathroom features matching metallic finishes as it combines basic gold elements with a darker color to highlight the interior.
150. Use Wallpaper with Domestic Pet
Employ the design of Renita Browning's Texas home by featuring wallpaper with beautiful household pet to add more character to the bathroom.
151. Use Glass Doors
If your bath space has concrete floors, white tiles, and an elegant bathtub, consider investing in a white glass French door. This fixture will make you focus on your bathtub while the floor brings more character. Add dark-toned art against the wall close to a bathtub to draw more attention.
152. Silver coordinate
Give your all-white bathroom a crispy and concise look with a combination of silver mirror and silver fixture.
153. Jazz up the Trough sink
Do you want your bathroom to have vintage elegance? Then you need the right combination of cast-iron fixtures appropriately paired with Nickel-finished hardware.
154. Draw Attention with Wainscoting
According to Prof. Freya Van Saun of the decorative arts at the New York School of Interior Design said, "The human eye is designed to scan for a new attraction." Hence, you can do wainscoting to draw more attention in your bathroom. This design associated with ancient Rome can be seen with millwork distinguishing the horizontal strip along the wall.
155. Over-the-Door Rack
Add a good looking shelf above your bathroom door to keep your extra washcloths and bath towels dry.
156. Roll in a Wheel Cart
Add a handy bar cart to get an extra storage space. Place apothecary jars at the top and keep some cute catchalls corral toiletries below.
157. Open Storage
Display your bath salts by putting them in see-through storage. This adds color to your bath space and reminds you to take a nice soak.
158. Add Cute Baskets
Instead of linen Closet, use cute basket to keep your hand towels and other accessories safe.
159. A Set of Curtains
Framing a regular shower stall by hanging matching curtains above will make your bathroom look elegant. Add a pair of this cornflower blue to your bathroom for extra décor.
160. Marble Finishes
The inherent beauty of a natural stone is one that is impossible to beat. Using products such as Granite Gold Shower Cleaner works best because it can stand acid-contained cleaners.
161. Pay Attention to the Details
Sometimes little touches are ideal for changing the overall look of your bathroom. Such ideas range from the way you hang your robe to placing an art deco rug near the door. You might even add blue painting on the wall while introducing coral pattern floor.
162. Use a Single Tile Pattern or Motif
As mentioned earlier, using various patterns with your tiles are one of the best 100 bathroom decorating ideas. However, you can create a more playful look in your bathroom with a single tile pattern.
163. Tranquil & Relaxing Paint color
Painting the bathroom with specific colors is one of the easy ways to create a sensational feel. Blue color stands as the best option to give the space that tranquility.
164. Bold Statement
Invest in wallpaper with bold patterns. Add art decor mirror against the bold wallpaper for more visual interest.
165. Luxury Tone up
Make a difference in your bathroom with the use of monumental element with rich jewel tones like turquoise, garnet, and sapphire.
166. Go Crazy with Mirrors
Using vintage mirrors of different shapes and sizes on the same wall are one of the best 100+ bathroom decorating ideas. Ensure you try this setup with reclaimed vanity.
Final Word
Choosing the best bathroom decorating ideas can be confusing for many homeowners. This makes them abandon the ideas of having the bathroom of their dreams even if they have the cash and time.
You can avoid this pitfall with this few guides:
Consider your space, budget, and your specific interests. Besides, you might even perform small upgrades or renovations to your fittings to get the bathroom you deserve.
Mixing patterns, adding metallic, investing in unique bathtubs are some of the best ways to brighten your bath space.
You can also play with your lighting and consider alternative storage options for your toiletries and cleaning products.
So what are you waiting for? Head to a local home improvement store and get supplies needed to give your bathroom a completely new look. If there is any idea on our list you want to implement but it seems challenging, you can leave a comment below for us to assist you.