There's no better way to start your day than with a refreshing shower. But if your faucet isn't up to the job, you may find yourself shivering under a trickle of water instead!
Say goodbye to that problem by investing in one of the best shower faucets around. Here we check out ten models that will get your day off to the perfect start. And take a look at our buying guide to help pick the right one for you.
Sumerain Black Shower Faucet
It offers high-quality construction at a very reasonable price. And we've heard excellent reports about Sumerain's customer service too.
The Best Shower Faucet on the Market 2023
1. SR SUN RISE Rain Mixer Shower Faucet Combo Set (

Our Top Pick

)
This ultra-stylish shower Faucet set from Sun Rise includes both a rainfall and handheld showerhead, a rough-in valve and the trim.
The look here is uncompromisingly modern, with sharp lines and a polished chrome finish. This is one faucet set that wouldn't look out of place in a luxury hotel.
And whilst reasonably priced, the quality here matches the aesthetic appeal.
The rainfall showerhead is made of stainless steel, while the overhead arm and handheld showerhead are made of brass. They're a nice weight, and all parts are coated in ten layers of chrome for a stylish, corrosion-resistant finish. The shower hose is made of 304 stainless steel too.
This faucet is a good option if you have low water pressure. The high-pressure technology in the valve will still manage to give you a powerful shower.
The handheld showerhead has a rectangular profile that produces a wide stream of water. It's a useful addition for directing water to parts the overhead shower won't reach as well. But there aren't any massage settings, and you will only be able to use one showerhead at a time.
The valve monitors water pressure, with the aim of stopping you from being either scalded or frozen. Be warned, though: if you like a very hot shower, it may restrict the temperature more than you'd like. Get your plumber to take a look before installation. Once it's in place, you won't be able to change it.
All in all, this is a fantastic shower set that looks – and feels – a million dollars. And it's surprisingly inexpensive too.
2. Esnbia Brushed Nickel Shower Faucet Set
Esnbia's shower set is another that offers the choice of an overhead or handheld showerhead. The set also includes a valve to swap between the two heads and to adjust the temperature. If you have your shower positioned over your bath, it's also possible to buy a set including a tub spout.
The finish here is brushed nickel, giving a darker and more matte appearance than the chrome Sun Rise version. In other respects, the design is very similar.
The rainfall showerhead is square and 12 inches across, to give a broad spray that won't leave you with cold shoulders. The handheld showerhead is rectangular, and its sharp lines are echoed in the rectangular control panel.
If you have low water pressure, this is a great option. The rainfall showerhead mixes the water with air to double the pressure. At the same time, you'll be using 30 percent less water. That's great for the environment – and for your water bills.
The pressure-balancing valve controls the water temperature and allows you to direct water to your chosen showerhead.
It's physically possible to turn the lever to the middle position and direct water to both showerheads at once. But it really isn't designed for this, and the pressure will be half of what it should be. You'll get far better results by using one showerhead at a time.
The rough-in valve has a copper body and is certified for a life of 500,000 uses. And it comes with a warranty offering replacements parts for up to five years.
There are no massage settings with the showerheads here – but the rainfall effect will give you a great spa-like experience.
If you're in a hard water area, water droplets will leave marks on the brushed nickel finish. Just wipe over the hardware with a soft cloth when you've finished your shower.
3. POP Single Function Shower Trim Kit
POP's simple shower trim kit includes a fixed overhead showerhead, rough-in valve, and trim. If you don't need a handheld showerhead, it's well worth considering this competitively priced set.
The showerhead here is square and a swivel ball joint allows you to adjust it to your preferred angle. The arm it attaches to is short, however, so you won't be able to have the showerhead horizontal.
Despite being inexpensive, the materials and design are the real deal. The showerhead has a smart, thin profile and is made of 304 stainless steel. At eight inches square, it's not the largest on our list – but it will still give decent coverage.
The valve trim is brass, and all parts are coated in one of a range of different finishes. You can choose between chrome, brushed nickel, oil-rubbed bronze or matte black. So there's bound to be an option to match the rest of your bathroom fittings.
The showerhead also mixes air and water to increase pressure by up to one hundred percent. An added bonus is that it reduces the volume of water coming through the nozzles, cutting consumption. And you'll still get a firm, invigorating shower.
The easy-clean spray holes allow you to wipe away any build-up of limescale with your finger.
And the single-handled valve couldn't be easier to use. It adjusts both water temperature and volume simultaneously.
We've heard differing reports on how simple this one is to install. We'd suggest erring on the side of caution and getting in a professional.
4. Gabrylly Shower Faucet Set
If you prefer curves to straight edges in your bathroom, check out Gabrylly's attractive shower faucet set. Here, the rainfall and handheld showerheads and control panel are all circular.
It's available in a wide range of different finishes, each with their own distinctive style. Choose brushed nickel for a contemporary look, or oil-rubbed bronze for something that looks almost Victorian. Matte black has a bachelor pad feel, while brushed gold will add some serious bling to your bathroom!
The rainfall showerhead is eight inches in diameter. The handheld version comes with a choice of three different settings. Choose between a high-pressure massage shower, a gentler rain setting, or a mixed rain-massage shower. Turn a small pointer on the showerhead to move between the settings.
The control panel here has two levers. A small one on top allows you to select either the rainfall or handheld showerheads. (You won't be able to use both at the same time.) The second, larger lever controls the temperature.
The package includes the rough-in valve, valve trim, both showerheads, shower arm and elbow, and shower holder.
If you opt for the matte black colorway, you can also choose to add a slide bar to the package. That's great if you want to position the handheld showerhead at different heights, without having to hold onto it.
We have heard of occasional issues with quality assurance – missing installation instructions or malfunctioning valves.  Fortunately, Gabrylly's customer service has come up trumps almost every time.
All in all, a good-looking and effective shower set. And the choice of spray settings with the handheld showerhead is a real bonus.
5. KES Rainfall Showerhead, Supply Arm and Trim Set
The KES shower set is another one with a single showerhead, and it's slightly more expensive than Gabrylly's offering. It comes in a choice of finishes, but check the price – some are considerably more costly than others.
The cheapest in the range is the stylish and modern chrome finish. There's a small increase if you prefer brushed nickel and a slightly bigger one if you want matte black. The most expensive by a long way is brushed brass. If you're looking for bling in your bathroom though, it looks the business.
The showerhead here is square and measures almost 8 inches across. It has a deeper profile than others on this list. It's controlled with a single handle, and there are no logos or other marks on the valve trim. If you like a minimalist look, this is a good option.
The shower arm is made of stainless steel and it's a generous 15.4 inches long. That gives you plenty of space to install the showerhead parallel with the ceiling. The 360-degree swivel connection also allows you to tilt it at an angle if you prefer.
Besides the showerhead and arm, the package includes the rough-in valve, faceplate, handle and flange.
The core of the showerhead here is made of plastic, rather than metal. It's engineering-grade, so it's long-lasting. And when it's placed, no one will ever know the difference.
If you're planning to install this yourself and haven't done this kind of job before, you may struggle. It's not a difficult task if you know what you're doing – but it doesn't come with installation instructions.
6. Delta Faucet Lahara Single-Function Shower Trim Kit
If you're looking for a classically styled faucet set, consider Delta Faucet's Lahara.
This is available in a choice of Venetian (darker) or champagne bronze (gold-like), stainless steel or chrome. It comes with a traditional round fixed showerhead and a wall-mounted valve trim to select the temperature. Note that you'll need to buy the rough-in valve separately with this one.
The showerhead offers five different settings. The full body spray setting offers strong streams of water, while the fast massage spray is a good choice after the gym. Its intense massaging jets are great at relieving tired and aching muscles.
Other options are the full-body spray with massage, the drenching spray, and pause. The latter interrupts the water flow without changing the temperature setting – great if you're pausing to shave.
The pressure-balanced valve cartridge monitors the water temperature to prevent sudden changes. You'll never again need to worry about being drenched in icy water because someone has flushed the loo!
The maintenance of the showerhead is straightforward. The rubber nozzles allow you to simply wipe off any mineral deposits with your finger. (And the whole thing can be easily replaced if you decide to change it down the line.)
Depending on the finish you choose, however, you may find that hard water causes spotting. Wipe over the surface of the hardware with a soft cloth after every shower to keep it looking good.
7. Sumerain Black Shower Faucet (

Budget Pick

)
Sumerain's shower faucet set includes an overhead, wall-mounted rainfall shower, short shower arm, handle and escutcheon.
It comes in a choice of matte black, chrome, oil-rubbed bronze or brushed nickel. The rough-in valve is included with some finishes but not others, so check before you buy.
The showerhead is round, and it's designed to be fixed at an angle to the wall. The valve body is constructed of solid brass, and there's a drip-free ceramic disc cartridge. Your faucet should last up to 600,000 uses. That's enough for two showers a day for over 800 years!
The finishes are designed to be easy to clean, with trims that don't show up fingerprints. Any mineral deposits around the spray holes can simply be wiped away with your finger. That's particularly helpful if you live in an area with hard water.
You won't be able to adjust the water pressure with this one, and there are no massage settings. This is a simple rainfall effect showerhead.
But it offers high-quality construction at a very reasonable price. And we've heard excellent reports about Sumerain's customer service too.
8. HOMELODY Shower Tub Kit
If you're looking for a kit to work with an over-tub shower, this one from Homelody should make your shortlist.
It includes a fixed overhead showerhead, rough-in valve, handle and faceplate, and a spout for your bathtub. It's available in either brushed nickel, or the slightly more expensive matte black. Both finishes are designed to resist corrosion in humid bathrooms.
The pressure-balanced cartridge in the valve will avoid sudden water temperature changes. If you've ever found yourself shrieking because someone somewhere has flushed a toilet, you'll appreciate this.
The set-up here allows you to choose between directing water to the showerhead or down into a bathtub. When you want the water to come to the tub, simply push down the lever on top of the spout. Pulling it up again will direct the water to the showerhead.
That showerhead offers a choice of five settings. Choose from options offering firm, powerful jets, or a finer, lighter spray depending on your mood. The setting is selected by turning a small toggle on the side of the showerhead.
The construction is solid brass, making this a durable and high-quality kit. Just be aware that the fixing screws supplied with the matte black version are silver. Either purchase some black-headed screws separately or paint them with enamel paint to match.
9. Qioio Rain Shower Faucet System
Qioio's offering is another crisply modern shower set, offering a choice of overhead and handheld showerheads.
The design is angular, with a slender, square overhead showerhead, and rectangular handheld showerhead and valve trim. It will look fantastic in contemporary bathrooms.
You can choose between black and stainless steel finishes. The black is slightly more expensive.
The square rainfall showerhead comes in different sizes. Choose between a width of ten inches or pay a little more for the twelve-inch version. Either will give you a generous stream of water for that spa experience.
The water control diverter valve has a bigger diameter than many similar systems. It measures 40mm rather than the standard 35mm. This produces a higher pressure stream, even in low-pressure systems.
The overhead arm is a generous 16 inches long, providing plenty of room between the water and the shower wall. The handheld shower comes with 59 inches of stainless steel hose, and its own bracket for wall mounting.
The water is mixed with air at the showerhead, which increases the pressure still further. And it reduces the volume of water used by about 30 percent, for a more environmentally friendly shower. If you're on a metered charge, you'll also appreciate the difference to your water bills.
All parts are made in stainless steel, giving a high-quality feel. The nozzles in the rainfall showerhead are made of BPA-free silicon, so they're easy to keep clean. Just give them a wipe over with your finger to remove any minerals that build up.
10. HIMK Shower Faucet Set with Tub Spout
If you're looking for a super-stylish faucet set that will fit over a bathtub, check out this one from HIMK. It's every bit as attractive as other contemporary sets, and it has a bath spout as an added extra.
It's available in only one finish, polished chrome. The rainfall showerhead and its matching fixing plate are square. The handheld showerhead is rectangular, as is the valve trim and lever for selecting water volume. And the bathtub spout is a simple and elegant chrome bar.
The package also includes the rough-in valve, shower hose, shower bar, screws, seals and rawl plugs. There's everything you need for installation, in fact, bar the tools.
All the components are brass or stainless steel, and the rainfall showerhead has a thin profile that screams quality. Select where you want your water to go – bathtub, rainfall or handheld showerhead – from the same control panel.  It couldn't be easier.
As with the other two-headed systems on our list, this is designed to be used one showerhead at a time. Although it's possible to point the selector halfway between rainfall and handheld, you'll get weak pressure from each one.
If you're fairly handy, installation is straightforward. But if you're not confident with your DIY skills, we'd recommend getting in a professional. The instructions aren't as clear as they could be.
Buying guide
If you've ready through the reviews and still aren't sure which shower faucet set to choose, don't worry! We're going to take you through the questions to ask yourself to help you make that all-important decision.
One showerhead or two?
One of the first things to consider is whether you want one or two showerheads.
A fixed overhead showerhead can give you a wonderful, spa-like experience. All you need to do is stand there and enjoy the cascading water.
But if you don't want to get your hair wet every time, it won't be a practical choice. And if you want to direct the water to particular parts of your body, you'll need a handheld showerhead. (They're also helpful to use when cleaning the shower stall or bath.)
Bear in mind that if you opt for two showerheads, you'll probably be able to use only one at a time. The water will be split between them, and the pressure will be low as a result.
And if you're going to be installing your shower over a bathtub, you may want a spout as well. We particularly like HIMK's system, which uses the same control panel to direct the water to the tub or showerheads.
And, if you have a leaky shower faucet, check our fixing guide.
Style and finish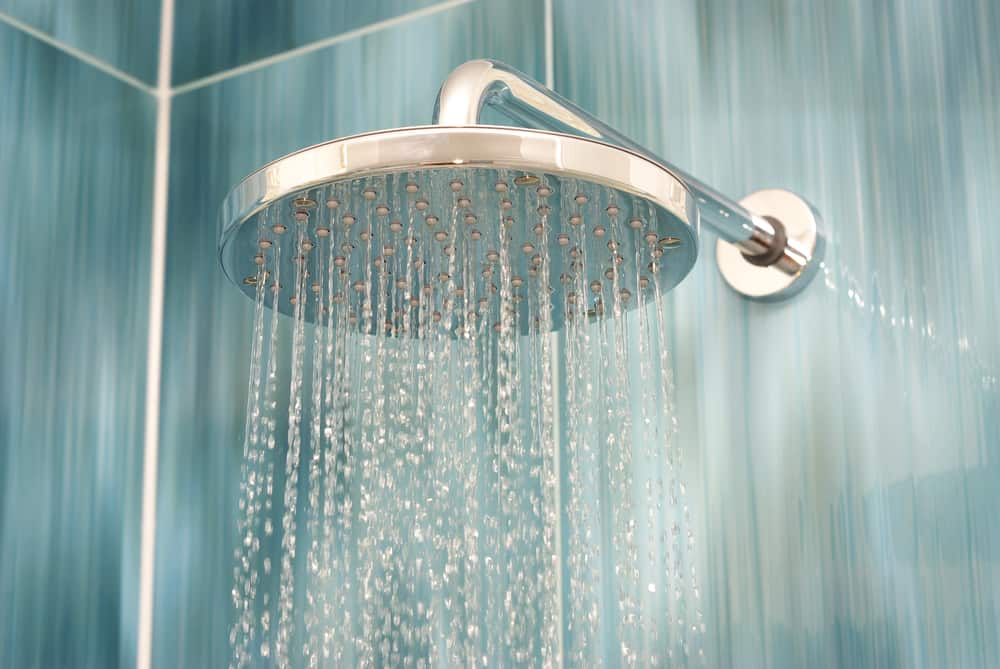 Different faucet sets will come in different finishes. So before you decide on a particular model, check that it will go with the other fittings in your bathroom.
Look out for price differences too. In many cases, different finishes will come with different price tags. And sometimes, you may find you have to pay considerably more for your chosen finish.
Think too about the style of your shower set. Are you looking for something classic or contemporary? Will sharp lines and corners work with your design scheme? Or would rounded shapes and curves look better?
Other features
Some of the showerheads on our list offer different settings. If you'd like to be able to vary the style of your shower, this is a good option.
Insets where there's more than one showerhead, check which showerhead has the different spray settings. It's often the case, that this applies to only the handheld shower.
And finally, consider your water pressure. If you've got low pressure, look for faucets that are able to increase this. Some do it extremely effectively. Conversely, if your water pressure is on the high side, you might not want to increase it further.
Ready to choose your faucet?
We hope you've enjoyed our round-up of some of the best shower faucets out there. Whatever your needs or design scheme, we think there's a great option out there for you.
Our favorite is the Sun Rise SRSH-F5043. It offers excellent build quality at a very reasonable price. And you'll get the choice of two showerheads as well.
Imagine the relaxing showers you can enjoy when you upgrade your shower faucet. We can almost feel that warm water now… Happy shopping!