Outdoor showers aren't just for beach houses and reality shows. If you have some space in your back yard, you can install one in minutes! It's not complicated, and there are lots of options. It depends on the complexity, budget, time available, and how good your DIY skills are.
Today, we'd like to explore 31 DIY outdoor shower ideas. They don't need much floor space, and you can install them with basic tools. Buy the right outdoor shower kit, and test water pressure before-hand. Link the outdoor shower to your indoor bathroom if you want warmer water.
1. Snake it Round a Tree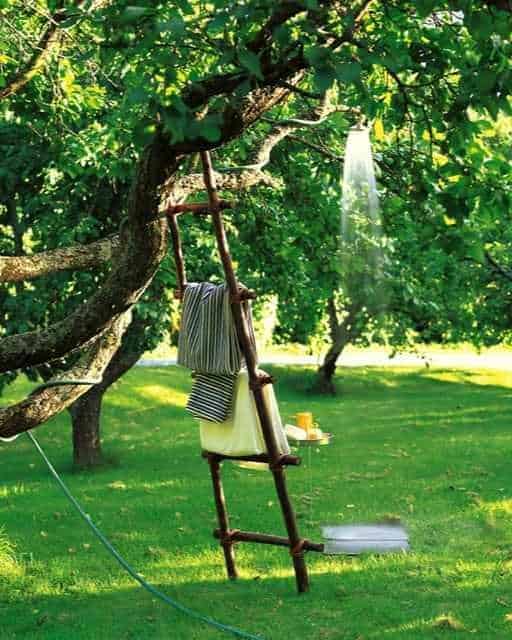 If you want a bare-bones shower and aren't too concerned about privacy, you could buy a showerhead and tie it to a garden hose.
That way you don't have to worry about plumbing. Pick a branch that's high enough to stand under.
Coil the branch at least four or five times around the branch. This keeps the hose from unraveling under high water pressure.
2. Restore Old Toys
When our children outgrow their hula hoops, you can repurpose them for your outdoor shower.
Or you could just buy a cheap pair from the toy shop or goodwill store. Use the hoops as rims and thread plastic sheeting between them.
This forms a perfect 'shower curtain' for a free-standing outdoor shower. Pave the shower floor with concrete or gravel for drainage.
3. Serve up Some Surf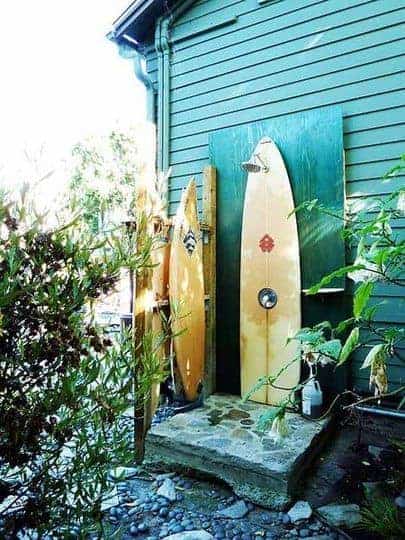 Surfers are pretty attached to their boards, but you can probably find an old unused one in a  flea market.
If you live in a beach town, you may even find an old one washed up. Long-boards work best because they offer more height.
Use the surfboard as backing for your shower head. You can cut off the tile to build a shelf, and repurpose the surfboard fine into a towel hook.
4. Hemmed into Hemlock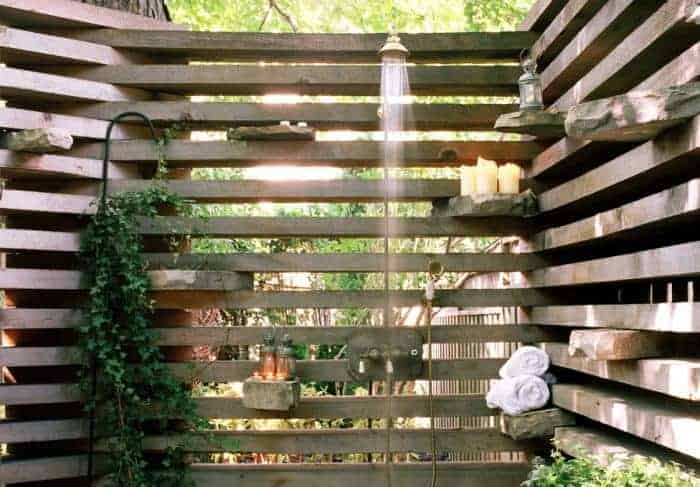 Not everyone that showers outdoors is exhibitionist! So if your privacy is important to you, consider building a shower enclosure.
This one has natural camouflage from surrounding forestry. To maintain that woodsy feel, use recycled hemlock planks to make a slatted wall.
This ensures ventilation, which helps the wood in your 'walls' dry faster.
5. Can you Can it?
Many factors affect your DIY outdoor shower ideas, and water pressure is a big one. If your main supply is far away, you might need a shower head for low water pressure.
Alternatively, make your own shower head from an old can. Pick your favorite beer or soda, punch holes into the bottom, and attach a nozzle to the top.
Loop the hose over a tree or install brackets.
6. The Bathsheba Treatment
You may have heard of her – the gorgeous woman admired by a king while showering on her rooftop.
Well, we can't guarantee you'll pull in royalty, but you can design a rooftop outdoor shower like this one in Manhattan.
The shower is made from recycled planters, hangers, and pipes. And the rooftop also has a garden, so the shower runoff waters the plants in the process.
7. Corrugate it!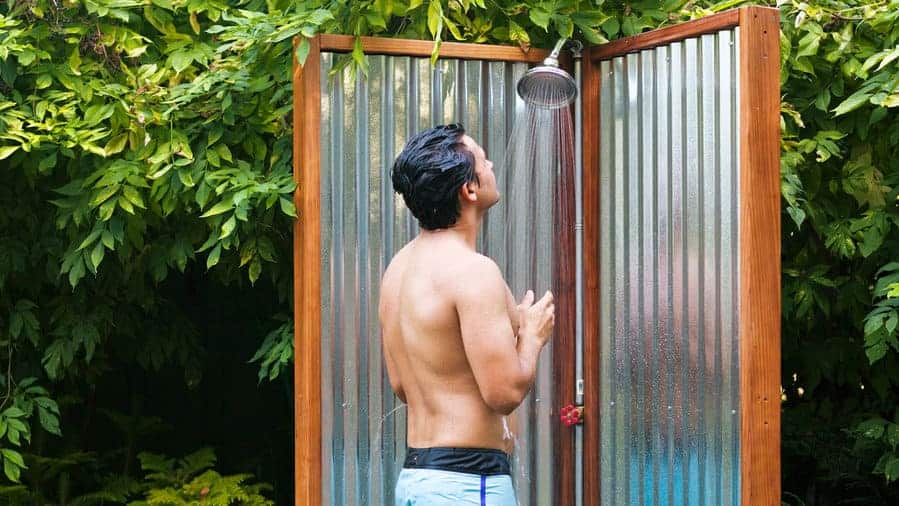 Sometimes, your shower walls are more for style than privacy. That's the case here. Rather than shielding your body, these corrugated shower walls provide support for your showerhead.
You can buy a rainwater shower head if you want a wider surface area. You can thread the showerhead to a proper pipe or a regular garden hose. The metal sheets emit a little heat.
8. Old School Household Tools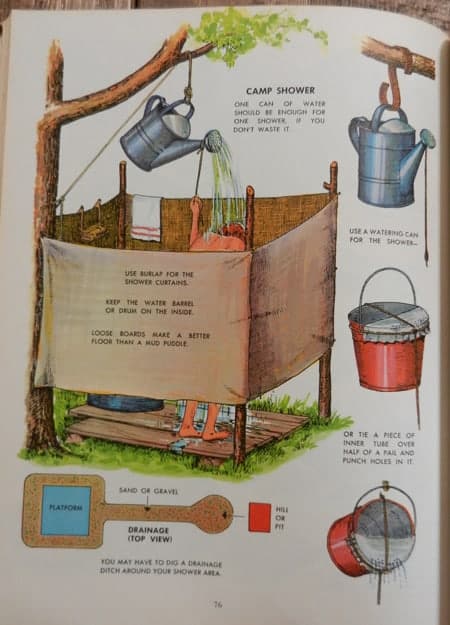 You don't have to buy a commercial showerhead for your DIY outdoor shower. You can use anything perforated.
A colander, a metal sieve, even a repurposed kitchen grater. You could use a watering can, vintage kettle, or garbage can lid and poke holes in the bottom.
If you don't already own one, grab one at a garage sale or junkyard and connect it to your garden hose.
9. Curled up Curtain Rod
Indoors, round shower curtain rods provide extra space for small bathrooms. Outside, it can help you set up a DIY showerhead.
You can buy a full circle curtain rod or opt for a curved one attached to a wall, tree, or pillar. Drape a waterproof (weatherproof) shower curtain around the rod to create a cozy shower enclosure.
It'll probably leave your feet exposed, but no harm done.
10. BBQ Shower
The bathroom inside your home is probably refined and polished. But for outdoor showers, we often want a more homely DIY aesthetic.
So consider buying an outdoor shower kit in oiled bronze or brass for that rustic feel. Install it on the external-facing wall of your indoor bathroom.
For drainage, cut off the upper section of an old BBQ grill. Plant it over a grass or gravel floor.
11. Simple Solar Shower
If you can get your hands on all-in-one outdoor shower units, that's the quickest DIY option.
These free-standing solar showers stand on their own, hold 5.5 gallons of water, and are self-heating. You can choose hot or cold water, and you can easily connect it to your garden hose.
No plumbing required! If you don't want to leave it outside, you can dismantle it in minutes.
12. Solar Shower Shed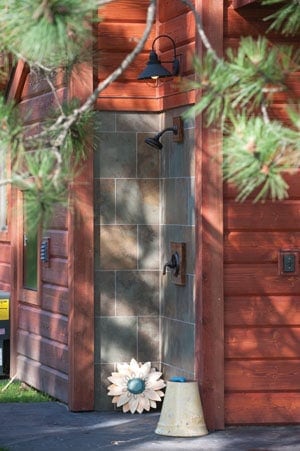 At the other end of the complexity spectrum, you can build a complicated shower shed. This is more than the average DIY enthusiast can muster, but if you're up to it, it makes a fun weekend project.
Coil a garden hose onto a gabled plywood roof so that the sun warms up your water. And sink your shed pillars at least 4 feet into the ground. Line the floor with crushed rock and sand.
13. Shower in a Bag
When you're heading to your outdoor shower, you carry a towel, some biodegradable soap, and in this case, the shower itself.
It's portable, battery-powered, and fits right inside your shower bag. You can pump power from a bucket into your hand held shower head.
This Ivation shower has a suction cup and a hook so you can mount it on any outdoor wall or tree branch.
14. White Picket Shower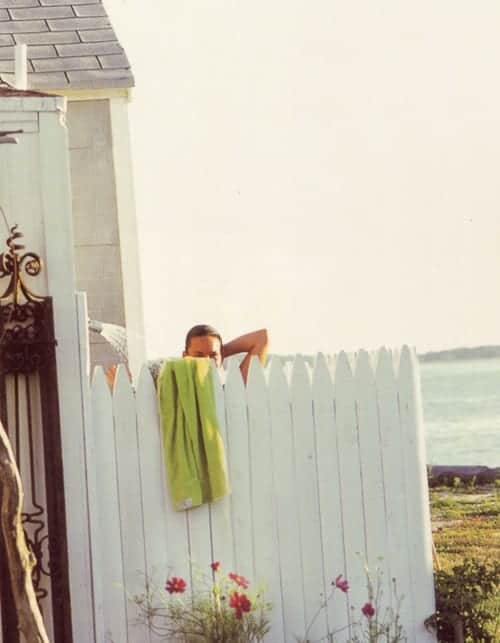 Lots of beach homes have exposed verandahs and hot tubs. Their owners and rented don't seem too shy about showing skin. But if you want to add a little privacy to your outdoor shower, you could install a picket fence around it. Make it at least 1.5 meters high so it shields your neck and shoulders. For your shower kit, install a minimalist chrome piece that can resist sand sea-salt.
15. Ceramic Shower
This outdoor shower was an original part of the house plan, but it's easy to mimic it in your home. Pick an external wall that faces one of your indoor bathrooms. This makes the plumbing easier. Install a wide showerhead on a wooden base, then tile the wall and backsplash to avoid soaking your timber or plaster. Buy a waterproof shower chair for any seniors in the house.
16. Build a Wall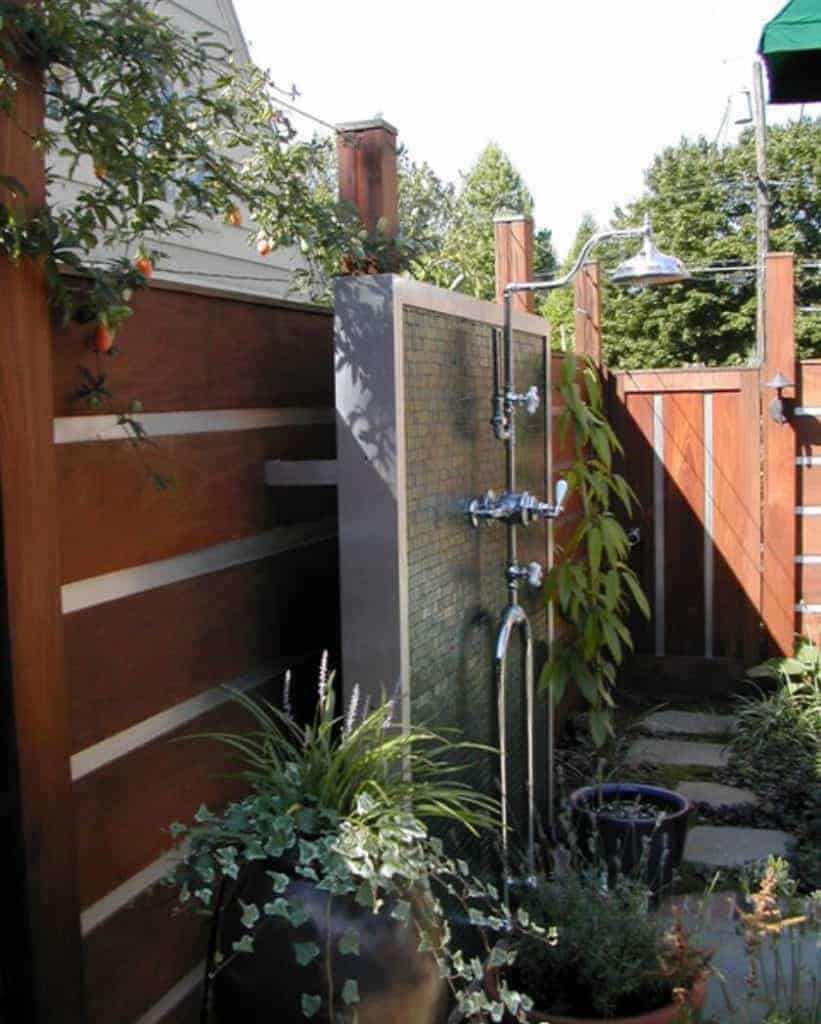 You may be worried about DIY outdoor shower ideas that mess with your existing structure. Attaching it to house walls or fences may seem iffy, especially on a rental home.
So why not erect a separate wall entirely? In this case, the shower wall is a few inches from your home's perimeter wall, and you can easily connect it to your outdoor water mains.
17. Metal 'n Surf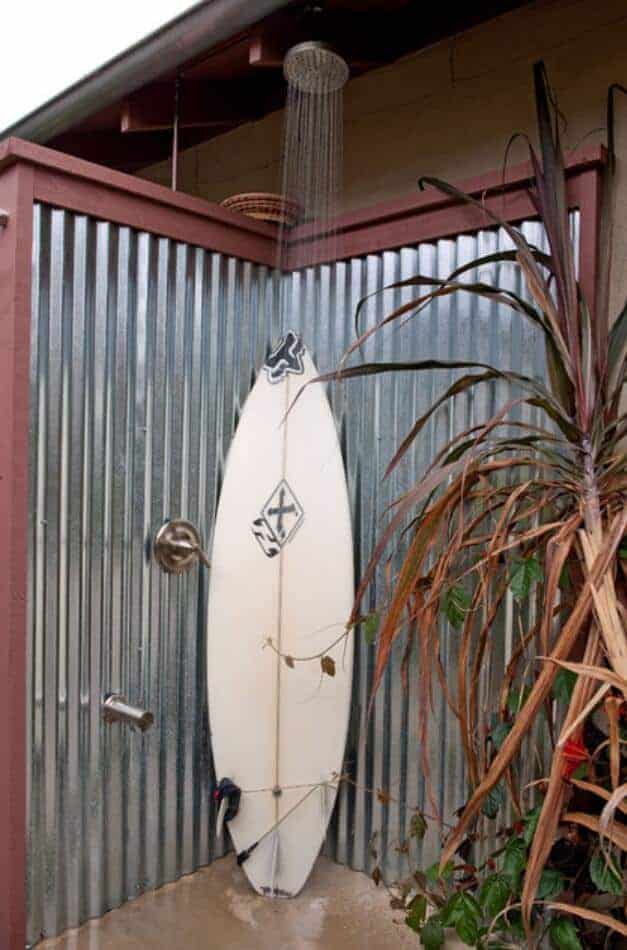 In most cases, your shower speaker is a hi-tech Bluetooth or WiFi-enabled gadget. But in true surf aesthetic, you can buy a splash-proof portable speaker to accompany bath-time.
Meanwhile, use your old surfboard decoratively rather than structurally. Corrugated metal keeps your timber patio waterproof while still allowing your indoor plumbing to power your shower.
18. Graphite Reeds
You may not be too concerned about the shower door. In which case, all you need is a showerhead, some plumbing, and backing material to keep water off your walls.
This freestanding graphite outdoor shower is pricy, but it comes pre-assembled. All you have to do is erect a bamboo reed fence behind it and connect it to your plumbing.
19. Cedar Shed Showers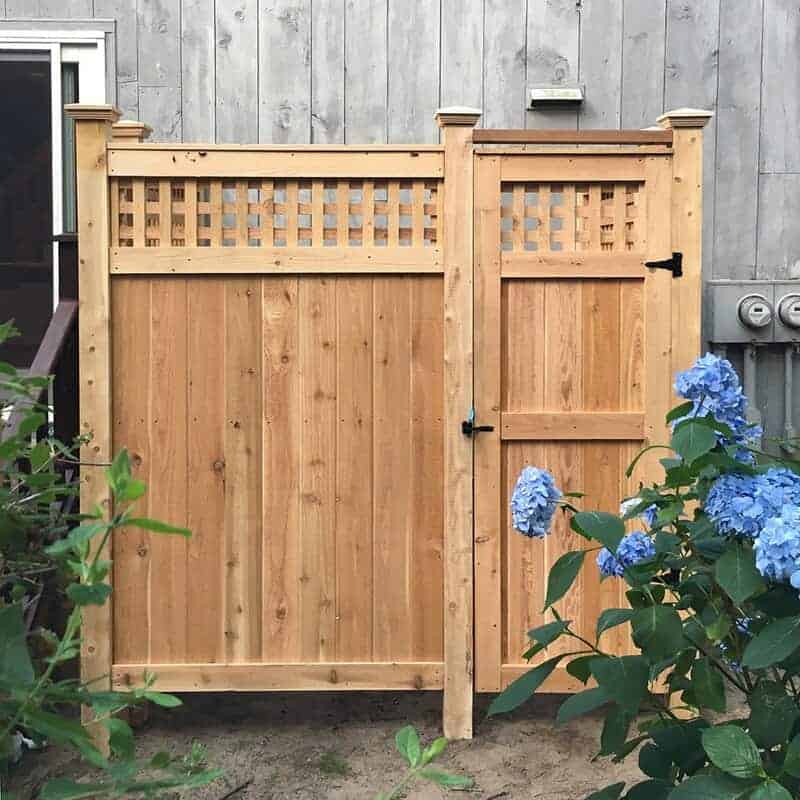 Most DIY projects are cheap-to-free. They make use of items you can find around your home. But if you're looking for finesse, you can buy something pricy.
This cedar shed outdoor shower has all its hardware included. You have to set it up yourself, so you'll still get your DIY fix.
It has wooden walls and doors for privacy, and you can pay installments spread out over a year.
20. Pick a Pallet
To minimize the installation work for your outdoor shower, install it in a corner. That way you only have to build one outer wall instead of an entire enclosure.
In this example, the privacy fence is made from reclaimed wood pallets.
You can paint or stain them to reduce water damage. Leave gaps between your slats for quicker drying. Link the showerhead to your outdoor faucet.
21. Hug your Bamboo
Adding a bit of bamboo to your back yard gives you an instant tropical feel. This DIY outdoor shower from BooHugger gives you a taste of island living complete with modern plumbing.
The bamboo pole is included, and its internal piping and flow valves are already connected. Just mount your hand held shower head and connect the shower inlet to your garden hose.
22. Wood and stainless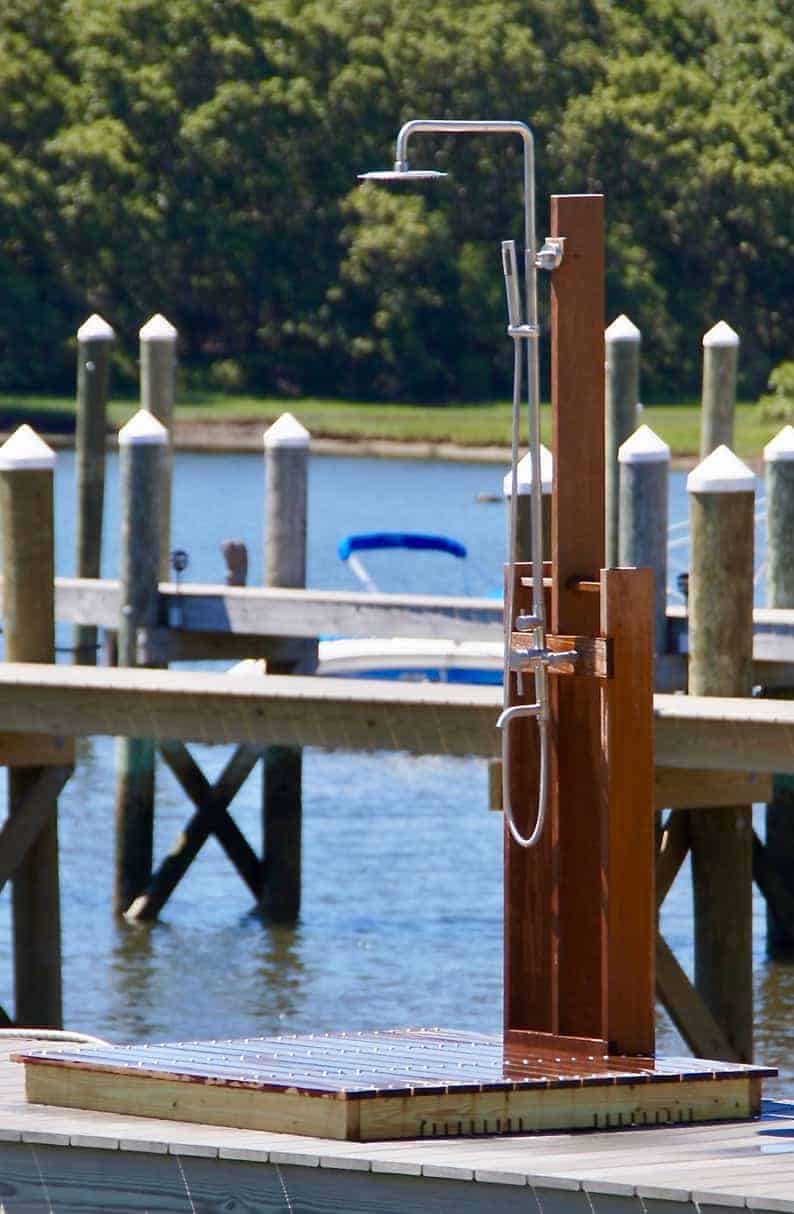 You may be drawn to the clean, simple, low-fuss look. But you could do without the bamboo cliché. So how about this outdoor shower that takes the same style but uses dark wood and stainless steel?
The shower has a wood panel floor, and you can choose unfinished Ipe or Meranti. You can connect it to both hot and cold water. Lay gravel or sand beforehand for drainage.
23. Teak Tower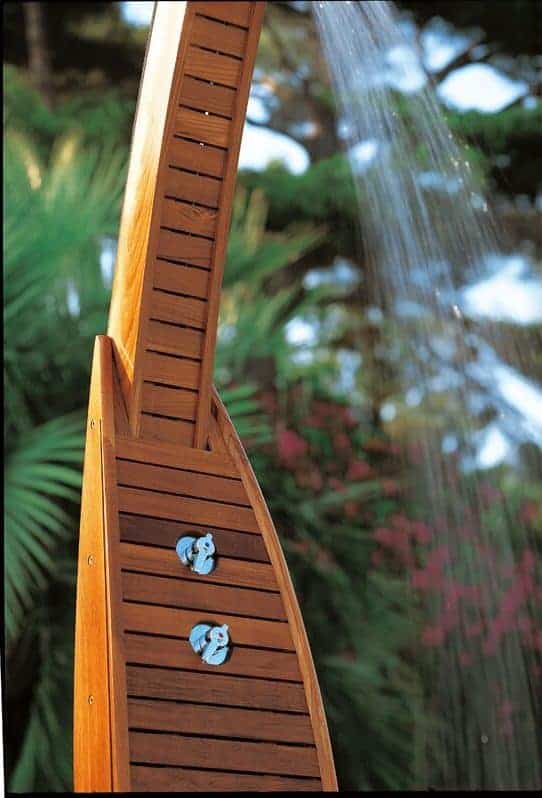 When your guests see this teak shower, they'll think you built it yourself. Those intricately positioned panels have 'hand-made' written all over them.
But your only involvement is to connect your water source and claim bragging rights. Its wide base prevents tipping, and the wood is treated for outdoor exposure, so you can enjoy sunlit showers for years!
24. Put an Outie on your Innie
It's easy to piggy-back off your indoor shower. In this case, you can see the indoor shower through the window. Mount a brass outdoor shower kit to the outer wall.
This lets you use your indoor bathroom plumbing, including the hot water supply. Add a large vintage bulb for ambiance, then build a shower enclosure using reclaimed wood and corrugated steel or PVC.
25. Brick by Brick
Would you like to put your masonry skills to the test? This is probably a project that will take all summer, but it's worth it. Build a roofless shower enclosure from brick or natural stone.
A large glass-less window on one side will let you take in the view. Your outdoor shower kit should be black brass or oiled bronze to match the ambiance of your brick. Mosaic floors are a nice touch.
26. Pipes and Canvas
Stepping away from high-end DIY outdoor shower ideas, let's go back into the realm of home crafting. If you have a wood cabin, lake house, or holiday home, you're sure to have some old tarp lying about.
Use PVC pipes to make a shower enclosure frame, then drape canvas curtains along your frames. Add a brushed nickel shower kit to complete the look.
27. Colorful and classic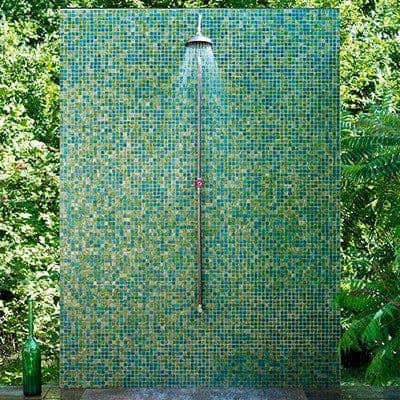 The DIY part of outdoor showers isn't just about the plumbing. That part is fairly easy. But if you're more attracted to bright colors and sparkly crafting, why not back your outdoor shower with a mosaic wall?
This one uses glossy blues and greens that match the surrounding forestry. Finish with a simple shower kit that plumbs into your waterproof wall.
28. Blinding Bamboo
In certain tropical stores, you can buy a reed mat or bamboo blinds. They're commonly used as wall partitions and are sometimes spread in the sun to dry fresh grain.
Repurpose these reed mats into a shower enclosure with wooden detail. If you can't access a tropical bazaar, order breathable bamboo blinds from your local window drape shop. They charge per square foot.
29. Lake-house Luxury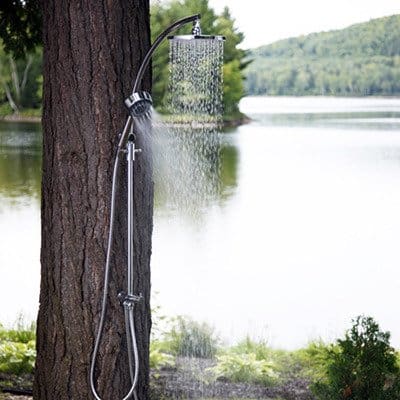 When you want to mix the wild outdoors with contemporary design, your choice of materials matters. This basic outdoor shower is mounted on a tree, with no internal plumbing.
Instead, it pulls water from the lake, feeding it through your rainwater and/or flexible showerheads. The glossy chrome finish makes your outdoor shower modern and weatherproof.
You don't want to harm the tree, so you shouldn't screw your outdoor shower kit into the tree.
Instead, you could loop it around the tree with cables or zip ties. Or you could plant the shower stand into the ground without touching the tree at all. If you're using lake water, install a filter to keep out any micro-organisms or algae. Use green soap, since your shower drains into the lake.
30. Tub-it-up
There's no reason why your outdoor shower shouldn't have its own tub. Use a claw-foot to minimize installation, and make sure your patio or deck floor is strong enough to support the water weight.
For privacy, try PVC panels or painted pallets. Space them evenly for faster drying. String lights along your shower fence are great for night-time bathing, but beware of moths!
To lower the risk of wild animals being drawn to your shower lights, you could install a trip line or motion detector. The trip line could be analog, tied to noisy cans.
You should also install a bug zapper because bathing under the stars is great, but mosquitoes are a nightmare!
31. The Original Outdoor Shower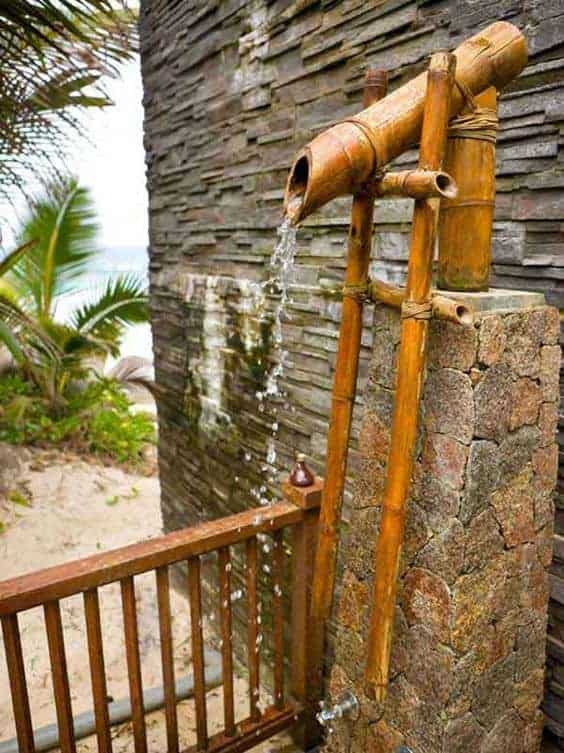 Forget modern showerheads – what if you could make your own? Behind the scenes, your plumbing may look contemporary.
But instead of guiding your water supply to a showerhead, use a wide, hollow bamboo pipe instead. Your water will come out in a stream rather than a pressurized sprinkle, but the tropical shower ambiance is unbeatable.
You'll have to do some careful joinery to link your bamboo pipes. Snip them carefully to insert your plumbing pipes.
Better yet, bore a hole through the bamboo and use flexible pipes to snake through your plumbing. That way, you don't have to split your bamboo reeds. If you want more spraying pressure, use a wider bamboo reed and hide a micro-showerhead inside it.
It's shower hour!!
Now that you've reviewed our broad selection of showers, it's time to make your pick. Ensure it meets the water usage standards for your state or you may face a fine. You should also check whether the construction materials used are suitable for your climate.
Do you have an outdoor shower at the moment? Does it need upgrading or is it fine for now? Alternatively, have you selected an outdoor shower model? Whether you've recently started or have already completed your DIY shower project, show us some photos in the comments!